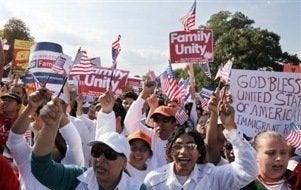 It's quite possible that President Obama's omission of a comprehensive immigration reform agenda in his State of the Union address is exactly the spark that immigration reform proponents needed to reinvigorate their efforts. Activist groups are drawing on their frustrations to develop new campaigns to bring immigration reform back to the forefront, as illustrated by Illlinois Representaive Luis Gutierrez's visit to Olvera Street in Los Angeles.
This single event brought together representatives from a broad array of immigration reform supporters, like the Southern Christian Leadership Conference, labor unions, immigrant advocacy organizations and student activist groups. A similar trend seems to be occurring in other places, such as Illinois, where a student group, the Immigrant Youth Justice League, raised $243,000 on Saturday to bring 10,000 marchers to Washington, DC next month to lobby for immigration reform.
Perhaps neglecting to lay out an immigration reform agenda in his State of the Union address was the best thing president Obama could have done for immigration reform. The pressure on the president and on Congress will certainly continue to increase as a result.
When presidential candidate Barack Obama began his surge in the polls over a year ago, he captured the imagination of an entire nation with the phrase, "Yes we can," or "Si se Puede." Many across the country were energized. Few, however, recognized its origins and the significance it holds for immigrant Latinos. As I listened to Obama's State of the Union speech last week, it dawned on me that when it came to immigration reform, President Obama's message had changed from "Yes we can," to "No se puede," or "It can't be done."
Possibly in an effort to invigorate the Latino vote, Obama's campaign crafted a slogan inspired by the rally cry of immigrant agricultural workers fighting for labor rights. United Farm Workers (UFW) co-founders Cesar Chavez and Dolores Huerta adopted the motto Si se Puede, or "Yes we can," in the 1970s for their labor rights campaigns to demand fair wages and better working conditions for agricultural workers. In the Latino community the term has come to symbolize the struggle against all forms of exploitation. Today it is a phrase that has reemerged to galvanize undocumented students across the country in their fight for access to citizenship and higher education.
It is precisely for that reason that many immigrant rights advocates were deeply disappointed by the near absence of an immigration reform agenda in the state of the union address. Understandably, the central theme of the speech was economic growth. In line with this goal, recent studies released by UCLA, USC, and the Public Policy Institute of California demonstrate the economic benefits of providing a path to legalization to undocumented immigrants. Current national polls as of November 2009 indicate that two-thirds of Americans favor providing a path to legalization to undocumented immigrants, yet Obama's and Congress' position remains the same: "No se puede."
The continuing neglect of immigration reform not only ignores countless studies about the economic benefits, it also ignores the hardship endured by millions who live in American society as de facto second-class citizens, and the ongoing intellectual loss of thousands of talented college-going undocumented students. Often referred to as DREAMERs, whose hopes and aspirations are tied to the passing of the Dream Act, they have been waiting for almost ten years for the opportunity to gain legalization and contribute to the economic vitality of American society. As chronicled in my recent book, We ARE Americans: Undocumented Students Pursuing the American Dream, many DREAMERs exhibit the same drive and determination that led recent famous immigrants to this country -- people such as Jerry Yang, the co-founder of Yahoo, or Sergei Brin, the co-founder of Google -- to create Fortune 500 companies that employ thousands of American workers and donate millions of dollars to social causes. In light of overwhelming research evidence and public support for providing a path to legalization to the undocumented, I remind Congress and President Obama: Yes we can, Si se Puede!
Related
Popular in the Community