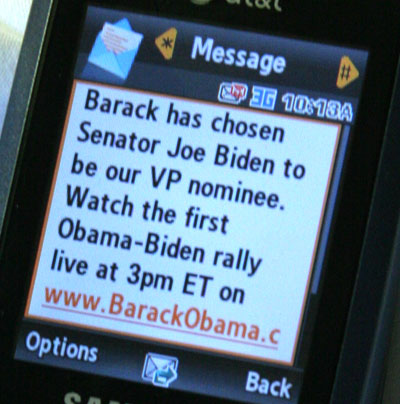 If your cell phone was on silent early this morning, you just might have missed an alert for history in the making.
When Barack Obama announced Joe Biden as his choice for Vice President in a text message to supporters, it was a landmark moment not just in politics, but also in America's embrace of innovative technology.
The campaign's decision to use text messaging demonstrates our emerging technology climate -- one where Americans are increasingly likely to ditch their home landlines and rely solely on their mobile phones.
Subscribers to Obama's email list were sent a message inviting them to text "VP" to the campaign's short code -- a special five-digit telephone number. After sending their text message, they immediately received a confirmation and an assurance that they'd be the first to know when Obama's vice presidential nominee was named.
In an election cycle where Hillary Clinton announced her candidacy in a video shown only on her website, where BarackObama.com offers a dozen different free cell phone ring tones, John McCain's daughter Megan has her own blog from the campaign trail and where popular websites MySpace and YouTube each co-sponsored presidential debates, campaigns are finding that the medium itself is often the message.
But using mobile technology is more than just a trendy gimmick for a news headline. By going around the news media and even bypassing its own massive email list, the Obama campaign is attempting to build a direct, personal, and immediate connection with voters. And it looks like they're responding. Technology is becoming more personal and vital to day-to-day activities, historic moments and social banter.
The campaign may be on to something. A 2006 study by the non-partisan Public Interest Research Group found young voters were more than 4 percent more likely to vote if they received a text message reminder the day before.
Text messaging directly from a candidate offers voters a more special, personal experience and is a clear sign of what's ahead -- more direct contact with elected officials.
Members of the House of Representatives are using a variety of mobile technologies to get word out during the August recess. With the C-SPAN cameras turned off, Republican Congressman John Culberson used the video camera on his mobile phone and a website called Qik to broadcast live video on the Internet from the floor of the House chamber.
Congress also seems to like to "tweet." Representatives are sending text messages to their accounts on Twitter.com, a micro-blog that allows people to share short messages about what they are doing, to report on the latest action on the House floor. Twitter instantly disperses the text messages to their supporters and posts them live on their websites.
And members of Congress are not just communicating with constituents, they're communicating with each other. Reps. Culberson and Tim Ryan got into a well-publicized "twitter debate" back in June - trading 140 character-or-less public jabs at one another about gas prices, oil drilling, and unemployment benefits.
The accessibility, speed, and relatively low cost of mobile communication have been slowly changing the way the way candidates and officials communicate with their supporters. But the Obama campaign's innovative use of mobile technology is a watershed moment that foreshadows a bright mobile future.
Related
Popular in the Community