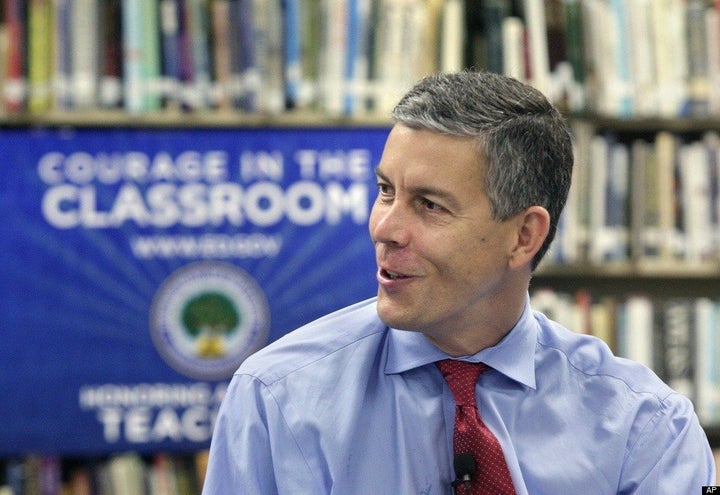 Education Secretary Arne Duncan unveiled the final version of the National Education Technology Plan on Tuesday -- proposals to use social networking, data collection and multi-media to get U.S. kids to learn more. According to Duncan, the plan -- almost two years in the making -- will help American education "transition to digital classrooms and transform learning" for the Facebook and IPhone generation and beyond.
As a middle school math teacher and a long-time union member, I had heard it all before. Dozens of "solutions du jour" have come and gone -- with little if any measurable improvement. I figured that this was one more attempt that was destined to fail.
As I read Duncan's speech about the plan, my skepticism evaporated. Not only could this plan prompt Democrats and Republicans in the incoming Congress to cross the aisle to focus on a crucial learning roadmap, but the plan -- and each of its five very specific goals -- makes sense!
Student learning across all disciplines -- not just science, technology, engineering and math topics -- often referred to by educators as the "STEM" curriculum -- could actually improve the all important standardized test scores.
In schools today -- just as it was in 1910 -- seat time is a proxy for learning. Pundits who say that lengthening the school day will improve test scores are wrong. From my experience in the classroom, it won't work!
Let's take a look at the plan (to be implemented by 2015) and each of its goals from a classroom teacher's perspective:
The plan's first goal is to better engage students. A short urban legend might explain how this will work. Willie Sutton, a famous bank robber was asked why he robbed banks. He responded by saying, "because that's where the money is." To paraphrase Willie, learning must take place when and where the students are. That means among other venues, the Internet and social networking sites like facebook and Twitter are available to kids on a 24/7 basis. Teens spend hours each day engaged online, much of it in the wee hours of the night -- based on the drowsy kids I see in class. I will have more luck in having a student open a webpage than to have that same student carry home -- and eventually open -- a boring textbook.

The second goal is for teachers to use technology for assessment of student work. "Evaluations will go far beyond the end-of-course bubble tests available today and use the latest technologies that give teachers real-time data," Duncan said in his speech to the State Educational Technology Directors Association Education forum meeting in National Harbor, Md., near Washington. Because education is not a one size fits all environment, "teachers can use these data to differentiate instruction and improve student outcomes." Today all I can see is the result of my students' work in my seventh grade pre-Algebra class. With technology, I can "see" how each student thinks -- following his or her step-by-step work -- as problems are completed.

The third goal is to network teachers so they can continually learn about the resources available to them. The technology can help teachers find the most up-to-date content and "best practices" to meet the diverse learning needs of their students. I would love to be able to share lessons, materials and ideas with other teachers. Now, I have only a couple of math teachers at my school with whom to share ideas.

The fourth goal focuses on actually building and/or buying the technology infrastructure. All children, whether from a Red or Blue state, need and use technology both inside and out of school. The incoming Congress is going to be jumpy about any programs with a price tag -- but not exploiting the potential of technology to learn is not an option.

The fifth goal is to use technology to help schools become more productive. Each year, the math curriculum I am expected to teach seems to expand -- but not the number of days in the school year. My gut tells me that with the right technology I can better balance this curriculum/days equation. Research fuels the private sector -- and technology can help educators by analyzing and pinpointing problems -- and opportunities for solutions. One example cited in the recommendations: The Montgomery, Md. school system allows teachers to assess student literacy skills and transfer the information to an electronic file. The e-file allows reading coaches and other personnel to monitor a student's progress and offer help.
A technology plan for American education alone is not sufficient. As Duncan correctly stated, "technology will never replace good teachers. We all know that the most important factor in a student's success is the teacher leading the class." And no matter the app, that will never change.
Fred Belmont is currently an Albert Einstein Distinguished Educator Fellow in Washington, DC and is on leave from his seventh-grade math classroom at Wood Oaks Junior High School in Northbrook, Ill.