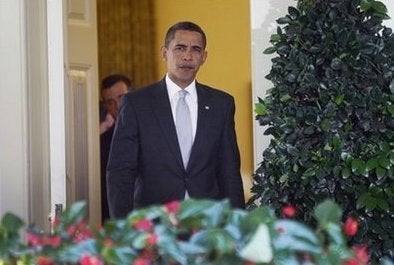 Warning to all New Yorkers: the President is in town today and that means more gridlock!! Here's the schedule of the POTUS visit from the White House. He's starting his trip in New Jersey:

DAILY GUIDANCE AND PRESS SCHEDULE FOR THURSDAY, JULY 16, 2009

In the morning, the President will receive the Presidential Daily Briefing, the Economic Daily Briefing, and meet with senior advisors in the Oval Office. These meetings are closed press.

The President will meet separately with Senator Ben Nelson of Nebraska and Senator Olympia Snowe of Maine to discuss health care reform. These meetings are closed press.

In the afternoon, the President will travel to New York. The departure from the South Lawn is open press. The arrival at John F. Kennedy International Airport will have travel pool coverage.

The President will deliver remarks at a fundraiser for Governor Jon Corzine at the Robert B. Meyner Reception Center in Holmdel, New Jersey. The President's remarks are pooled press. The President will then deliver remarks at a rally for Governor Corzine at the PNC Bank Arts Center in Holmdel. The event is open to pre-credentialed media. The Corzine campaign handled credentialing for the rally; the deadline to request credentials has passed.

In the evening, the President will deliver remarks to the NAACP during their 100th anniversary convention at the Hilton New York in New York City. The press credential process for this event is coordinated by the NAACP.

The President will then attend a DNC fundraising dinner at the Waldorf Astoria. This event is closed press.

At night, the President will return to Washington, DC. The arrival on the South Lawn is open press.