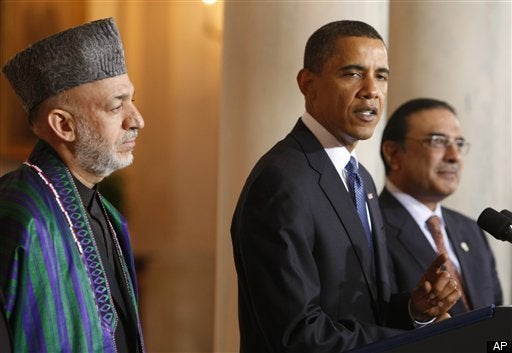 When I woke up this morning to find out that President Obama had won the Nobel prize, based on diplomacy and anti-nuclear proliferation work, I immediately sent notice to my circle of friends, and then went onto the social media space to see what the other instapundits were saying.
One of them -- a real, actual paid pundit -- wrote, "I'm perplexed at Obama getting the Nobel Peace Prize. He's done good work, but it does seem premature. What do you think?" That would be @nytimeskristof, Nicholas Kristof of The New York Times, who has, among other things, been writing of late of the value of women in international development and diplomacy.
I tweeted back that the Prize cites Obama's diplomacy for embracing "values and attitudes that are shared by the majority of the world's population." In other words, the Nobel seems to be a "thank God you're not trying to be a big swinging dick of a unilateral superpower" rather than a "thanks for getting rid of the nukes" letter. (If they had left the nuclear weapons out of the granting of the prize, it might actually have seemed a stronger statement.) While we are struggling mightily to come up with a strategy for the wars launched by the Bush Administration in Iraq and Afghanistan, there is little question that the level of domestic threat under this president has not skyrocketed -- the leading argument against his election by some hawkish conservatives. Being the international bad cop apparently does not always make you safer.
Let's go back to the key phrase in the Nobel announcement. It states: Obama's "diplomacy is founded in the concept that those who are to lead the world must do so on the basis of values and attitudes that are shared by the majority of the world's population." That's a vision of, if not absolute consensus, then democratic thinking in the broadest sense. It's a basic acknowledgment that the diverse, heterogeneous population of billions of people on this planet do have value regardless of poverty, wealth, resource, race, gender or religion. It's an endorsement of democracy over the oligarchical governance of the Bush/Cheney years.
But at the same time that there will be a round of cheers and jeers based on this Nobel announcement, I still worry that we domestically are running out of patience with the Obama Administration. Or rather, running out of patience is not so bad; but as we've seen many times, running out of hope impacts everything from our health to education to economy. Many people are now asking "How long do we wait for change?" I respond that you never have to wait for change... it's always happening. What you have to do is figure out how to manage that change and try to push it in positive directions.
But in addition to the health care wars, whose rhetoric is even bloodier than the floor of a triage ward, we now have individuals bringing weapons to presidential rallies and polls about whether the man in the Oval Office should be killed. So often we have asked the world to follow us... to follow us down the rabbit-hole of ill-conceived wars, or, more promising, into new lands of technology created by some of the best private companies in America.
Can we ask America to now follow the world... to value the diversity of our population as a symbol of the highest values in ethical life? Can we find a way to knit together a country which has become fractured and at some points flirted with calls to violence against a sitting president? With the election of Barack Obama, we got world credibility for dealing with our collective racial past. Do we have the same courage to deal with the present.... with Detroit; bankrupt California schools; and dismal job numbers? Can we take a line from the Nobel Prize and promise "to take our share of responsibility for a global response to global challenges"? Can we? Yes?
Related
Popular in the Community