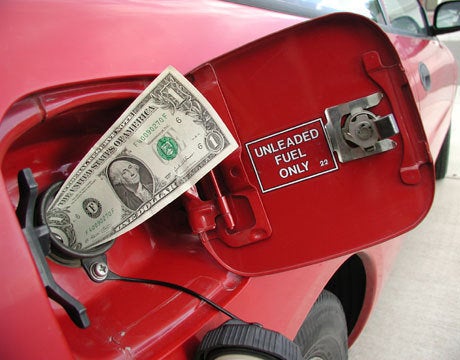 WASHINGTON -- On Thursday, President Obama unveiled a new working group to combat any fraud or manipulation in the oil and energy markets that may be contributing to near-record gas prices. But some economists and market experts worry that by focusing on criminal activity, Obama is shrugging off a much bigger problem: rampant Wall Street speculation in commodities markets that has helped drive up food and energy prices in the past.
"If prices start moving quickly up, you can get a side effect ... that people might try to play [fraudulent] games of one sort or another," said Massachusetts Institute of Technology economist John Parsons. "But it wouldn't be central to the price movement" currently being seen in the market, he said.
Gas prices are approaching record levels set in 2008, when prices at the pump eclipsed $5 a gallon. While unrest in the Middle East is almost certainly playing a major role in boosting current prices, increased speculation in commodities markets is likely contributing to the near record prices. The number of speculative bets being placed on oil and gas now far exceeds that of the 2008 price swing, which many economists believe was driven by excess speculation. Moreover, on March 21, Goldman Sachs analyst David Greely advanced the argument that Wall Street speculation was helping drive up oil prices in a memo sent to the bank's clients.
But, if speculative excess is contributing to current sky-high gas prices, such activity may not be illegal, in part because the Commodities Futures Trading Commission has not yet issued key regulations intended to rein in Wall Street gambling on food and energy prices. Congress ordered the agency to crack down on excessive speculation with last year's financial reform bill, but the CFTC has been slow to implement new rules in the face of intense lobbying from Wall Street bankers.
Financiers are quick to note that commodities markets need speculation -- a raw bet that the price of oil or food will move up or down -- in order to function. But economists say that too much speculation can distort the market, leading to wild price swings. Even if so-called "fundamental" factors are driving prices, heavy speculation can cause prices to swing further than normal supply and demand forces would dictate.
In January, the CFTC announced it would push back implementing 'position limits', a key regulatory tool that restricts the size of the bets investors can make on commodities, in order to collect more data. But many reform advocates and CFTC Commissioner Bart Chilton say that there is plenty of data available to implement new rules now.
"What the administration and others should do, which they have the power to do quickly, is impose position limits, which would stop excessive speculation now," said Dennis Kelleher, a former securities lawyer with Skadden, Arps, Slate, Meagher & Flom who now heads the financial reform advocacy group Better Markets. "An investigation into criminal acts is not likely to lead to much."
Attorney General Eric Holder, who is in charge of the new inter-agency taskforce, specifically instructed members of the new taskforce in a Thursday memo to look into "the role of speculators and index traders in oil futures markets" -- something the CFTC is already required to do. Officials from the CFTC, the Federal Reserve, the Federal Trade Commission, the Department of Agriculture, the Deparment of Energy and state attorneys general will be part of the group.
But Chilton, the CFTC's strongest proponent of reining in commodity speculation, says that the task force may well do some good.
"Seventy-five percent of the cases we send to the Justice Department for criminal prosecution are rejected," Chilton told The Huffington Post. "But if we can work more closely with the DOJ folks, we may be able to put more people in jail."
Nevertheless, Chilton said the CFTC should be taking steps independent of the task force: "That doesn't mean that the working group is a panacea for actions that can be taken by regulators right now. The position limits are something we can do right now. I don't need a task force to tell me to do that."
Unlike the stock market and other capital markets, commodities markets are not designed to function as a forum for investment vehicles. Instead, commodity markets are supposed to allow farmers, manufacturers and other producers to hedge the risks of doing business. By taking out a futures contract, or similar bet in the derivatives markets, farmers can lock in a price for their crops, protecting themselves from price changes. Producers need someone to take the other side of their price bets, whether it be another producer or, as it more frequently is, a Wall Street trader.
Commodities markets work well when around 30 percent of the market is dedicated to speculation, According to Kelleher. But since the mid-2000s, the share of speculators in commodity market activity has increased to about 70 percent, Kelleher says, in part driven by new commodities "index funds," which allow investors to bet on the price of several commodities at once.The size of those funds expanded from about $15 billion in 2003 to $200 billion in 2008, and are currently valued at over $250 billion, according to Barclays Capital. The explosion in the over-the-counter derivatives market has also contributed significantly to oil price increases, according to Kelleher, by allowing investors to place huge bets on commodities without either regulatory oversight or market scrutiny. The derivatives market for commodities grew from about $674 billion in 2001 to $13.2 trillion by June 2008, according to the Bank for International Settlements.
Last year's financial overhaul gave the CFTC authority over that entire derivatives market -- one vastly larger than the $5 trillion futures market that the agency had previously policed in isolation. Whatever new rules the CFTC writes, they will need funding additional funding to enforce them.
But Obama was willing to negotiate away additional funding for the agency during negotiations over the budget for the rest of 2011. Under the budget deal Obama struck with congressional Republicans earlier this month, the CFTC will receive a $34 million boost in funding for the remainder of the year. But, even with that additional cash, the agency will receive about $60 million less this year than the amount Obama requested for the agency under his 2011 budget.
Calls to the White House were not returned. The Department of Justice declined to comment.
Elise Foley contributed to this report.
Related
Popular in the Community