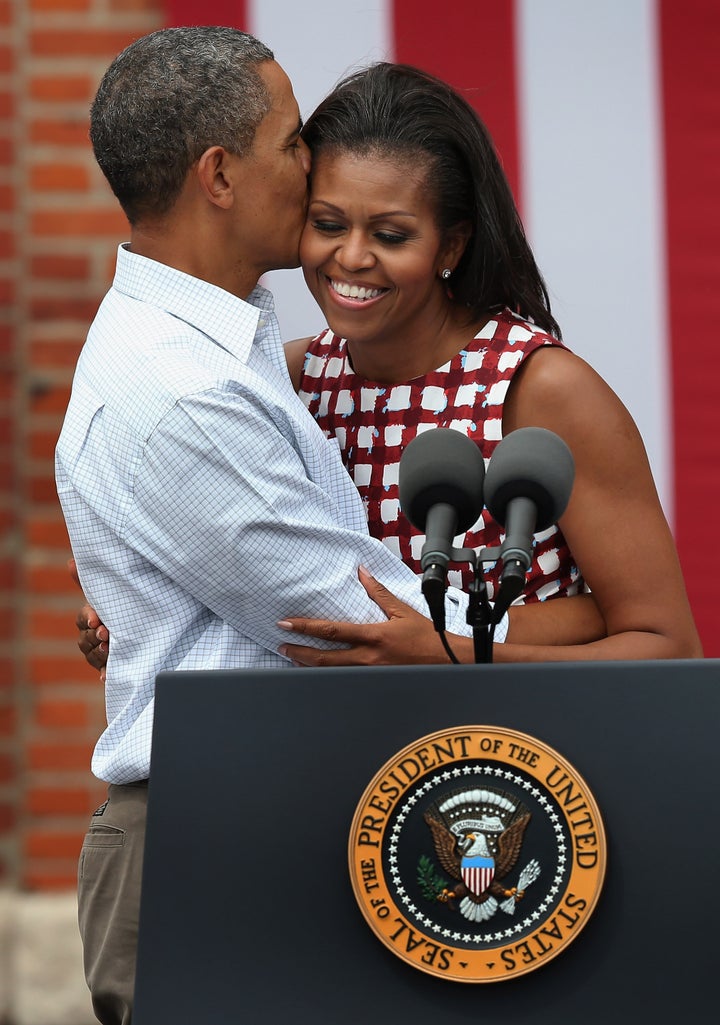 President & Michelle Obama hit the campaign trail on Wednesday, getting off the presidential bus in Dubuque to stump together. As in, they gave a joint speech, trading lines like a sitcom.
Mrs. O was even wearing a red dress. Hold up. Is it Valentine's Day already?
Nope, it's August, evidenced by the fact that the 2012 presidential campaigns are heating up to the point where the president and the first lady are tag teaming it to bring home some more votes. And words weren't the only thing flying onstage -- the pair didn't get caught on the Kiss Cam this time; rather, they held hands and leaned in for kisses before, during and after their joint speech to Iowans.
Not only are the pics of these two giving their speech SO CUTE -- and Mrs. Obama's red dress and blue belt combo adorable -- but the speech itself is a masterpiece of married political couple flirtation. A sample:
MRS. OBAMA: And our girls, Malia and Sasha, they still talk about our visit to the State Fair. (Applause.) We had a ball. We rode the bumper cars; we slid down that big slide -- where Barack almost lost Sasha. (Laughter.) She flew up --

THE PRESIDENT: I held on.

MRS. OBAMA: It wasn't pretty. Wasn't happy about that. (Laughter.) And, yes, we experienced the magic of our first fried Twinkie. (Applause.) Yes, we did. Even though you say I don't let you eat them, you eat what you want. (Laughter.)
But at the end of the speech, POTUS knew it was time to wrap it up, saying:
I have not seen her in five days and -- except I caught the end of Leno. (Laughter.) And the only reason that she, I think, is happy to see me is because she knows that after today, she gets to go tomorrow and get our girls from sleep-away camp, and she has been missing them terribly. So we stand in the way of her getting to her babies.
Check out pics below, and scroll down for even more First Couple PDA.