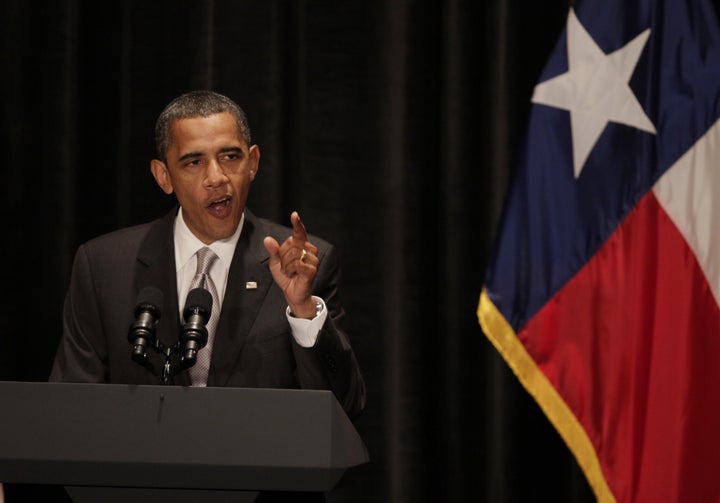 Obama's education reform efforts have been eclipsed by a weak economy, deficit hysteria, and the wars in Iraq and Afghanistan. His national appearance Monday afternoon, talking higher education at the University of Texas, is part of a bigger push to raise campaign funds for his party as midterm elections loom.
Obama recalled the early days of his candidacy and the warm reception he received in Austin back in February of 2007 when an estimated 20,000 turned out to hear him speak. "You were there because you were hungry to see some fundamental change in America," he said, reminding his audience of his promises to make health care more affordable and end the Iraq war.
In his short speech sandwiched between Austin and Dallas fundraisers, Obama highlighted his commitment to education and outlined a strategy for improving higher education in America. Giving a national address between fundraisers allows the White House to bill taxpayers -- not the party committees -- for much of the costs associated with the trip.
While no new policy initiatives were announced, the president underscored his pledge to make the United States the world leader in college attainment by 2020, promising to increase the percentage of people ages 25 to 34 who hold an associate's degree or a bachelor degree from 40 percent to 60 percent. "I want us to produce eight million more college graduates by 2020," Obama told his audience.
"The single most important step we can take is to offer all our kids - here in Austin, here in Texas, and across this country - the best education the world has to offer," Obama said, calling high-level educational achievement a "prerequisite for prosperity" and remaining globally competitive.
Throughout the speech, Obama framed his education goals in the context of improving the economy -- a critical election issue -- and touted the education accomplishments of his administration, such as helping to make college more affordable through larger Pell Grants and simplified financial aid forms.
Studies show the vast majority of future jobs will require a college education. And, the president noted, colleges costs have gone up faster than the costs of housing, transportation, and even health care.
"What I've tried to explain to people," Obama said, is that "it's an economic issue when the unemployment rate for folks who've never gone to college is almost double what it is for those who have gone to college."
Only 40 percent of students who enter college go on to finish their four-year degree in six years, according to a study by Public Agenda, a New York-based nonprofit. At the community college level, the study finds just 20 percent complete a two-year degree in three years.
The AP reports Obama's fundraiser in Austin will raise as much as $1 million for the Democratic National Committee. Sources say the fundraiser in Dallas will raise about $650,000 for the Democratic Senatorial Campaign Committee.
Popular in the Community