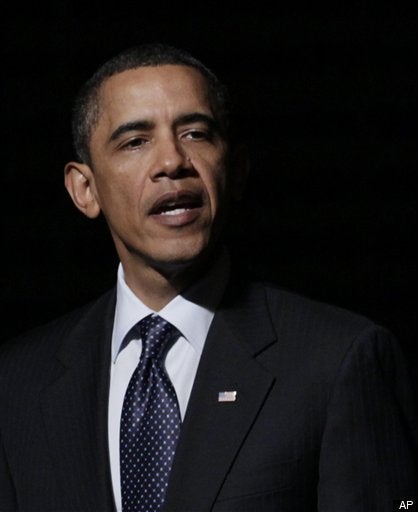 This story has been updated
President Obama's government-wide review of federal regulations, announced in an op-ed piece in the Wall Street Journal and with an executive order issued this morning, was immediately pounced on as a political move to curry favor with business interests by both health and safety advocates and conservative critics of the administration.
And the true impact of the new agenda remains hard to assess, with the White House disclosing few details, such as which rules will be targeted and how the order will be implemented. Part of the new agenda involves taking a fresh look at old regulations that may be outdated and ineffective due to changes in technology and human behavior, according to an OMB spokesperson.
The full impact of the review, which, according to a source close to the discussions, was developed by the administration's regulatory czar Cass Sunstein and White House officials over the last two years, will only become clear when the Office of Management and Budget issues its guidance, which will be issued to federal agencies within the next few months. Such a document describes how agencies should actually implement the order. The review will exempt some federal agencies independent of the White House and will not impact health care reform and financial regulatory reform, the administration's two biggest achievements.
Obama's review requires agencies, within 120 days, to determine how they will periodically assess current regulations to figure out which ones to modify, streamline, expand or repeal. Though the focus on burdensome regulations made headlines, it is clear that some rules could be strengthened and toughened, which encouraged some watchdog groups.
Financial reform and health care reform will not be in danger, assured White House press secretary Robert Gibbs, who said that a cost-benefit analysis of both overhauls would demonstrate their positive impact. Gibbs did not provide more details on the review, beyond emphasizing "the very commonsense idea that we must protect the health and the safety of the American people without impeding our economic growth."
Though the president wrote that the overhaul is in line with his administration's work to achieve "the proper balance" between protecting the public and stimulating the economy, his language seemed intended to win the favor of corporate America. Obama said the review was begun to "make sure we avoid excessive, inconsistent and redundant regulation," which closely matched remarks made by one of the president's chief nemeses, Chamber of Commerce President Tom Donohue. Donogue penned a scathing op-ed three months ago denouncing regulations that "are outdated, ineffective, overly complicated and counterproductive."
On Tuesday morning, Donohue welcome the new agenda in a statement praising the president for "restoring balance to government regulations." Describing the executive order as "a positive first step," Donohue also stuck the knife in, adding that "it also means repealing or replacing outdated or ineffective regulations" and that the review should include health care and financial reform laws.
In addition, the Business Roundtable, a leading lobbying organization, said it welcomed the review, calling it "an important change in direction from the administration. Two weeks ago, in response to new House Oversight Committee chairman Republican Darryl Issa's letter to
business leaders asking them to list regulations they consider burdensome, the group lashed out at the "regulatory tsunami" hindering investment and job creation.
Issa, who has become the White House's chief tormentor, offered some of the kindest words he's ever directed in the president's direction: "I applaud President Obama for joining what must be an effort that stretches beyond ideological entrenchments to identify the regulatory
impediments that have prevented real and sustained job growth in the private sector.
And amid speculation that Obama was also reaching out to the new Republican House majority, House Majority Leader Eric Cantor took some credit for the new agenda, saying in a statement, "Interestingly, though he and his administration didn't embrace it last year, we have noticed pieces of the plan being incorporated by the president, including trade agreements and rolling back barriers to job creation found in the regulatory system."
The move seemed to be in line with Obama's recent business-friendly overtures, such as the naming of JPMorgan executive William Daley as his chief of staff and his upcoming visit to the Chamber, and critics remained skeptical. Celeste Monforton, a legal scholar with the Center
for Progressive Reform criticized the president for "pandering to the business community," adding that she was troubled by the new emphasis on regulations as a vehicle for job creation and economic growth. "We have have heard that rhetoric for many years and have not been able to come up with any concrete examples of how worker safety and health hurt business."
Gary Bass, the executive director of watchdog group OMB Watch, who has consulted the White House on transparency issues, says he was blindsided by the announcement and has mixed feelings. Though he was encouraged by the focus on stronger regulatory compliance, calling it
"marvelous" and an appropriate response to the BP oil spill, Bass was disheartened by the push for flexibility, explaining that there doesn't seem to be enough of an emphasis on balancing the burdens of regulations with the benefits of protecting the public. "That presidential memo had the look and feel of coming from the office of advocacy in the Small Business Administration, which was probably drafted by the Chamber."
Bass argued that the order's emphasis on reviewing current rules is not a new step, since previous administrations did the same thing to little effect. "Clinton's executive order also called for a look-back so one could argue that none of this stuff is really new," says Bass.
Conservative scholars welcomed the review but were skeptical of Obama's motives. "The balance beam will move a little, but I doubt it will impact the implementation," said NYU Law School professor Richard Epstein, a conservative who once made the controversial argument that environmental regulations should be considered similar to eminent domain laws. "The encouraging point is that it is a belated recognition at the general level of not making enemies when it helps to make friends."
Other proponents of cost-benefit analysis were more hopeful about the new agenda, noting that the administration has embraced an aggressive regulatory approach in a way that is economically justified. "I think my overarching impression was that I like the vector he's on, which is about smart vs. dumb and doing more with less," says economist Roger Martin, the dean of Toronto's Rotman School of Management. "Lots of people make arguments that there is too much regulation, but when there are regulations that are really really important, you couldn't live without them. There have always been some kind of regulations in society, whether it's rules enforced by village elders or what we have now. It's about smart versus dumb regulations."
Michael Livermore, the Institute for Policy Integrity's executive director, claims that the cost-benefit analysis enshrined in Obama's executive order rewards regulations that benefit society, dismissing conservative arguments that most regulations are burdensome to businesses. "For rules they've adopted in which you get more benefit at less cost, the net benefit to society is worth billions and billions."
Calling all HuffPost superfans!
Sign up for membership to become a founding member and help shape HuffPost's next chapter