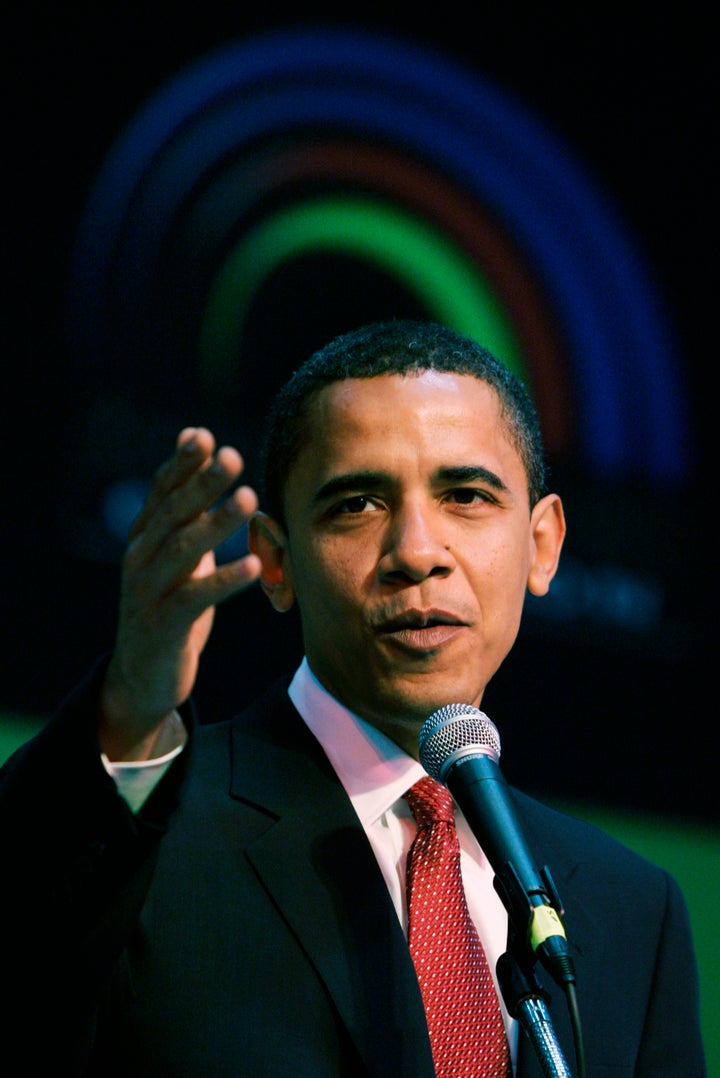 WASHINGTON -- The relationship between President Barack Obama and gay rights advocates appears to be thawing after two years of mutual distrust, in which each side was more likely to assail the other's motivations than find room for collaboration.
On Monday, the president's reelection campaign formally announced that he would attend a high-profile LGBT gala in New York City on June 23. The event is set to be emceed by Neil Patrick Harris. It will also feature former Rep. Patrick Murphy (D-Penn.), chief sponsor of the Don't Ask Don't Tell Repeal legislation, as well as Joel Burns, the Fort Worth council member whose emotional plea to stop anti-gay bullying helped make the "It Gets Better" series viral. The event is expected to raise a nice chunk of change for the Obama Victory Fund 2012.
Not even half a year ago, anticipation for such a fundraiser would center on how protesters might interrupt it. Those interruptions may still take place, but even jaded gay rights activists seem eager to find more amicable ground with the administration.
"I think that people always took the president at his word that the commitments he made in the 2008 campaign were heartfelt and that he meant them," said Richard Socarides, president of Equality Matters who does not count himself among the jaded. "I think what we learned about his governing style is that he is very process-oriented. He gets a plan in his mind and there is no changing course. He said at a gay pride event in 2009, 'Give me eight years.' A lot of us didn't want to wait eight years. But two years into it, he has delivered on some pretty important, incremental, pieces."
Socarides said Obama's decision to no longer defend the Defense of Marriage Act was especially important. "I think that pretty much sealed the deal for him with gay and lesbian Americans," he added.
Deal-sealing would be a boon to the President's reelection campaign, which has strategically eyed gay rights advocates as lucrative sources of campaign funds. Still, the president and his team have shied away from overt pandering to LGBT funders, in part, as Socarides conceded, because there are still many unmet expectations. Chief among them is proactive support for marriage equality.
Instead, Obama has managed to shore up his position in large part through incremental action, behind-the-scenes maneuvering and subtle winks and signals.
In his new Obama tome, "Revival 2.0: How the Obama White House Is Making Its Political Comeback, " Richard Wolffe offers one such illustration. Wolffe reports that the president declined a deal offered by Senate Minority Leader Mitch McConnell (R-Ky.) to guarantee passage of a nuclear non-proliferation treaty with Russia in exchange for scrapping a DADT vote.
Soon after the elections, McConnell approached Biden with a deal. His members hated the prospect of voting on two issues that might be used against them in future elections: Don't Ask Don't Tell and the Dream Act, which offered legal status to the children of illegal immigrants. McConnell offered to get Obama the votes on his treasured START treaty as long as he could dodge the controversial votes on gay rights and immigration. Obama's response was "no": those votes could go to the back of the queue, but he refused to kill them.

For many in Obama's inner circle, this position would have been unthinkable if Rahm Emanuel had still been chief of staff. As the leading advocate of the Survivalist group of Washington insiders, Emanuel cared little for Obama's campaign commitments on civil rights to either gays or Latinos. "Rahm would have made that deal," said one senior Obama adviser. "He would have wanted to give up Don't Ask Don't Tell for START. He would have made deals earlier than we should have made them. And, given his history on health care and everything else, even if the president had held firm, God knows what he'd have been telling the press about the vote numbers. In this case we were helped by Rahm not being there to negotiate these things. Because Rahm would have freaked out at losing the House."
Wolffe's telling of events leans on sourcing from Obama's supporters. An effort to get comment from Emanuel's office was not returned.
But it's the Democratic congressional leadership -- as well as Sen. Joseph Lieberman (I-Conn) -- that would be most aggrieved by this account. They pushed a stand-alone DADT repeal vote even after the legislation failed as an attachment to a defense authorization bill.
Obama did earn more than a few chips among gay rights activists from getting DADT repeal into law. Many top gay rights advocates are convinced the testimonies in support of repeal from Defense Secretary Robert Gates and Joint Chiefs of Staff Chairman Adm. Mike Mullen came at the prodding of the president.
Even more instrumental in earning LGBT support was Obama's decision to instruct his Justice Department to stop defending the constitutionality of a controversial provision of the Defense of Marriage Act in courts.
"It was something only he could do, and it sent a strong message," said Steve Elmendorf, a prominent Democratic strategist and gay rights advocate. "It signaled that he is moving on marriage."
Still, Elmendorf said, Obama is "not where he needs to be on marriage. The energy in the community is obviously focused on marriage right now, but they also realize it is a state issue and there is nothing immediate Obama can do so long as John Boehner is Speaker."
Therein lies the most fundamental reason for the thawing: several months of Republican control of the House have given gay rights advocates experience with the alternative to an Obama administration -- and it's been motivational.
There will be some concerned with LGBT issues who, out of apathy or disappointment, simply sit out the 2012 cycle. But the majority are expect to overcome their grievances.
"If you look at [Monday's] Republican presidential debate, any one of those people are very scary for gay Americans," said Socarides.
Popular in the Community