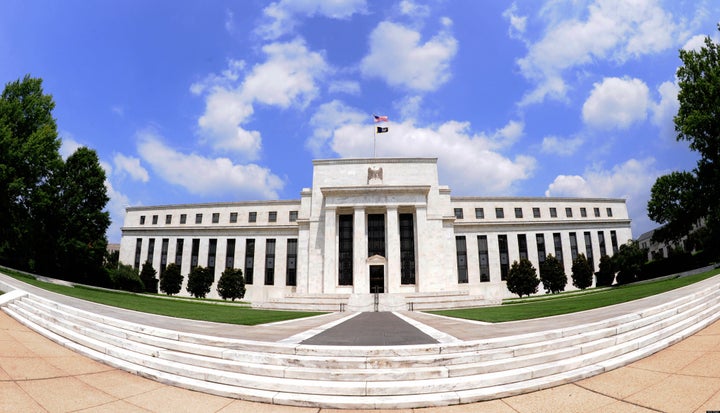 Economists are cheering the Obama administration's rumored picks for the Federal Reserve, noting that the two economists and the bank regulator reportedly selected to serve on the central bank's board will be more inclined to stick up for families.
Janet L. Yellen, president of the Federal Reserve Bank of San Francisco, is reported to be the administration's choice for the soon-to-be-vacated vice chairman role on the Fed's Board of Governors; Peter A. Diamond, an MIT economist who's written extensively about Social Security and pensions is said to fill one existing vacancy; and Sarah Bloom Raskin, the state of Maryland's top bank regulator, is said to fill the other.
"I think these are all great choices, and ones that will move Fed policy in the needed direction -- responsive to the needs of middle-class and working families," said Lawrence Mishel, president of the Economic Policy Institute.
Commentators have designated Yellen a "dove," meaning she favors keeping interest rates low in order to ensure access to cheap loans, thus enabling firms to get the credit they need to grow and hire workers. She's a heavily-praised economist who's chaired the White House Council of Economic Advisers and served on the Fed's central board during the Clinton administration. Former Fed governor Laurence H. Meyer, vice chairman and director at Macroeconomic Advisers, an economic consultancy, wrote on his firm's blog that he "jumped up and down when I heard the news!"
"Janet is...one of the best economists I have ever worked with, and someone whose judgment I so much respect," Meyer wrote. He went on to praise the reported Yellen pick as "outstanding" and called her the "best possible choice."
Mark A. Thoma, an economist at the University of Oregon who runs the popular economics blog Economist's View, praised all three picks -- particularly Yellen.
"She's very, very, very good," Thoma said in an interview. "I've heard nothing but good things about her."
Last week, Thoma wrote that Obama needs to pick a monetary policy expert to fill at least one of the three vacancies. "She's exactly what I thought they should have," Thoma told HuffPost. "No complaints there at all."
Thoma noted two speeches that Yellen gave -- one in 2005, another in 2009 -- in which she took different positions regarding the housing bubble and whether the Fed could or should have taken any steps to deflate it before it popped. Her position in 2005 -- a bursting of a bubble wouldn't have a large effect, and the Fed shouldn't act anyway -- changed over time; last year she said that, based on "recent painful experience," policymakers should "lean against asset price bubbles...especially when a credit boom is the driving factor."
Thoma said her evolved views are a positive development.
"Some people may view that as wishy-washy, but I see that as someone who can really learn from the past, identify mistakes, is willing to listen to people and change their views," Thoma said.
He also noted that Yellen may not be as dovish as commentators paint her to be; policymakers don't need to be as worried about inflation during the short run, he said, particularly during a period in which the economy is performing significantly below its capabilities.
Dean Baker, co-director of the Center for Economic and Policy Research, was a bit more muted in his praise.
In an e-mail, Baker wrote that Yellen, Diamond and Raskin "are probably about as good as you could hope for given the political constraints."
"[A]ll three should be given a thorough grilling by the Senate Banking Committee. They should first be asked about their understanding of what went wrong. Yellen in particular argued in the past that the Fed could not and should not do anything about asset bubbles. She should be given the opportunity to explain how she now realizes that her view was wrong and what she thinks the Fed should do in response to future asset bubbles.

All three should be questioned on how they view the risks of inflation as opposed to the need to reduce the unemployment rate to more normal levels. They also should be asked about how low they think the unemployment rate can ultimately fall."
Diamond, while universally praised as an economist, isn't known for his research on monetary policy or financial institutions, other economists note. His published research focuses almost exclusively on entitlement programs and taxation. Mishel, while praising Diamond, said in an e-mail that the rumored pick was a "bit of a surprise." Thoma, puzzled by the pick, said he'd like to see a financial expert instead.
Raskin may be the most interesting choice of them all. A lawyer by trade, she's one of just a handful of bank regulators that hasn't experienced a bank failure over the last two years. Of Maryland's three bank failures since the start of 2008, none were state banks under her supervision. So already she's got a better track record than nearly every other bank regulator in the country.
She's also a vigorous proponent of strong consumer protection measures, state regulation of banks, and she's been particularly critical of Washington's failure to rein in megabanks and Wall Street -- two areas over which the Fed has a near exclusive domain.
"The federal government has so far proved itself incapable of managing systemic risk," Raskin told the Congressional Oversight Panel, a bailout watchdog, last year.
"At the state level, we battled predatory lenders for almost a decade, only to be told that our local concerns were less important than the demands of the modern global marketplace...[W]e have sometimes perceived an environment at the federal level that is skewed toward facilitating the business models and viability of our largest financial institutions rather than promoting the strength of the consumer or our diverse economy.

...

"It is an old saying among bank regulators that our job is to take away the punch bowl once the party really gets going. That is not an easy call to make, and it was particularly difficult in the run-up to this financial crisis, as both Wall Street and monetary policy were spiking the punch bowl.

"Yes, the current crisis has both revealed and created weaknesses and gaps in our regulatory system; but even more, I submit that it reveals the gap in regulatory and political will in Washington. Perhaps the resilience of our financial system during previous crises gave policy makers and regulators not only a false sense of security, but also a greater willingness to defer to powerful interests in the financial industry who assured them that all was well.
To Thoma, having someone on the Fed's board who understands bank regulation and has a different opinion on the role of state supervision and the importance of consumer protection is critical; after all, as many analysts, legislators and policymakers have noted, bank supervision and consumer protection haven't been the Fed's strong suits in quite some time.
Calling all HuffPost superfans!
Sign up for membership to become a founding member and help shape HuffPost's next chapter