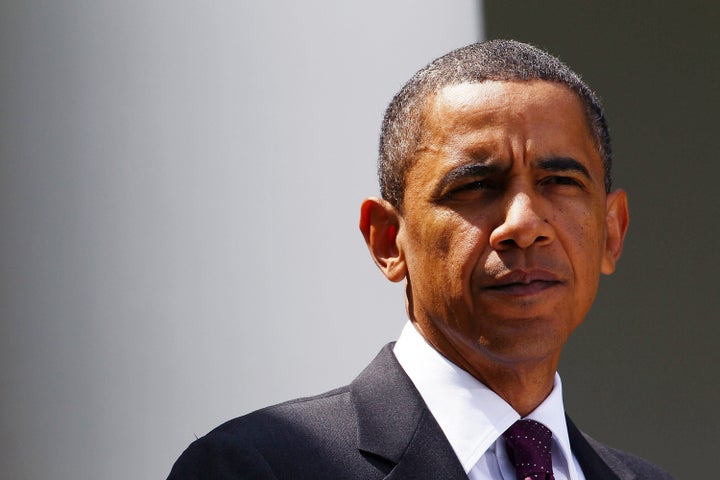 WASHINGTON -- The impression that the Obama administration is forever one step behind the unfolding events and chaos in Egypt this week is one left, in part, by design.
Both the president and his aides have gone to great lengths to respond to the facts on the ground rather than dictate them. It's a posture that's spurred no shortage of jeers, with protest sympathizers howling at the administration's refusal to register firmer condemnation and political opponents accusing Obama of gross mismanagement. When peaceful demonstrations against President Hosni Mubarak sparked a bloody backlash Wednesday morning, it was Obama's moral compass that was questioned.
And yet, like a boxer deliberately absorbing an opponent's hits, the White House has shown no willingness to get off the ropes.
"Events have, again, moved enormously quickly in a very volatile region of the world, the likes of which we have not seen in our lifetimes," Press Secretary Robert Gibbs said on Wednesday. "That just simply demands that we continue to watch and continue to ensure that we are taking the steps to communicate directly with all of the entities of their government about what we expect in terms of non-violence... and the steps that need to take place in order to see that transition."
Call it the Restraint Doctrine. It's an Obama fixture. In June 2009, the president was being routinely pressed to cast his lot with protesters who had swarmed the streets of Tehran. He chose, then as now, to try and manage spiraling events rather than orchestrate an alternative narrative.
"I think that in every situation of this sort requires a thoughtful response," Senior Adviser David Axelrod told The Huffington Post on Monday. "You want to respond in a way that's thoughtful and constructive, and sometimes with foreign policy, the most constructive answer isn't necessarily the most visceral or satisfying."
As Axelrod sees it, the president hasn't been a bystander as Egypt lurches towards disarray; he's been, in an abstract way, a root cause of the uprising, having spoken about the need to recognize universal human rights during his famed 2009 speech in Cairo. National Security Council spokesman Tommy Vietor, meanwhile, described an elaborate effort on the administration's behalf to ensure that if the president's team was reacting to events, they were reacting in real time.
"We have people in the State Department in particular that have long-established contacts in the region that watch what their friends are tweeting or putting up on Facebook, literally," he said. "We talk to press in the region and get assessments from them. We talk to U.S.-based reporters who have gone over there. Our embassy has reached out to as broad a cross-section of government officials, NGO activists, anyone who they can talk to, people even in the business community ... There is a vast web of interactions that are feeding a 24-hour cycle of updating information."
Through diplomatic back-channels and rhetorical embroidery, the White House has conveyed the message that Mubarak's time is through. The question is when.
"In that respect, what they have done they had done prudently," said former Sen. Gary Hart, a member of the Council on Foreign Relations. "The problem with cutting your losses and saying to Mubarak, 'go away immediately' is that you send a signal to about 30 to 40 governments in the world that the Americans will cut and run; if they get in trouble they are gone. There are some governments that we don't want to go away."
"I don't fault the president for the tactical aspects of hedging our bets and trying to sit in the middle of the fence to see what results from this turmoil in Egypt," said Amb. Lawrence Wilkerson, former Secretary of State Colin Powell's longtime aide and chief of staff. "Nobody knows what is going to happen. Nobody even knows if a democratic government will be better in Egypt than the freaking dictatorship that has been there since Nasser."
The path to this point has not been without discomforting bumps. As protests erupted on Jan. 25, Secretary of State Hillary Clinton proclaimed that the Egyptian government was "stable." Two days later, Vice President Joseph Biden insisted that Mubarak was no dictator and, given the institution of some reforms, would be fine to remain in power.
It was only when conditions on the ground grew more dramatic that the U.S. posture changed. The situation was clearly not stable. And early this week, Clinton suggested that Obama send Frank Wisner, who served as U.S. ambassador to Egypt during the Reagan era, to relay the message that the country's longtime ruler had to go. By Wednesday, the National Journal was reporting that Wisner had more or less told Mubarak that Obama would support "a slow-motion, hopefully bloodless military coup as part of an 'orderly transition' to power." Vietor called the latter report "not accurate."
Struggling to keep up with the frantic pace of events -- while equivocating over who is to blame -- the White House has managed to alienate all parties at once.
"I wouldn't use the word 'positive' to describe Washington's posture," said Sheila Carapico, a professor of political science at Richmond University who's currently serving at the American University in Cairo. "Last week people here were calling stability 'the S-word,' since stability in the geo-strategic sense has amounted to deterioration of life for most Egyptians. Calls for orderly transition are also highly risk-averse -- the U.S. administration is hedging its bets rather than betting on democracy."
The White House would dispute such an assessment. But the fact remains that there is a public-relations price to pay for adhering to a restraint-based foreign policy. For starters, the administration has had little to offer the press in the way of declarative or even substantive policy announcements. On Wednesday, the fourth estate made its displeasure known, with the White House Correspondents Association sending Gibbs a terse statement demanding more access.
Mainly, however, the problem for the president is that he's left it to the pundits and observers to determine his overarching objective rather than defining it himself. And while there might be "tactical" benefits or geopolitical prudence in doing so, it's resulted in poor domestic reviews and a hazy understanding abroad.
"The administration has been fairly close-mouthed about most of this, even listening to Hillary and others who speak on these matters," said Wilkerson. "And so I don't know what they are thinking. I don't know what their strategy is. I'm not sure they do either."
Popular in the Community