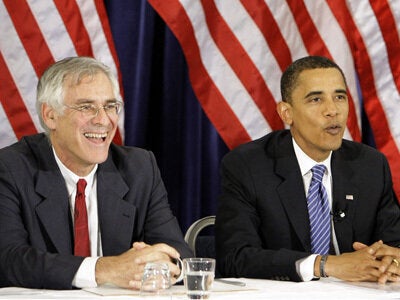 ***Check Back For Updates***
Richard Danzig, Bill Clinton's Secretary of the Navy is said to be on the short list to replace Robert Gates as Secretary of Defense. While it's not clear that Gates immediately leave the office at the end of Bush's presidency, Danzig is a definite possibility as a successor for whenever the changeover occurs.
Marc Ambinder reminds readers not to forget about Danzig for the position.
Danzig was mentioned in a recent New York Times article predicting an Obama cabinet.
Earlier, in an article that names Danzig as a possible National Security Adviser, Danzig made several odd comments at a policy conference in Washington:
Mr Obama's candidacy was given an early boost by his opposition to the Iraq war and he has repeatedly said the US needs to rethink its approach to the Middle East.

Mr Danzig spelt out the need to change by reading a paragraph from chapter one of the children's classic, which says: "Here is Edward Bear, coming downstairs now, bump, bump, bump on the back of his head behind Christopher Robin. It is, as far as he knows, the only way of coming down stairs. But sometimes he thinks there really is another way if only he could stop bumping a minute and think about it."
Popular in the Community