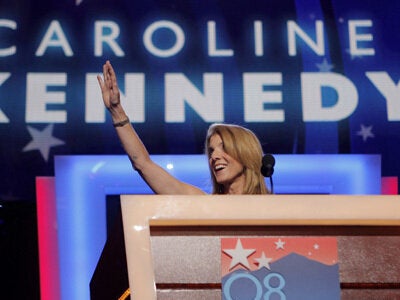 ***Check Back For Updates! For the latest news on the Obama cabinet, visit the Huffpo's Obama Cabinet Big News Page!***
Caroline Kennedy, President Kennedy's only surviving daughter, has been a strong supporter of and spokesperson for the Obama campaign. Obama has had no shortage of JFK comparisons this campaign and the endorsements from the Kennedy family have certainly encouraged them, so a Kennedy in an Obama White House would certainly look to Obama's legacy.
When asked about her role after the election on Meet The Press in August, Kennedy was evasive:
MR. BROKAW: Well, those of us who live in New York know about your passion and your commitment to public education. If Senator Obama were to be elected, would you think about moving to Washington and taking that on as a very active and high-profile role, the repair of American public education?

MS. KENNEDY: Well, I don't think there's a more important cause. I have absolutely no--right now I'm concentrating on, on tomorrow night, so you know, I'll come back.
Calling all HuffPost superfans!
Sign up for membership to become a founding member and help shape HuffPost's next chapter