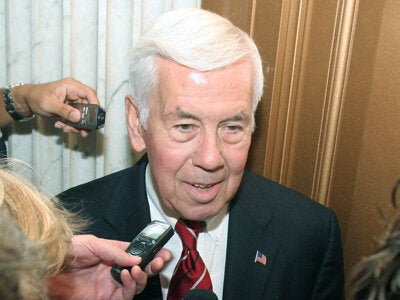 ***Check Back For Updates***
Dick Lugar, is Indiana's Republican, senior senator and has frequently been named as a top choice for Obama's secretary of state. Lugar is regarded as a foreign policy expert and has chaired the Senate Foreign Relations Committee, now chaired by Joe Biden. Obama recently stoked cabinet predictions by citing Lugar at the final debate as one of the people "who have shaped my ideas [on foreign policy] and who will be surrounding me in the White House."
Marc Ambinder mentioned Lugar as a possible secretary of state, and a recent New York Times article also mentioned Lugar as a top choice.
For his part, a spokesman for Lugar said that he had no interest in serving in the White House...
"He's been very clear that he won't be serving in any administration, that he likes his current job and will stay put," Lugar spokesman Andy Fisher said in an email.
...but then, these statements sometimes have a way of turning around when one is actually offered such a position.
Popular in the Community