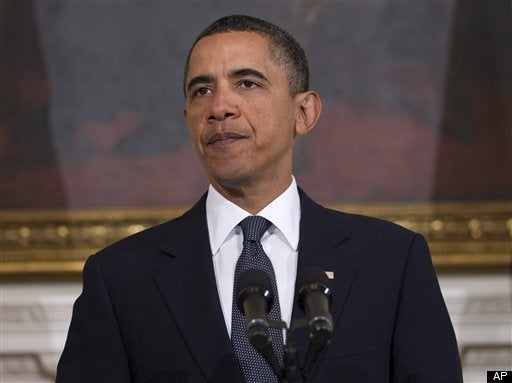 President Obama's speech in Tucson will trigger much commentary, but in speaking many words, he really uttered the last one. There was a finality to Obama's speech, a lapidary effect that endowed it with humility and gravity. It would be hard to think of a more moving and dignified speech, particularly when set against the foil of Sarah Palin's creepy and self-absorbed effusions earlier today.
In essence, Obama returned to his earliest and most deeply felt theme, which is that optimism, not hatred, civility, not rancor, hope, not despair, should guide and elevate America, no matter how heated or turbulent political issues may become.
But for all the weight and gravity of his talk, Obama had to compose himself at the end of his talk, when he spoke of Christina-Taylor Green skipping through rain puddles in heaven. Perhaps you could even say that there was something angelic about Obama's exhortation to follow the better angels of our nature.
No doubt the usual cavalcade of atrabilious right-wing commentators will work overtime to try and distort Obama's remarks. But his address drew its strength from the fact that he, in effect, receded from the memorial service to function in the capacity of offering a tribute to the victims rather than pontificating about them.
Obama referred to the fact that the significance of these events shouldn't simply be consigned to oblivion by the time of the next news cycle. But his ennobling address may well have helped to ensure that they do not suffer that fate.
REAL LIFE. REAL NEWS. REAL VOICES.
Help us tell more of the stories that matter from voices that too often remain unheard.