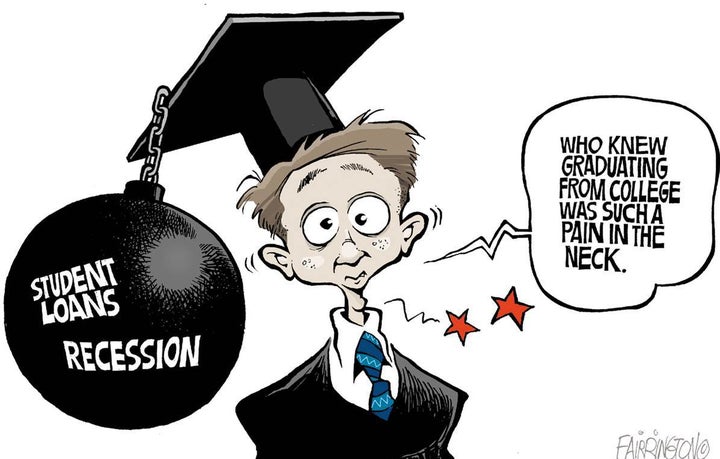 If you have paid attention to the news or followed "click bait" advertisements, you may have read about "Obama's New Loan Forgiveness Program."
Unfortunately, no such bill or law exists. These advertisements have been utilized by various companies in order to attract current borrowers of federal loans to their website with hopes of making borrowers pay for services that are free. The companies often charge more than $1,000 to assist students in no-cost actions, such as enrolling in an income-based repayment plan, or filling out a certification form for determining whether payments made toward student loans meet the requirements of Public Service Loan Forgiveness. Just last July, the Illinois Attorney General sued First American Tax Defense alleging that the company charged current borrowers an average of $1,200 in upfront fees to access loan forgiveness.
Fortunately, current borrowers of federal loans should not fret. In fact, there do exist a number of real options for loan forgiveness, discharge, and cancellation (and a few were even created by the Obama administration).
"Borrower Defense to Repayment" Discharge Program
A federal loan can be discharged in the event that the federal loan was used toward the cost of enrollment at an institution that closed due to loss of accreditation, loss of a majority of academic programs, or because the school violated state or federal law. A discharge of the loans under this program results in the current borrower not having to pay back the remaining balance of the federal loan(s), and allows the borrower to have any amount already paid on the federal loan(s) returned. Additionally, the Department of Education has passed new regulations, effective July 1, 2017, extending the "Borrower Defense to Repayment" discharge program to allow federal loans to be discharged when used to pay for enrollment in schools where (1) a court has determined that the school violated federal or state law, (2) the school breached a contract with the student taking out the loan, or (3) the student attended the school based on a substantial misrepresentation made by the school to the student. A substantial misrepresentation includes any false, misleading, or erroneous statement used by a school to encourage students to attend. An example would be a school saying that 90% of their students find jobs within six months after graduation, while only 72% actually do.
Public Service Loan Forgiveness
Public Service Loan Forgiveness ("PSLF") allows a current borrower to have the unpaid balance of loans received under the William D. Ford Federal Direct Loan Program forgiven after making 120 qualifying payments on the loans while working full time in public service. The amount forgiven includes any unpaid balance on eligible loans. More information about how to qualify for PSLF can be found here.
Other Grounds for Loan Discharge, Cancellation, and Forgiveness
• If you suffer from a disability that can be expected to result in your death, is expected to last for 60 months, or has lasted for 60 months, you may be eligible for federal loan discharge under the Total Permanent Disability discharge program.
• When you die, your federal student loans can be discharged.
• If all your federal loans were taken out after October 1, 1998, and you teach in a low-income elementary school or secondary school for five consecutive years, you can have up to $17,500 of your loans forgiven via the Teacher Loan Forgiveness program.
• If you completed the required number of payments under the various income-driven repayment programs offered, including the Pay-As-You-Earn, Revised-Pay-As-You-Earn, Income Based Repayment, and Income Contingent Repayment plans, the unpaid balance of the federal loans are forgiven. More information about those plans and their forgiveness terms can be found here.
It is unfortunate that predatory companies chose to use the promise of a presidential loan forgiveness program in order to twist money out of the hands of current borrowers. However, as shown by the discussion of the options above, there are numerous avenues to loan forgiveness, cancellation, and discharge that will not cost you a penny!
Kenneth Strickland is the Student Debt Specialist at Equal Justice Works. Here, he works to ensure that public interest legal jobs remain accessible to all who desire them by engaging in education, outreach, and policy analysis centered around ensuring that an affordable legal education remains an option for everyone. Ken is a recent graduate from the University of North Carolina School of Law, and has worked with reputable public service organizations such as North Carolina Advocates for Justice, American Civil Liberties of North Carolina, and the North Carolina Poverty Research Fund.
Popular in the Community