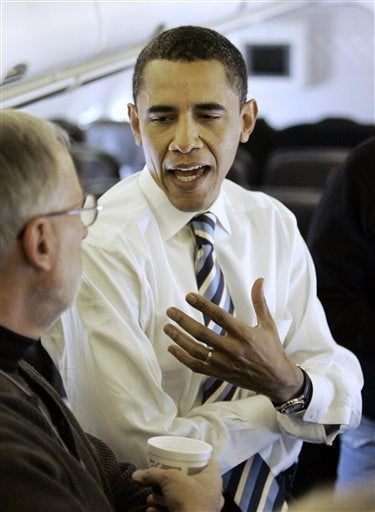 The Giants and the Patriots both hail from Feb. 5 states -- come to think of it, the Giants sort of hail from two, New York and New Jersey, which is the team's home base.
So Barack Obama, asked by reporters today to pick a favorite, really couldn't win politically. But he was clear: He wants to see the Patriots prevail in the Super Bowl tomorrow, so they can fulfill their dream of a perfect season. He recalled following, as a 10-year-old, the tremendous feat by the Miami Dolphins in 1972, but said he wanted to see another team now get the honors.
Recalling how tough the Giants played the Pats during the regular season, Obama said he expected a close game tomorrow. New England will narrowly pull it out, he predicted.
Despite his support for the Patriots, though, Obama harbors more than a little jealousy. In a tour through The Boston Globe newsroom in December, he marveled at the success of the Red Sox, Pats, and Celtics, asking to borrow some good fortune for his lesser Chicago teams. (Maybe next year, Barack.)
Obama plans to watch the Super Bowl at home in Chicago with his Secret Service agents; his wife, Michelle, is due in Los Angeles for a rally at UCLA with Oprah Winfrey and Caroline Kennedy.
Popular in the Community