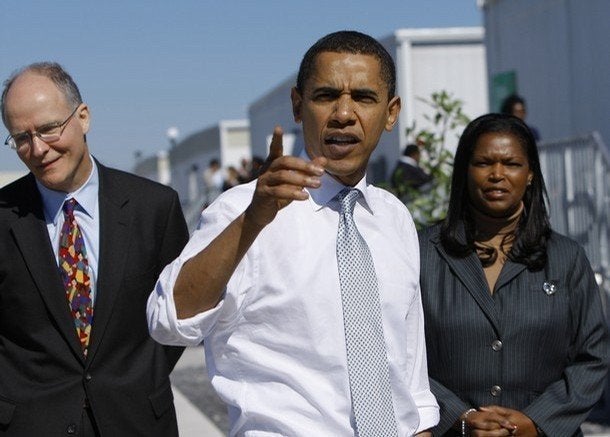 At a briefing before well over 100 reporters, John Podesta, the co-chair of Barack Obama's White House transition, announced three priorities for the interim period and laid out just how comprehensive the effort would be.
The transition team will operate off a budget of $12 million ($5.2 million has been appropriated by Congress, the rest will be raised separately through individual donations of under $5,000), employ 450 people and operate out of offices in Washington D.C. and Chicago. Already, Podesta reiterated, the team has granted 100 interim security clearances.
As for the priorities - they resembled the same major interests Obama announced repeatedly on the campaign trail.
• The team, Podesta said, would be "laying the groundwork in stabilizing the economy and putting Americans back to work."
• They "also will be engaged as is required and necessary in national security issues that remain constant throughout the transition."
• And, of course, there is "the task of building a government."
Podesta called for an accelerated process when it comes to appointing potential cabinet members, saying that past "expedited" efforts by president-elects were not fast enough for this go-around. As such, he called on both parties in Congress, the current administration and relevant agencies to work together to help get a team in order, quickly.
"So far that has moved smoothly," Podesta said. "We anticipate that we will be able to both make appropriate selections, and get those people through the clearance process, which sometimes can get bogged down. There will be adequate recourse devoted by the FBI and other agencies."
"We are hopeful that we can do a good deal better than previous administrations," he added. "And frankly, if you look at the findings of the 9/11 Commission, we need to do a lot better."
Later in the briefing session, Podesta was asked about one cabinet position in particular: the Secretary of Defense. Reports have surfaced in recent days that Obama was considering keeping the current occupant of that post, Robert Gates, in office. Podesta did not hint which way Obama stood on the matter, saying only that a review for that position was taking place.
"He has great respect for Secretary Gates," he said, "but beyond that he intends to engage, as I suggested, across the board with the agencies."
At the meeting Podesta also announced what the campaign calls the strictest, and most far reaching ethics rules of any transition team in history. The rules, which were reported a few weeks ago by the Huffington Post, are:
• Federal Lobbyists cannot contribute financially to the transition.
• Federal lobbyists are prohibited from any lobbying during their work with the transition.
• If someone has lobbied in the last 12 months, they are prohibited from working in the fields of policy on which they lobbied.
• If someone becomes a lobbyist after working on the transition, they are prohibited from lobbying the Administration for 12 months on matters on which they worked.
• A gift ban that is aggressive in reducing the influence of special interests.
Popular in the Community