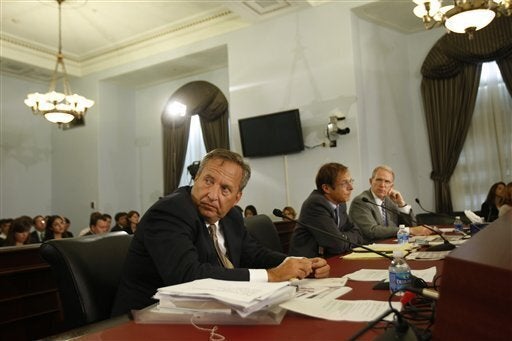 ***Updated 11/6*** Fortune has said that it believes Larry Summers to be President-Elect Obama's top choice for Secretary of Treasury, citing various reasons.
Fortune believes that former Treasury Secretary Lawrence (Larry) Summers is in the lead to get the job. Summers, who served in the Clinton Administration, wouldn't be a surprise pick. He along with other economic experts, ex-Treasury Secretary Robert Rubin and former chairman of the Federal Reserve Paul Volcker, have advised Obama during the campaign, especially as the economic crisis unfolded. Volcker is said to be highly interested in the Treasury job, but Summers, with support from Rubin, has the inside track.
New York Magazine's Daily Intel blog has an interesting insight into the "competition" for the position between Summers and his "mentee" Time Geithner.
A scant two days after the election, the list of who might become Treasury Secretary has been whittled down by those who whittle such things to two people: Larry Summers, the former Harvard president who served as Treasury Secretary at the tail end of Clinton's term, and New York Federal Reserve president Tim Geithner. "They are both highly regarded," an Obama insider tells the New Republic's Noam Scheiber today. "Very highly regarded. Very, very highly regarded." They also have a past, dating back to 1993, when Summers was serving as the head of the Treasury's international arm and hired Geithner, a deferential 30-year-old whom Scheiber describes as a "svelte and baby-faced" "man-child" with "teen-idol locks and a boyish voice" as his "consigliere." "In Geithner," he writes, "Summers recognized the perfect complement."
The American Prospect also lists Summers as a possible Treasury Secretary for Obama
In the Obama camp, there is similar attention paid to Lawrence Summers, who served under Bill Clinton as treasury secretary in the final year of his presidency, and held various important posts beforehand in the Treasury Department and as a World Bank economist. Summers is identified with the Rubinomics, deficit-hawk wing of the Democratic party -- which could be problematic given the financial crisis. But that hasn't stopped the former secretary -- Summers has been out front with a monthly Financial Times column about the importance of stimulus spending in a recession. His informal campaign has also included advising Obama and lending his name to economic statements put out by the campaign and congressional leadership, making him well positioned for a return to his old post.
When discussing a possible Obama cabinet, former president of Harvard and Clinton Treasury Secretary Larry Summers has perhaps been the safest bet for those trying to predict an Obama cabinet. Most articles predicting such a cabinet put Summers back in his former position of Treasury Secretary.
New York magazine has just published an article saying that a Summers pick is extremely likely:
But although there has been chatter that Obama might also retain Hank Paulson at the Treasury, the inside betting is on a Larry Summers encore. "They're gonna want somebody who knows the building, knows the economy, has been confirmed before and been advising them on economics," says the former Clinton aide. "I'd be flabbergasted if they chose somebody else."
Summers also recently spoke out on the inequity of wealth in America, one of Obama's main campaign points:
"If the bottom 80 percent had kept pace and earned that $8,000 ... their income growth would have been twice as high over the last generation as what we in fact observed. Think about this number: $600 billion a year. It is immense compared to any discussion of changing the tax system here or there," Summers added.
Summers also warned about financial crisis from the global credit crunch almost a year ago, which should make him an easier sell to the American public.
Calling all HuffPost superfans!
Sign up for membership to become a founding member and help shape HuffPost's next chapter