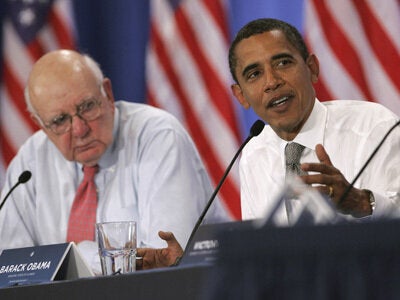 ***Check Back For Updates! For the latest news on the Obama cabinet, visit the Huffpo's Obama Cabinet Big News Page!***Update 11/26, 9:40 AM
Former Federal Reserve Chairman Paul Volcker will chair a new economic advisory panel created by President-elect Barack Obama and designed to stabilize financial markets, the Wall Street Journal reported on Wednesday.
Quoting Democratic officials, the newspaper reported on its Web site that University of Chicago economist and Obama policy adviser Austan Goolsbee will serve as the panel's staff director.
Members of the President's Economic Recovery Advisory Board will come from a cross-section of citizens outside the government, the Journal said.
The economic panel announcement is the third in three days for President-Elect Obama, who has rolled out his economic team quickly, as promised. Here's a recap of the team so far:
Paul Volcker, former Fed chairman under Carter and Reagan is currently an economic adviser for Obama. As such, his name has been mentioned for treasury secretary.
When he endorsed Obama in January, Volcker said:
"After 30 years in government, serving under five Presidents of both parties and chairing two non-partisan commissions on the Public Service, I have been reluctant to engage in political campaigns. The time has come to overcome that reluctance," Volcker, a Democrat, said in a statement today. "However, it is not the current turmoil in markets or the economic uncertainties that have impelled my decision. Rather, it is the breadth and depth of challenges that face our nation at home and abroad. Those challenges demand a new leadership and a fresh approach."
Of Volcker for the Treasury, the New York Times had this to say:
[Volcker] has a deep understanding of the problems and would not need a steep learning curve. Indeed, I believe that the new president should name his Treasury secretary the day after the election, and have him and a small staff move into Treasury and immediately begin grappling with the issues alongside Henry M. Paulson Jr., the current Treasury secretary. In a recent interview with Larry Kudlow on CNBC, Mr. Paulson essentially promised that kind of cooperative transition. It is a pretty important thing to do.

Secondly, during his time at the Fed, Mr. Volcker showed that he was willing to do difficult -- even unpalatable -- things. He also showed he was unafraid to inflict pain on the very president who appointed him -- in his case Jimmy Carter. As you may recall, in his effort to stop the raging inflation that was threatening the country, Mr. Volcker raised interest rates so high that he threw the country into a recession -- and in so doing, doomed Mr. Carter's re-election efforts. He faced stiff criticism, but he held his ground, and in the end, he did the right thing for the country. The long bull market that began in 1982 was a direct result of Mr. Volcker's willingness to do what he thought was right.

Finally, in a time of such deep partisanship, Mr. Volcker would instantly command the respect of Democrats and Republicans alike. Although politicians will certainly questions his decisions -- that is what makes the world go round -- they will not question them on the basis of partisanship. That is important. And they certainly will not accuse Mr. Volcker of doing Wall Street's bidding at the expense of Main Street, as many Republicans now accuse the current Treasury secretary of doing. As R. Glenn Hubbard, the former head of the Council of Economic Advisers under President Bush, told me the other day, "I can't think of anyone else with the same stature."
Popular in the Community