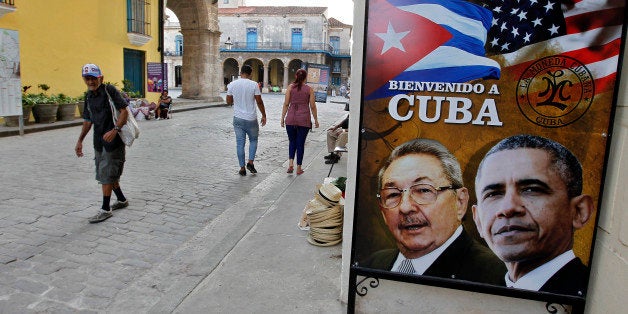 On Sunday, President Barack Obama will be the first U.S. President to set foot on Cuban soil since 1928. With economic sanctions still firmly in place, the visit represents a potential thawing of diplomatic relations between the U.S. and Cuba. However, for many Cubans of African Descent, the arrival of the first black President is more than just a demonstration of political goodwill: it symbolizes an opportunity for Afro-Cubans and African Americans to rediscover their shared struggle against racism.
President Obama's three-day trip to the island comes just two years after restoring diplomatic relations, Cuba's participation in its first Organization of American States (OAS) meeting in decades, and visits to Havana by Secretary of State John Kerry. Having little memory of what started the tensions between our country and the island 90 miles south of Florida, most Americans see the embargo as a relic from the past, though Republican presidential candidate Ted Cruz and Senator Marco Rubio have used Obama's visit as more evidence of the president's failed foreign policy.
For many African Americans, long fascinated with Cuba's similar and distinct racial politics, this gradual re-engagement with Cuba has prompted an outpouring of enthusiasm. For example, Harvard professor Henry Louis Gates explored the island and featured it in his Black in Latin America series, Beyoncé and Jay-Z made a big splash dining at one of Havana's most famous paladares in 2013, and offers for special African American tours to Cuba abound. Based on the shared experience of the Trans-Atlantic slave trade, some even argue that African Americans should be the first in line to visit the island.
But what does the POTUS and First Lady touching down in the Caribbean's largest island and the restoration of African American-Cuban relations mean for Cubans of African descent?
On Dec 17, 2014, when Presidents Obama and Raúl Castro announced the reestablishment of diplomatic relations, I emailed friends and colleagues on the island to see how they were taking the news. Daisy Rubiera Castillo, an Afro-Cuban intellectual, activist, and author of a 2011 edited collection on black and mulata women's history and culture, cautiously told me, "we will see what happens." She expressed cautious optimism that economic openings in Cuba would improve the everyday lives of Cubans of African descent.
Historically, Afro-Cubans have been among the last citizens to reap the benefits of economic, political, or social progress. In fact, since the fall of the Soviet Union, Cuba's main trading partner, beginning in 1989 and the opening of the island to joint business ventures with European and Canadian enterprises, most new (and higher paying) jobs in the tourist economy have gone to lighter skinned or white Cubans.
As I discuss in my new book Antiracism in Cuba: The Unfinished Revolution, many of the African Americans who traveled to Cuba in the 1960s and 1970s incorrectly reported that the revolution eliminated racial discrimination. Black intellectual Harold Cruse traveled to Cuba in 1960 and said, "The two weeks I spent in Cuba were one of the most inspiring experiences I ever had." Famed boxer Joe Louis spent New Year's Eve of 1959 in Havana at party with Fidel Castro. Louis remarked, "It is really good for Cuba to invite American Negroes to the country. Colored people in the U.S. do not have any place to go in the winter except Cuba . . . [here] there is no discrimination."
However, rarely did they look behind the curtain to see the how racism persisted in informal ways in Cuba despite unprecedented social reforms and national integration campaigns in the early 1960s. In many cases, African American travelers to the island were more interested in how the appearance of racial integration in Cuba legitimized their causes at home. Seldom were they exposed to the double speak Cubans of color so aptly use to both defend and criticize their country's racial politics all in the same breath.
U.S. black travelers to Cuba, like many foreigners, typically visit the island for 10 days or less, both in the 1960s and today. A week is not long enough to decode the dynamics of race and racism. Unlike the widely publicized Black Lives Matter movement, Cuban activists and scholars lack regular access to television, print news, and social media that might amplify their voices and political opinions. Therefore, visitors don't always see the ways Afro-Cubans continue to be left behind. During their short vacations, many won't notice how Afro-Cubans are discretely barred entrance into tourist hotels, or have limited access to good-paying, front-of-the-house jobs in major hotel chains.
Unlike black American tourists, President Obama will be entering Cuba as a head of state. Hopefully, rather than using Cuba as photo opportunity or chance to impose U.S. politics on the island, President Obama will see what Afro-Cubans know all-too well: Cuba is a messy, contradictory place where racial differences and racism are both being fought and reinforced everyday. Ironically, if he looks beyond the veil of post-racialism, the first black president's trip to Cuba may reveal what can be seen anywhere in the US. As Daisy Rubiera Castillo, put it, "we will see what happens."
Dr. Devyn Spence Benson is Assistant Professor of Latin American History and African American Studies at Louisiana State University and author of Antiracism in Cuba: The Unfinished Revolution (UNC press, 2016). Follow her on Twitter at @BensonDevyn
Support HuffPost
The Stakes Have Never Been Higher
Popular in the Community