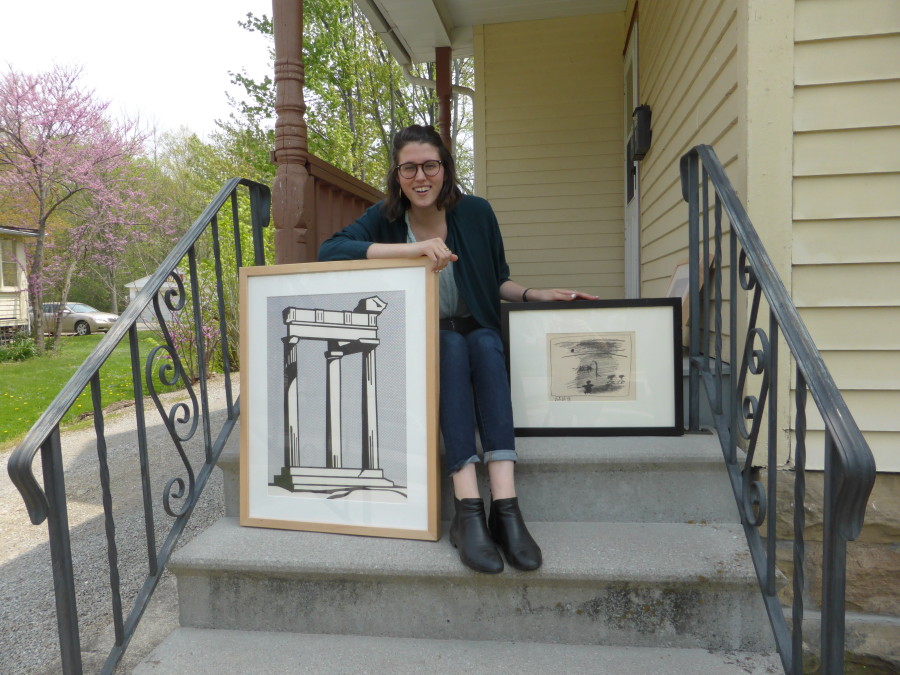 Jay Z starts one of his singles from 2013's "Magna Carta Holy Grail" by claiming, "I just want a Picasso in my casa, no, my castle." At Oberlin College, students fulfill Jay Z's dream by hanging a Picasso in their very own dorm room, thanks to the work of art world luminary and professor Ellen Johnson.
With a budget of a few hundred dollars as the school's art librarian in 1940, Johnson founded the Art Rental program at the Allen Memorial Art Museum, which allows (and trusts) students to rent authentic works at an affordable $5 per semester. Each year, hundreds of pieces by artists such as Pablo Picasso, Roy Lichtenstein and Salvador Dalí, among others, go on temporary display in student housing.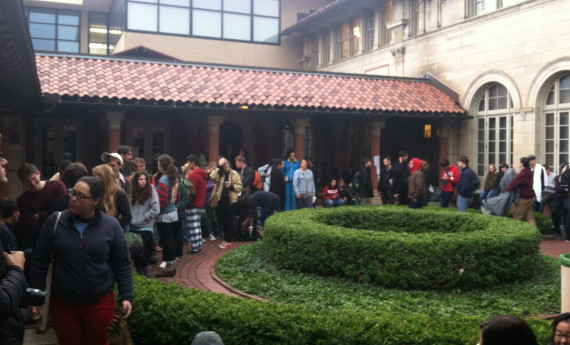 In his song, Jay Z reveals his ambitions to blow up Jeff Koons' balloons. But Oberlin's students have proven themselves to be far more trustworthy. Abiding by a few rules -- keep the works out of sunlight and uphold the school's honor code -- not a single incident of damage to the priceless pieces has been recorded.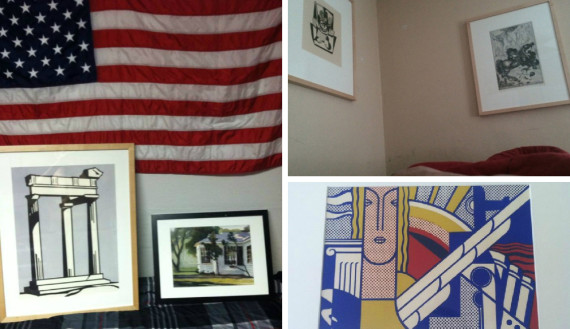 How students choose to present their works is varied and often has a curatorial vibe.
Maisy Byerly, a studio art minor at Oberlin, chose "Local" by Red Grooms and "Portrait of Benny Andrews" by Alice Neel while sharing a house with other students who rented art last semester. They decided to display all eight of their framed works in the common are downstairs, saving valuable wall space in their rooms for for posters. On the opposite spectrum, Cohen recalled a friend who proudly displayed a work by Picasso right next to a "Harry Potter" poster.
Adding her own touch, senior Mallory Cohen's borrowed Lichtenstein had twinkle lights hanging over it last semester. Seth Flatt, also a senior and a student-athlete, displayed his beside Andy Warhol prints, an American flag and other "normal college stuff." He and Nicholas Olson both had works prominently featured above their beds. Asked how this affects relationships, Flatt took a long pause. "It's surreal sometimes," he said.
Then again, some works are too large to hang at the head of an extra long twin bed. The work by Joan Miró that Parkorn Wangpaiboonkit rented, for instance, took up a full quarter of the wall. Instead, he hung a piece by Marc Chagall. "I can see it before I go to bed and when I wake up every day," he said. Wangpaiboonkit's roommate put his piece in the closet.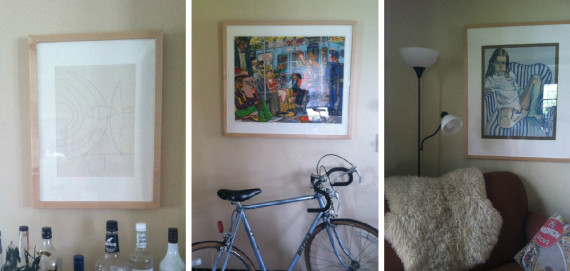 Byerly placed a Picasso directly above the liquor cabinet, but that it's a refined space. "I've never seen art rental up at any parties where there's smoshing or bands playing," said Byerly. "I imagine if there had been art rental pieces up, they would have moved them right before the party. The people who are having the ragers are not going to have beer pong next to their art rental."
Even temporary possession of a meaningful piece of art is point of pride for the students. "It's really cool to show off," said Olson. "It's one of those things like, I don't mean to brag, but I totally mean to brag."
Olson explained that he gleefully taunts visitors with a game of "guess the artist. An abstract piece by Miró, Wangpaiboonkit said, was often mistaken as a childhood drawing of his own making. Flatt spoke fondly of out-of-town visitors who've inquired, "Oh, you literally have two Picassos hanging on your wall and you're a college student, how do you do that? ... Oberlin is a very unique place."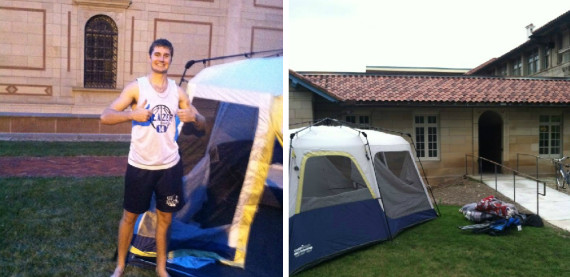 Students queue up early and wait eagerly to get the best picks. They don't have to stand in line as check-ins occur every few hours, but that still makes it impossible to stray too far away from the museum. Trusted with a great deal of agency, the students keep the the rental system constantly in flux, freeing the museum of responsibility and liability. Olson took charge the last time around, instituting a system of QR check-ins and a disallowance of student proxies in the line -- a system that was deemed both successful and controversial due to some students lack of smart phones or having work commitments keeping them from check-in. For what is typically viewed as an enjoyable tradition, students play cards and guitars as they wait in line. In the fall, they sleep in tents outside.
Once inside the museum, more than 100 students frantically search for the pieces they want in groups of five in a process that is very much like an Easter egg hunt. Cohen, who worked at the museum for the last two years, decided for this art rental that she had to "go hard or go home" and went straight for the Lichtenstein she'd had her eye on since freshman year. As all the works --which are separate from the museum's main collection -- are scattered about a long circular gallery, it isn't always easy finding that exact piece.
Byerly explained that the museum guards and curators act as helpers, responding to inquiries with teasing hints such as, "Yeah, I think I saw that maybe back there." She successfully found a Francisco Goya hidden in a back corner after arriving late in the line. Wangpaiboonkit once asked for such a hint when searching for a Chagall and was directed to look down by his feet.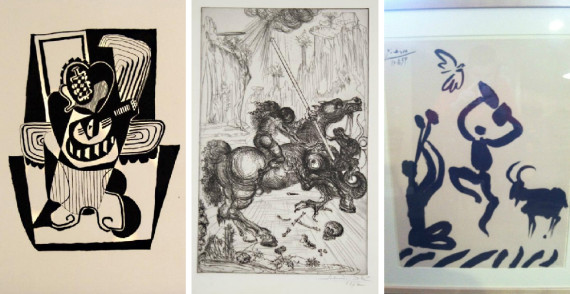 "Giving you the value of the artwork would really take away from the point of Art Rental," said Cohen. "The point of art rental isn't how many hundreds of thousands of dollars of art can I have in my room at any given time." The value of the artworks is never disclosed. Working at the museum, Cohen said it was "interesting to see what students take in beginning, as it's not always the Picasso or the Matisse." Most students opt for a work that is "beautiful to them personally," he said.
None of the students had ever heard of works being stolen from parties or dorms, and most pointed out that the school prides itself with a working honor code. "There's literally never been any problem," said Cohen, who did explain that the frames and front glass put around the works are fairly indestructible, but that doesn't discredit the amazing lack of theft.
If anybody tried something malicious with the art, "students would yell at them," joked Cohen. On top of the $5 each student has to cough up, only a minimal liability agreement is signed, although the full consequences for damaging a work are unknown to the renters.
Flatt described the entire program as "such a great experience," especially since it's unique to Oberlin. "I was planning to go to a place like Duke and I was planning on camping out for the Duke-UNC basketball game," said Flatt. "And now I find myself camping out for art, which I never would have thought about in high school." Now he makes it a point to visit a city's museums whenever he's on a trip.
Byerly said she once visited the Louvre, where she found a room entirely devoted to the piece of work she had hanging in her freshman dorm room.
"I literally woke up every morning and looked at a Lichtenstein for this entire semester and then looked to the left and there was my Picasso just chilling on the other wall," said Cohen. "I can't think of another time in my life that I would have works by artists like that in my room."
Related
Popular in the Community