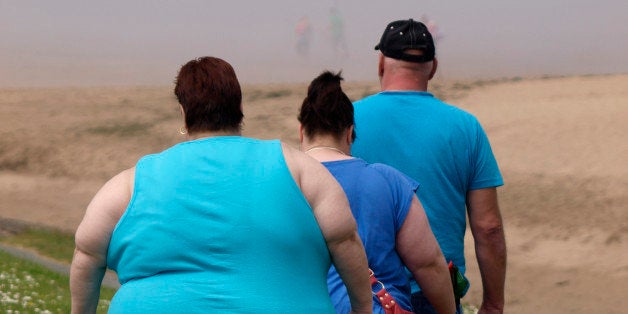 The study, published in the American Journal of Preventive Medicine, found that both men and women who were obese by age 25 were far more likely to be morbidly obese more than 10 years later, after age 35. Researchers looked at the BMIs and health trajectories of men and women whose data were part of the 1999-2010 U.S. National Health and Nutrition Examination Survey (NHANES) survey. They found that men who were obese at age 25 had a 23.1 percent chance of becoming morbidly obese after age 35, compared to just 1.1 percent of normal-weighted 25-year-old men. Women fared worse: Among obese 25-year-olds, the chance of becoming severely obese more than 10 years later was 46.9 percent, compared to just 4.8 percent of normal-weighted 25-year-old women.
But researchers discovered that it was the association between obesity at 25 and morbid obesity in middle-age that caused the increased risk of illness later on -- not the length of time spent obese, as was previously suspected. In other words, current weight was to blame for metabolic illness in mid-life, rather than the cumulative impact of long-term obesity. BMI status in young adulthood was significant only insofar as it made later obesity more likely. This indicates that weight loss can improve a person's health outcomes, regardless of how long they've been obese.
"The current findings suggest that the biological risks of longer-term obesity are primarily due to the risk of more severe obesity later in life among those obese early in life, rather than the impact of long-term obesity per se," the study's lead author Jennifer B. Dowd, PhD, Associate Professor, Epidemiology and Biostatistics, City University of New York (CUNY) School of Public Health, Hunter College said in a statement. "This is good news in some respects, as overweight and obese young adults who can prevent additional weight gain can expect their biological risk factors to be no worse than those who reach the same level of BMI later in life."
But just because obesity among young adults won't necessarily lead to the cardiovascular and metabolic diseases that truly harm and threaten life, doesn't mean they don't have their ill effects. The duration of obesity will have some impact on other aspects of health, such as mobility and musculoskeletal disease, according to study co-author Anna Zajacova, PhD.
Added Dowd, "maintaining a stable level of obesity from a young age is not the norm, and being obese at age 25 years places individuals at risk of a much more severe level of obesity later in life compared to those who are normal weight at age 25 years."
According to the CDC, 30 percent of adults between the ages 20 and 39 are obese, compared to 39.5 percent of those between 40 and 59 years.