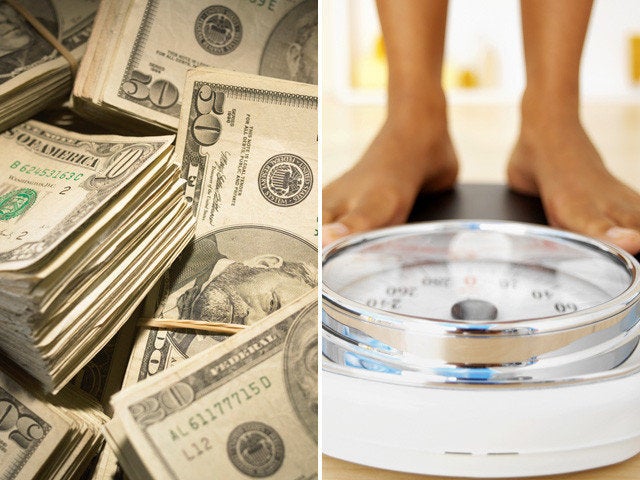 What is the #1 financial risk as we age? The answer, according to a new study, is clear: obesity.
According to a report by Claire Wang -- researcher at the Department of Health Policy and Management at Columbia University's Mailman School of Public Health -- and her colleagues, the rising burden of obesity among people 60 and older is intensifying. Of the 65 million additional obese people projected in the U.S. in 2030, 24 million would be in this age range.
Baby boomers, especially those over the age of 60, are already the sickest and most expensive in terms of medical costs. But, what's making this even more worrisome is that it's the fastest growing health issue in the U.S. Therefore, the overall disease burden and economic effects of obesity may be magnified.
Obesity is known to cause heart disease, stroke, diabetes and certain cancers. Developing any of these illnesses and diseases can have debilitating results, including loss of employment, inability to cover medical costs and care, and disability. Savings can be wiped out, causing tremendous financial hardships -- at a time when unemployment is at an all time high. And, to compound the problem, many Americans are living without health insurance, which is a huge financial risk in and of itself.
Obesity is America's #1 health and financial risk, bar none.
Rising prevalence of obesity is a worldwide health concern because excess weight gain within populations forecasts an increased burden from several diseases, most notably cardiovascular diseases, diabetes and cancers. The trends project 65 million more obese adults in the USA by 2030, consequently accruing an additional 6-8.5 million cases of diabetes, 5.7-7.3 million cases of heart disease and stroke, and 492,000-669,000 additional cases of cancer. The combined medical costs associated with treatment of these preventable diseases are estimated to increase by $48-66 billion per year in the USA by 2030. Hence, effective policies to promote healthier weight also have economic benefits.

Obesity-related illnesses now cost $147 billion each year, according to research from the Centers for Disease Control and Prevention (CDC). According to the CDC, medical costs associated with obesity increased from 6.5 percent of all medical spending in 1998 to about 9 percent in 2006.
Obesity in America is not just a health and financial issue, but a societal one as well.
"This is a social issue," former president Bill Clinton told the audience at a recent summit on obesity, as he accepted an award for the work of his group, the Alliance for a Healthier Generation. "We are trying to turn the Titanic around before it hits the iceberg."
Educational programs showing how healthy eating, portion control and exercise can affect not just our health, but our finances as well, could help shift the discourse.
What can you do right now to stop this dangerous trend? It's simple. When I saw the post-menopausal pounds creeping up around the time I turned 50 a few years ago, I took action: I started to walk, then run. Push-ups and sit-ups became part of my daily life, and I began a healthy eating program which is comprised of eating small, healthy meals every two to three hours. The combination of moving my body every day and eating less was all it took. At the age of 54, I am fitter than I've ever been. There isn't a single thing I do that any other average American couldn't do, too.
Move your body every day: walk, run, bike. If you can walk, you can eventually build up to a little running, with walk breaks.

Don't forget to strengthen your muscles to avoid osteoporosis. Do 20 push-ups every day.

Eat smaller portions of healthier food: Take the advice of author Michael Pollan who wrote,

"Eat food. Not too much. Mostly plants." And, do what I did to lose -- and keep off -- the post-menopausal 15 pounds -- eat small, healthy meals every two to three hours.

Stop eating high calorie processed food (fast food, etc.), and opt for whole foods (vegetables, fruits, lean meats, eggs)
Steer clear of sugary sodas and fruit drinks and stick with water
Become a "health" activist in your community by getting involved in programs for all ages that will help others embrace healthier lifestyles
Start a walking group to get more people--especially those over 50--moving their bodies every day.
Help the next generation to avoid becoming unhealthy adults by being a good role model and showing that it's never too late to change the future.
* * *
Staying connected is a powerful tool. "Friend" me on Facebook and "Tweet" me on Twitter (@BGrufferman). For more information on living your best life after 50 please visit my website: www.bestofeverythingafter50.com.
2011 New York City Marathon Weekly Training Countdown (11 weeks to go)
I'm running in the NYC Marathon in November to celebrate my 55th birthday and raise money for the Pancreatic Cancer Action Network, in memory of a friend who succumbed to the disease last year. Here's an update on my training schedule for this week:
Saturday: 5 miles using a run/walk ratio of 3 minutes/30 seconds
Monday: 5 miles using a run/walk ratio of 3 minutes/30 seconds
Thursday: 21 miles with using a run/walk ratio of 30 seconds/30 seconds
Every other week, I'll be adding another mile or so to the long run (keeping the two short runs the same distance), and I will be adding "speed work" to my training. Stay tuned!

Related