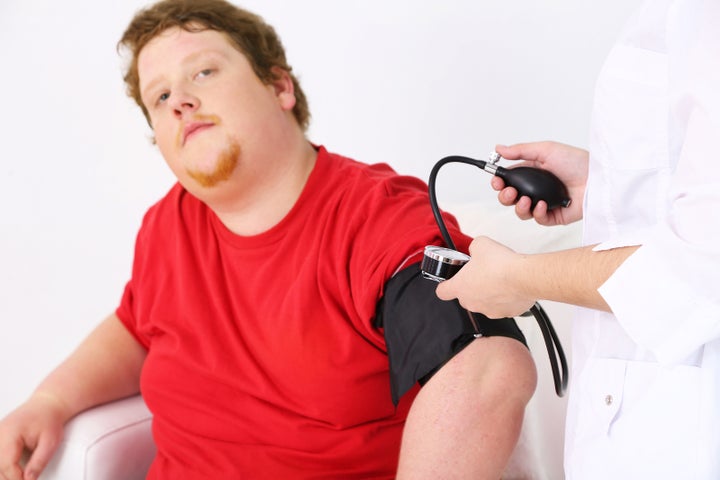 My friend and colleague, Patty Nece, has described an experience that's exemplary of how people with obesity often do not get appropriate care from doctors, nurses or other providers. An orthopedist, without ever conducting an exam, quickly decided that Patty's hip discomfort was "obesity pain," that she needed to lose weight, and suggested she consider weight-loss surgery. In fact, Patty had recently lost 70 pounds and later discovered that her hip pain was due to progressive scoliosis, which is not obesity-related. Patty's experience shows how weight bias persists even in the doctor's office, a place we'd expect everyone to receive comprehensive care.
A survey of nearly 3,000 adults with overweight and obesity cited doctors as the second most common source of weight stigma. Family members were first. More than half of participants reported that they experienced "inappropriate comments from doctors" regarding their weight. Recent data clearly demonstrate that patient experiences of weight stigma are not merely perceived.
Many medical students believe patients with obesity lack self-control, are less likely to adhere to treatment, and are "sloppy," "unsuccessful," and "unpleasant" compared to thinner patients. Studies of nurses' attitudes found that 24 percent reported being "repulsed" by patients with obesity and more than one-third indicated they would prefer not to treat patients with obesity. Primary care providers were found to demonstrate less emotional rapport with patients with obesity.
As health care providers, we need to recognize the complexity of obesity, communicate this to colleagues and patients, and debunk the myth that obesity is simply a matter of personal willpower.
Stigma in the provider's office is particularly alarming when we consider the negative health consequences that result. Adults with obesity who experience weight stigmatization have higher rates of depression, anxiety, social isolation, substance abuse, and suicidality. Weight stigma induces biochemical stress by increasing cortisol reactivity and blood pressure. These physiological responses to stress can trigger harmful eating behaviors that interfere with weight loss attempts. To cope with provider weight bias, 80 percent of patients reported "eating more food" and 75 percent reported "refusing to diet."
Providers are also less likely to follow established guidelines when treating patients with obesity. Clinical counseling on diet and behavior change, pharmacotherapy, and bariatric surgery are all recommended for treatment of adult obesity. Yet, in a 2015 nationwide survey of health care providers, 31 percent of respondents reported that they never prescribe obesity drugs, 11 percent reported that they never recommend bariatric surgery, and only 9 percent reported that they code for behavioral counseling. We need to challenge weight bias in the health care setting by shifting the medical culture from one that stigmatizes to one that empowers and support patients with obesity.
That's why in 2015 four core obesity organizations – the Strategies to Overcome and Prevent (STOP) Obesity Alliance, The Obesity Society, Obesity Action Coalition, and the American Society for Metabolic and Bariatric Surgery – joined forces to establish National Obesity Care Week (NOCW). Now in its second year, NOCW was created to ignite a national movement focused on ensuring that anyone affected by obesity receives respectful, comprehensive care. From October 31st to November 4th, thousands of researchers, policymakers, and health professionals will convene in New Orleans to learn about innovative obesity treatments, interdisciplinary prevention strategies, advances in metabolic surgery, and trends in digital technology and public health policy.
Because the lack of productive dialogue between providers and patients is a major barrier to comprehensive obesity care, NOCW has created the "Take 5" Challenge to encourage providers to address obesity in their practices. Take 5 provides health care professionals with information and resources, including reasons to address obesity, questions to open productive conversations with patients, ICD-10 codes to use for reimbursement, and referral options for obesity specialists. Even a modest 5 percent reduction in body weight can substantially lower a patient's risk of developing obesity-related comorbidities, such as Type 2 diabetes and hypertension.
Obesity is well on its way to becoming our nation's leading health problem. Consciousness-raising among providers is critical to combatting this epidemic. Bias and stigma remain major barriers to people with obesity, inside and outside the provider's office. The burden of obesity will not be alleviated without addressing it directly and compassionately. Take 5 is the place to start.