Written in collaboration with Kirstin Krusell
Since 1980, the prevalence of overweight and obesity has more than doubled worldwide. The statistics are staggering: in 2008, 1.5 billion adults were overweight and nearly 1 in 10 were obese. The health consequences are enormous -- obesity is a leading cause of global mortality. More than 2.8 million adults die each year as a result of being overweight or obese. In all, 44 percent of the world's diabetes burden, 23 percent of the death and disability from cardiovascular disease and between 7 and 41 percent of certain cancers are attributable to overweight and obesity. As a result, 65 percent of the world's population lives in a country where overweight and obesity kill more people than hunger and under-nutrition. [1] Although once considered conditions of affluence, overweight and obesity are now on the rise in low- and middle-income countries. As a result, these nations are now facing the double burden of infectious and chronic diseases.
In 2010, according to the World Health Organization (WHO), of the world's 43 million overweight children, almost 35 million live in developing countries, compared to 8 million in developed countries. [2] This is particularly alarming, given that childhood obesity is associated with a host of health consequences, including Type II diabetes, respiratory conditions such as asthma, hypertension and mental health concerns. In addition, obese and overweight children face an elevated risk for premature death and disability when they reach adulthood. Even in countries with relatively low adult obesity rates, childhood obesity is rising dramatically. For example, Italy, where 42.9 percent of the adult population is overweight (among the thinnest adults in the industrialized world), 35.9 percent of children ages 8-9, are overweight -- among the highest rates in the world based on available data (see Boxes 1 and 2). [3]
What is causing this alarming surge in global obesity? Worldwide, there has been a decline in physical activity due to more sedentary jobs and modes of transportation. Moreover, the intake of energy-dense foods high in fat, salt and sugar, and low in nutrients has accelerated rapidly with increased global trade and development. These societal changes in diet and physical activity are in turn exacerbated by agricultural trade policies, food marketing and a lack of urban planning and transportation that foster healthy lifestyles.
Given the severity and rapid growth of the global obesity epidemic, there is an urgent need for collaboration at the international level to share best practices and develop a global agenda for reversing obesity trends and its health-damaging and economic consequences. For this reason, on Oct. 25, 2011, the Embassy of Italy in Washington, D.C. and the Center for the Study of the Presidency and Congress will convene a global forum entitled, "Obesity: Scientific, Lifestyle and Policy Approaches." This conference will feature a broad range of experts from academia, government, advocacy organizations and private businesses, with the aim of fostering international dialogue to inform and implement effective policy interventions. Programs that are making important contributions to promoting healthy lifestyles will be discussed, including First Lady Michelle Obama's "Let's Move" campaign in the United States and Italy's "Guadagnare Salute" initiative. By sharing program innovations at the international level, countries can work together to reduce the burden of obesity worldwide and promote a healthy future for all.
This global health conference aims to sustain the momentum initiated at the United Nations first High-level Summit on Non-Communicable Diseases (NCDs), which was convened last month to foster an integrated global effort to fight NCDs and their risk factors. To make further progress, WHO recently released the 2008-2013 Action Plan for the Global Strategy for the Prevention of Noncommunicable Diseases. The document builds upon the organization's conventions on tobacco control and diet and physical activity, calling upon stakeholders across the public and private sectors to take global, regional and local action to improve population health through advancing the prevention, surveillance and management of NCDs. The WHO report underscores the importance of both individual responsibility as well as supportive environments that make the healthier choice, the easiest choice. A health in all policies approach that marshals sustained political support and collaboration across sectors is needed. WHO also calls upon the food industry to reduce fat, sugar and salt content in processed foods, to practice responsible food marketing, to develop more nutritious products, and to work to ensure the availability of nutritious foods in communities globally.
Only through collaboration among nations and by mobilizing diverse stakeholders can we hope to effectively address the complex problem of obesity. Enhanced obesity prevention is imperative, for if current trends continue unabated, it is projected that 2.16 billion people will be overweight and 1.12 billion obese by 2030. [4] The world is at a crossroads when it comes to the obesity epidemic and its enormous health, economic and national security consequences. Countries must commit the political will and resources needed to combat the rising tide of obesity so that together, we can tip the scales towards a healthier, more prosperous future for all people worldwide.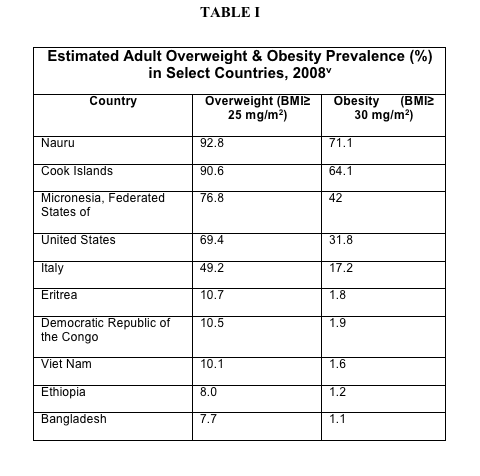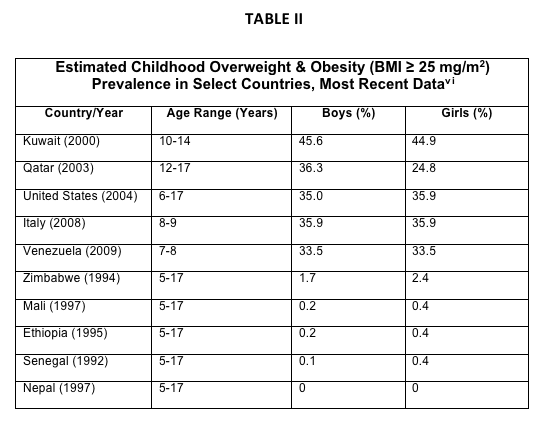 Rear Admiral Susan Blumenthal, M.D. (ret.) is the Public Health Editor of the Huffington Post. She serves as Director of the Health and Medicine Program at the Center for the Study of the Presidency and Congress in Washington, D.C., a Clinical Professor at Georgetown and Tufts University Schools of Medicine, Chair of the Global Health Program at the Meridian International Center, and as Senior Policy and Medical Advisor at amfAR, The Foundation for AIDS Research. Dr. Blumenthal served for more than 20 years in health leadership positions in the Federal government in the Administrations of four U.S. Presidents, including as Assistant Surgeon General of the United States, the first Deputy Assistant Secretary of Women's Health, as a White House Advisor on Health, and as Chief of the Behavioral Medicine and Basic Prevention Research Branch at the National Institutes of Health. She has received numerous awards including honorary doctorates and has been decorated with the highest medals of the U.S. Public Health Service for her pioneering leadership and significant contributions to advancing health in the United States and worldwide and was the recipient of the 2009 Health Leader of the Year Award from the Commissioned Officers Association. Admiral Blumenthal has been named by the National Library of Medicine, The New York Times and the Medical Herald as one of the most influential women in medicine and as a Rock Star of Science by GQ magazine and the Geoffrey Beene Foundation.
Kirstin Krusell, a recent graduate of Brown University, serves as a Health Policy Fellow at the Center for the Study of the Presidency and Congress in Washington, D.C.