Despite what seems to be widely believed, obesity is not an intractable problem. Yes, it is complex and quite challenging. But our job is to keep working to identify and remove barriers – both systemic and cultural – to the prevention and treatment of this widespread, common disease. We all need to recognize the complexity of obesity. Healthcare providers and public health professionals need to communicate this to patients and colleagues, and debunk the myth that obesity is simply a matter of personal willpower.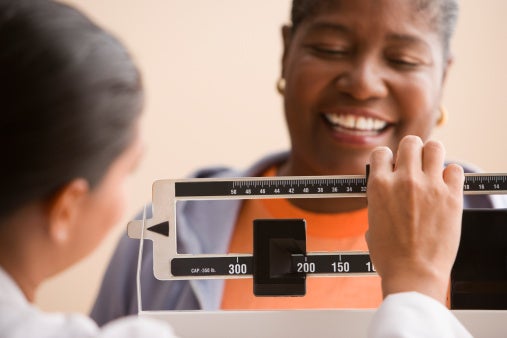 That's exactly what National Obesity Care Week—an annual campaign to advance evidence-based understanding of obesity and widespread access to respectful, comprehensive, and appropriate care—aims to do. Now in its third year running in tandem with ObesityWeek, National Obesity Care Week (Oct. 29 – Nov. 4) provides an important opportunity for you to help our nation "change the way we care" about obesity. In support of National Obesity Care Week 2017, I encourage you to review the 5 Reasons to Care (below) and to join me in completing the Take 5 Pledge. In doing so, you commit to playing a role in improving the way health professionals – and, more broadly, our culture – treat obesity and those affected by it.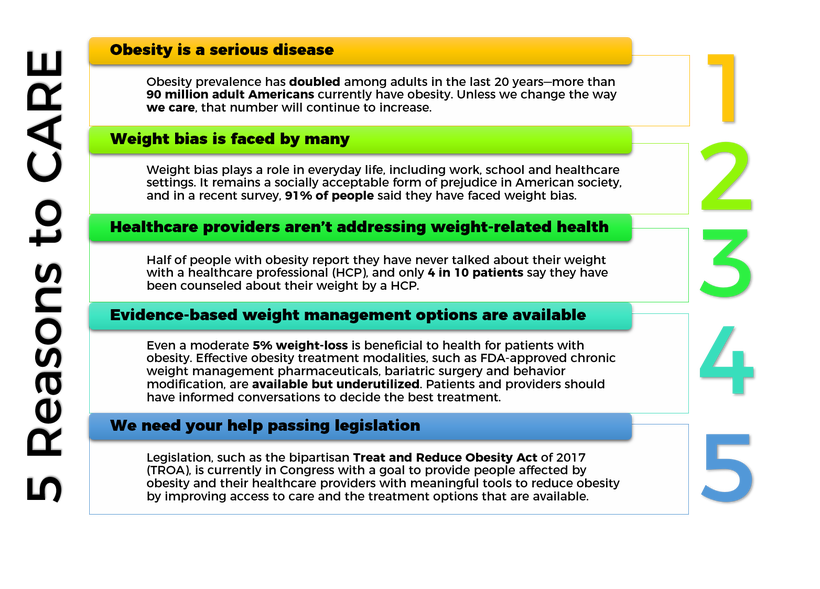 Stigmatization of people with obesity is damaging to the individual and to larger efforts to reverse the obesity epidemic. Stigmatization exacerbates health disparities and interferes with effective obesity treatment and public health interventions. The characterization of obesity as a matter of "personal responsibility" fails to account for the many significant drivers of obesity beyond individual control. Pervasive weight bias may also shape ineffective policy responses to the obesity epidemic.
I am encouraged that in February, Sen. Tom Carper (D-DE), Sen. Shelly Moore Capito (R-WV), Rep. Eric Paulsen (R-MN), and Rep. Ron Kind (D-WI) introduced resolutions expressing support for the designation of the week of October 29 through November 4, 2017, as National Obesity Care Week. Effectively capturing the spirit of NOCW, the resolutions affirm the importance of backing systemic efforts to, "create a foundation of open communication to break barriers of misunderstanding and stigma regarding obesity and to improve the lives of all individuals affected by obesity and their families." The Treat and Reduce Obesity Act of 2017, which is gaining bipartisan support in Congress and will improve access to care and treatment options needs our support.
The Strategies to Overcome & Prevent (STOP) Obesity Alliance here at George Washington University's Redstone Global Center for Prevention and Wellness is a Founding Champion of NOCW. This year, STOP celebrates a decade of work that includes research and partnership with organizations to illuminate barriers that prevent patients with obesity from receiving the comprehensive treatment they need to achieve optimal health. We've made great strides in identifying issues such as a lack of productive dialogue between providers and patients and limited reimbursement for evidence-based treatments. STOP's free WhyWeight Guide continues to help health care providers engage in respectful, productive conversations about weight with patients. But more is needed to cultivate an environment where the disease of obesity is given the attention it deserves. STOP members recognize this challenge and the important role we can play in overcoming it.
For the millions of Americans with obesity, a moderate 5-10 percent weight-loss can greatly improve health. But for more than 20 million Americans with severe obesity, medication or bariatric surgery may be necessary to prevent other serious diseases and complications. As health professionals we must be knowledgeable about obesity treatment. Patients and health professionals should know that treating obesity effectively is a sound strategy to prevent and mitigate type-2 diabetes, heart disease, obesity-related cancers, and osteoarthritis.
We cannot treat our way out of the obesity epidemic. In addition to supporting policies that improve care for individuals affected by obesity, it's critical for our legislators to prioritize investments in prevention. Long-term, coordinated efforts from individual, corporate, and institutional partners nationwide will be required to turn the tide on the obesity epidemic. These efforts can begin by pledging our commitment to change the way we care about obesity.
Visit www.ObesityCareWeek.org for to learn more about National Obesity Care Week and to complete the Take 5 Pledge.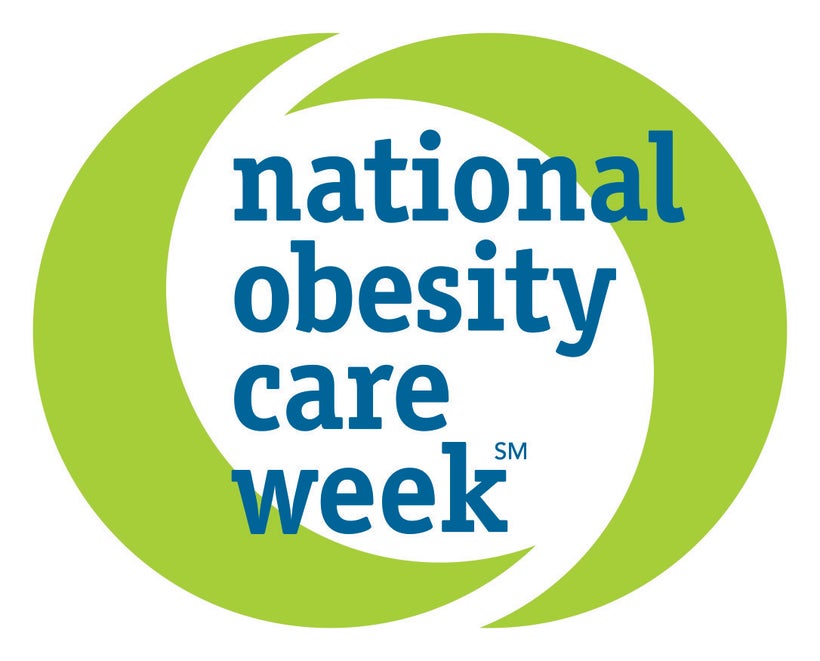 REAL LIFE. REAL NEWS. REAL VOICES.
Help us tell more of the stories that matter from voices that too often remain unheard.
This post was published on the now-closed HuffPost Contributor platform. Contributors control their own work and posted freely to our site. If you need to flag this entry as abusive,
send us an email
.