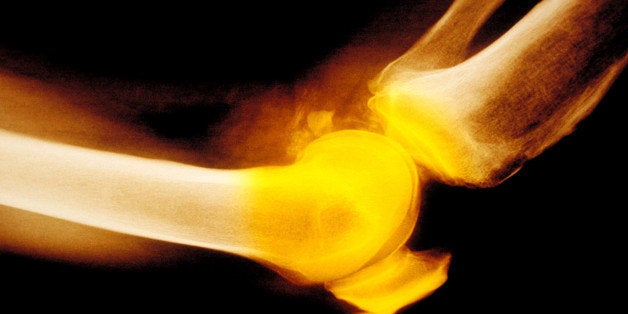 It's not just the elderly who are getting knee replacements -- new research shows that obesity may be a driving force for why more and more younger adults are requiring the joint replacement surgery.
"What was once thought of as a procedure for older people or those with sporting injuries is changing," study researcher David Ayers, M.D., the chair and professor of orthopedics & physical rehabilitation and director of the Musculoskeletal Center of Excellence at UMass Medical School, said in a statement. "Our study shows that younger patients are more obese and experience the same amount of pain and functional disability as older patients and in some cases even more."
The findings, presented at the annual meeting of the American College of Rheumatology and the Association of Rheumatology Health Professionals, included data from FORCE-TJR, a database for knee and hip replacements and patient outcomes. Researchers found that 40 percent of the 3,314 total knee replacement patients who were in the database were under the age of 65.
They also found that a greater proportion of people under age 65 in this joint replacement database were obese -- 55 percent -- compared with people age 65 and older -- 43 percent. And the percentage of those under age 65 in the database who were morbidly obese (with a body mass index over 40) was much greater than those over age 65 -- 11 percent, compared with 5 percent.
"Unless we see a significant reduction in obesity, we will continue to see the necessity for more and more of these procedures," Ayers said in the statement. "This is an example of the type of information this database will yield that could directly influence clinical best practices, health care policy and the overall health and quality of life for people with arthritis."
Arthritis is the most common reason for why people need a knee replacement, but a 2009 study in the journal Arthritis Research and Therapy showed that obesity can also be a risk factor for knee problems that require joint replacement. MedPage today pointed out that the likelihood of requiring a joint replacement was 3.44 times higher among people with the highest body mass index in the study, compared with people with the lowest BMI.
A review published last year also suggested that obese people may experience more complications post-knee replacement surgery, including a higher risk for infections. However, a separate study, presented at the annual meeting of the annual meeting of the American College of Rheumatology/Association of Rheumatology Health Professionals, showed that pain and function outcomes were similar between obese and non-obese knee replacement patients.
Popular in the Community