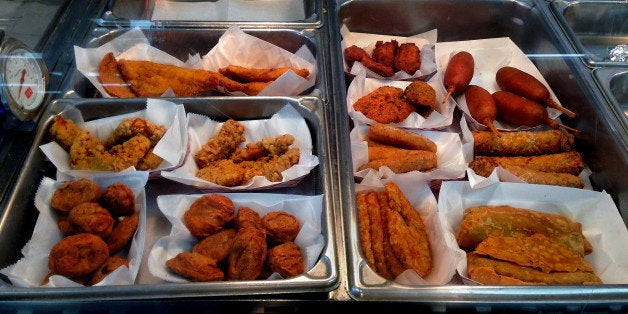 While obesity rates are climbing around the world, they are climbing faster in developing countries than in wealthy ones, researchers from the Overseas Development Institute revealed on Friday.
In a report titled "Future Diets," Sharada Keats and Steve Wiggins found that obesity rates tripled in developing countries between 1980 and 2008, while rates only climbed 1.7 times in high-income countries during the same period.
"The evidence is well-established: obesity, together with excessive consumption of fat and salt, is linked to the rising global incidence of non-communicable diseases including some cancers, diabetes, heart disease and strokes," read the summary. "What has changed is that the majority of people who are overweight or obese today can be found in the developing, rather than the developed, world."
Researchers found that North Africa, the Middle East and Latin America now have almost the same percentage of overweight or obese people as Europe.
The authors studied the costs of "typical" and "healthy" diets around the globe and found that, in poorer countries, the healthier diets were unaffordable for much of the population.
"In South Africa, for example, a 'healthy diet' would cost 69 percent more than a typical South African diet," they wrote. "For those households among the lowest third in terms of average incomes, the extra expense of a healthy diet would equate to fully 30 percent of their total income."
Inversely, wealthier countries made healthier diets a bigger priority.
"In countries with higher average incomes, more attention is being paid to the quality of the diet, and in particular whether it contains enough micronutrients and whether there is a good balance between the major food groups," they continued.
But though the rates may vary, the increase in obesity is universal: According to the study, one in three adults around the world is obese or overweight. Researchers also found universality in the relationship between income and healthy diets.
"Even in high-income countries, people on low incomes may struggle to eat diets rich in fresh fruits and vegetables. Very often, the cheapest foods are processed and are high in fats and sugars, with a high energy content per dollar spent, but they are low in micronutrients," they wrote. "In Seattle, for instance, those who spent less on their food had diets that were nutritionally inferior, which may explain why those on lower incomes do not tend to follow dietary guidelines and have the highest rates of diet-related chronic disease."
However, as the authors noted, there is hope. The report also found that public policy can play a significant role in curbing such trends. Thanks in part to government-led campaigns, South Koreans ate 300 percent more fruits and 10 percent more vegetables in 2009 than in 1980.
"The welcome implication is that there may be considerable scope for public policy to have a real influence on diets," wrote the authors.
Researchers noted that policies can affect diets both indirectly -- through agricultural policies that help determine the cost of food, for instance -- and more directly, through public campaigns and information as seen in South Korea.
"While the forces of globalization have led to a creeping homogenization in diets," they concluded," their continued variation suggests that there is still scope for policies that can influence the food choices that people make."