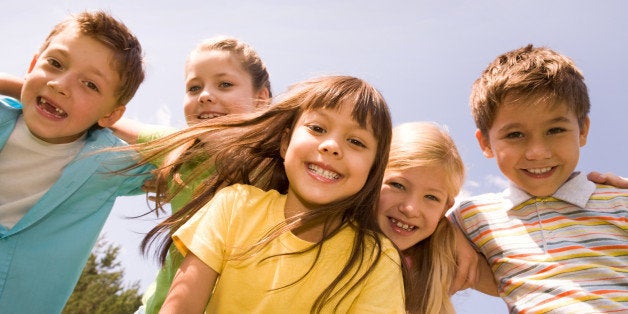 Let's face it: it's not always positive stories we hear in the news about school foods and physical education, our kids' health and how our academic achievements stack up against those of our global competitors. In my work at Action for Healthy Kids, as a member of the school board in my own district, and as a dad of three school-age kids, I see the many challenges we face. But don't let the stories of doom and gloom fool you. There are many incredible and life-changing improvements around health taking place in schools across the country right now, led by everyday heroes who deserve and need our support.
Little Fort Elementary School in Waukegan, Illinois shows how it's possible to increase physical activity among 600 students, all at once. School nurse Mary Colver saw the school had an obesity rate over 55 percent. This stark reality, combined with the fact that students were falling short of the recommended 30 minutes of physical activity per day, led her to create a Get Up and Move dance program to add five minutes of movement at the start of each day and get kids focused. As a result of this and other programs implemented, students now get not just 30 but the recommended 60 minutes of physical activity each day. Beyond the numbers, teachers are reporting that improvements in confidence and self-expression among students on the "dance floor" translate into the classroom as well as to healthy habits brought home. The Get Up and Move program is now spreading to other schools in the district.
These improvements are no longer isolated incidents. In fact, more than 1,400 examples of improvements reached over 731,000 students in schools nationwide celebrating Every Kid Healthy Week. At Scotts Branch Elementary in Windsor Mill, Maryland, parents and kids dressed as health and nutrition super heroes. Students at the Learning Center at North Northwood health fair in Cincinnati, Ohio created their own passport booklets to travel from booth to booth. At D.C. Bilingual Charter School in Washington, D.C., classes stepped up to a steps-counting competition, using pedometers throughout the week for the chance to win an extra recess period.
Additionally, schools hosted healthy food taste tests to expose kids to fruits, vegetables and whole grains; fun runs involving the whole school walking and running around school tracks; school garden plantings and playground refurbishments after a long winter; and family fitness nights featuring yoga, Zumba and other exercise classes. What's more, these activities engage everyone who plays a role in creating healthy schools, from parents to school staff to local community organizations and volunteers. Now that's what I'm talking about.
Make no mistake, though. Every Kid Healthy Week is not just about one day or one week. It's about showcasing schools' accomplishments in creating health promoting environments throughout the year. Schools that make their Every Kid Healthy Week event a capstone to their year-round activities know that any time of year is the right time to introduce kids to healthy habits, no matter where a school falls on the spectrum of becoming truly health-promoting. Likewise, age doesn't matter, but as with most habits and learning opportunities, the younger the better. Research even shows that foods children are exposed to in infancy impact their diets and preferences well beyond toddler years. Likewise, regular physical activity and play are vital to development and especially important for instilling an affinity for fitness at a time when just one in three kids is physically active on a daily basis.
The growing body of research practically shouts at us that health and learning go hand in hand. Whether as an administrator who makes physical fitness and nutrition initiatives the high priority they should be, a teacher who helps other staff learn to implement programs, a food service professional who gets kids excited about healthy foods, a parent who wants to take small steps to improve her or his child's school health culture, or a homeowner who cares about property values and knows that the local school system is a major factor -- there are dozens of reasons why we all have a stake and a role to play in what happens in our nation's schools.
Many of our schools are fighting for the health of our kids and have already recognized the connection between student health and academic achievement. That's one of the reasons why they'll outperform others. If your local school isn't on board, ask yourself and your school leaders why not. Then find out how schools are doing it with help from resources like Action for Healthy Kids' free online program, Game On! And you can get your school the recognition it deserves for its stellar school health practices through the Alliance for a Healthier Generation Healthy Schools Program or the USDA's HealthierUS Schools Challenge: Smarter Lunchrooms. The good news is, there is no limit to what we can accomplish, and in many cases already are accomplishing, together.
This blog post is part of a series produced by The Huffington Post and Action for Healthy Kids, in conjunction with Every Kid Healthy Week taking place in schools nationwide, April 19-25, 2015. For more information about Every Kid Healthy, email info@everykidhealthy.org.
REAL LIFE. REAL NEWS. REAL VOICES.
Help us tell more of the stories that matter from voices that too often remain unheard.