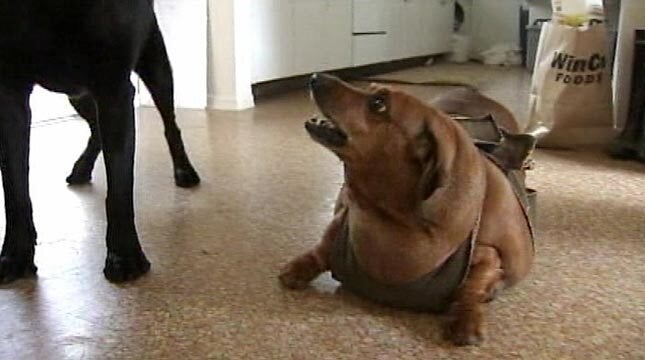 Two people who helped rescue a once 77-pound dachshund are now fighting over his custody in court, after the husky hound became internationally famous.
Obie the obese dachshund -- believed by many to be the world's fattest, according to KPTV -- was rescued in September by Oregon Dachshund Rescue Inc., and then put under foster care of Nora Vanatta, who found him on Facebook. Geordie Duckler, an attorney for the non-profit rescue organization, filed a complaint in Washington State this week, alleging that Vanatta has a legal responsibility to give Obie back.
Duckler alleges that Vanatta hasn't provided Obie with good veterinary care, and that the Puyallup woman has been "exploiting him for the sensationalistic promotional value of his unusual obesity," according to court documents.
"I made it clear that this was a positive thing and that it wasn't about bashing the previous owners or exploiting a fat dog," she wrote on Wednesday. "Obie has a story and a mission to share and help other people."
Obie certainly has a lot to share. At just 5-years-old, the dumpy dachshund is twice the size of a normal doxie. He's currently undergoing a low-fat, high-protein diet, as well as a special hydrotherapy regime, Oregon Live reported.
Duckler threatened Vanatta with police action this week, claiming that if she doesn't return Obie, the sheriff's office will "seize him and deliver him back to ODR," KPTV reported. A hearing is set for Oct. 29 in front of a judge.