Growing up with documentary filmmaker parents, I felt like my entire childhood was documented. Every birthday, vacation, big or small event, was filmed on 16mm film and later on video. I think there are thirty volumes of catalogued and organized photos of the first few years of my and my sister's life. My parents, Freida Lee Mock and Terry Sanders, have won multiple Oscars (Maya Lin: A Strong Clear Vision, A Time Out of War) and have made over 70 films, so our home movies really are movies. My dad is a great cinematographer and he shoots his home movies like a film - editing in camera, changing the frame size, camera angles, always following the emotional action... they are good.
Seeing the filmmaking process through my parents' work, traveling the world and meeting the amazing people in their documentary films - fighter pilot POWs, composer Aaron Copland, Rose Kennedy, Gene Kelly, writers Tony Kushner and Anne Lamott, to name a few - greatly influenced me as a filmmaker. Each year of my life was defined by a particular film of theirs - the shelves of our film library are like a timeline of my life.
When Sony was doing research for their new Make.believe campaign, featuring creative people who use Sony products to turn their ideas into a reality, I was asked if I used their products in my work. I had used a Sony Camera to shoot my first feature documentary, After Innocence, which won the Sundance Film Festival Special Jury Prize in 2005. My dad is also a die-hard loyalist to the brand. He always had the latest Sony video camera, which I could not touch. But when a newer model came out, I would inherit the older version. Sony is a brand that has always been part of our family. In the world of advertising which seems to be gravitating toward authenticity, our family story is as real as it can be.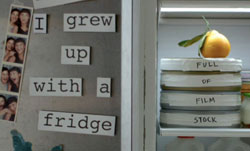 To direct a short film about my family and me, I focused on the objects that visually tell the story of our films and our life. They are the collected artifacts from our creative journeys: the film canisters stacked in the fridge, the Oscar in the guest bathroom, the photos, the news clippings. My art director Claire Cottrell and I studied still life art photography for inspiration. We wanted to create a living still life that was also playful. Carved apples, orange peels, a wind-up chicken laying candy eggs - everything was shot in the home with our real life family objects. Each shot is carefully composed and art directed, always with my hands moving in the frame to add life to the images.
Still life also references time, and the two minute film explores the progression of time of my life - from being a little girl (we used the film that my dad shot on a family roots trip to China), to the passing of the filmmaking torch from my parents to me when I directed my first film.
What I love most about filmmaking is that it's a collaborative process, and I could not have made this film without my amazing team: Art director Claire Cottrell, Producer Julie Bayer, Cinematographer Nicole Hirsch Whitaker, Editor Stephen Berger, Composer Matt O'Malley, Graphic Designer Karen Yung, Chef and Apple carver Jules Vasseur, Alison Williams, Loretta Jeneski, Stefan Sonnenfeld, Michael Juristas, Peter Cline, Gavin Lester, Ben Barney, Michelle Tebbe and Katrin Tenhoff.
Last but not least my family.
I hope you enjoy the film.