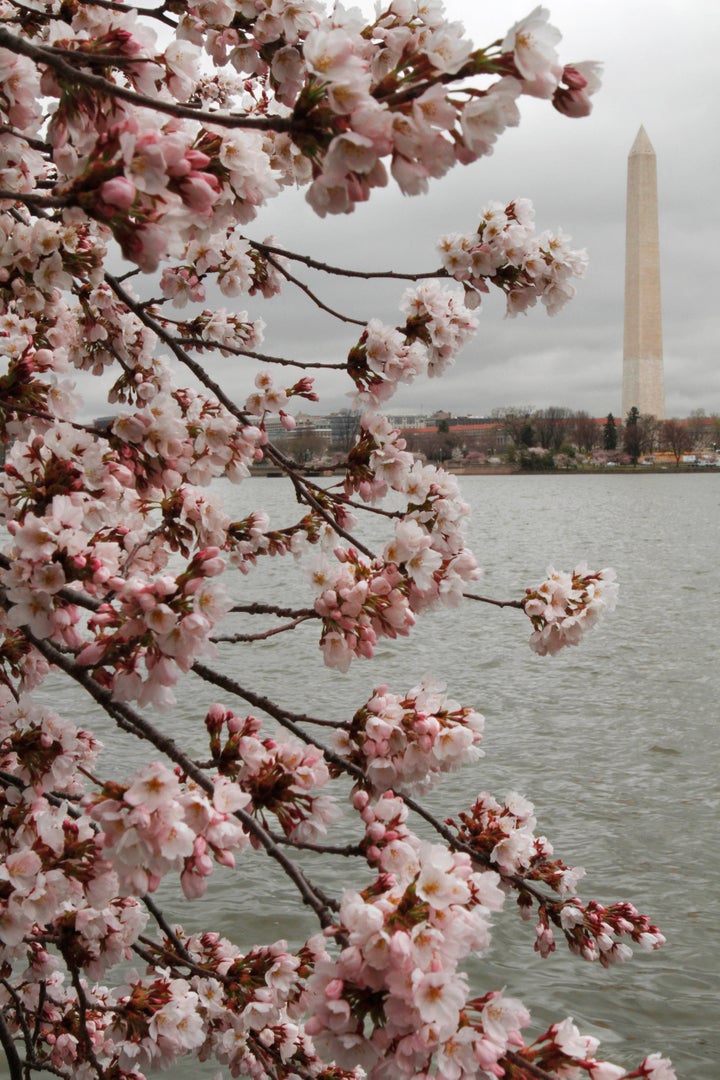 It looks easy -- lining up and following the movements of the little old ladies who have been doing it all their lives. But it's hard work, and I work up a sweat almost immediately during Obon practice at the Denver Buddhist Temple gym.
I didn't grow up dancing Obon every summer like many Japanese Americans. Wherever you find JA communities, you'll find summertime festivals where people gather to dance to old-style Japanese folksongs in circular formations, where they watch a group of master dancers in the small circle in the middle, and mimic every move. My wife Erin, who grew up with Obon every year during Denver's Sakura Matsuri, or Cherry Blossom Festival, describes it perfectly as "Japanese line dancing -- in a circle."
The dancing will take over Lawrence Street during the 40th Annual Cherry Blossom Festival this weekend on Saturday night at Sakura Square. The Obon -- or Bon Odori, which is the actual term for the dances -- follows a full day of performances and demonstrations, vendors and food served up by the Buddhist Temple (Erin and her mom and I volunteer each year to sell manju, or Japanese pastries, inside the gym).
The dancing is festive and fun, but the purpose is serious: Obon is a traditional Buddhist custom that pays tribute to the deceased -- especially to one's ancestors.
Obon in Japan is usually celebrated like a family reunion and holiday rolled into one, in mid-August (some parts of Japan celebrate Obon in July, or on varying days according to the lunar calendar). In many Japanese-American communities like in California, it seems like there are Obon dances held every weekend for most of the summer, and people can go from town to town around San Francisco or LA for weeks to dance. Because of its spiritual roots, the Obon dance will be held this year for the first time during the Colorado Dragon Boat Festival to honor the victims of the Japanese disasters.
The dances are sometimes eerily similar to American country line dancing -- when I was in Kagoshima in southern Japan during an exchange program trip in the 1990s, our group was invited to join a huge street festival where the Obon dance wasn't in a circle but instead in lines that filled an entire block. The movements looked like American country dancing -- if the dancers weren't in their light summer kimonos (called yukata), they could have been in blue jeans and cowboy hats.
The music is traditional, though modern variants have been introduced. Denver's Obon, though, is all traditional -- I think they've been using the same scratchy music for decades, transferred from old vinyl LPs to cassettes. Some of the dances feature props including folding fans, circular fans, brightly decorated sticks and "kachi-kachi," or castanets like in the video below.
The people at practice, which goes on through Thursday night this week leading up to the festival, tend to be members of the Buddhist Temple and are mostly Japanese or Japanese American. But on Saturday night, the crowd swells to include many others including not just JAs but also non-Japanese of every background, and a host of young anime fans in their cosplay, costumed glory representing their favorite heroes and heroines.
It's an oddly heartwarming spectacle, the hundreds of dancers, some dressed in proper Japanese attire, many not, and some dressed in bathrobes substituting as kimono costumes all dancing in circle, staring intently inward at the handful of little old ladies teaching the moves as they have every summer for a generation.
I hope to get to practice a couple more nights this week so I don't make a complete fool of myself!
Related
Popular in the Community