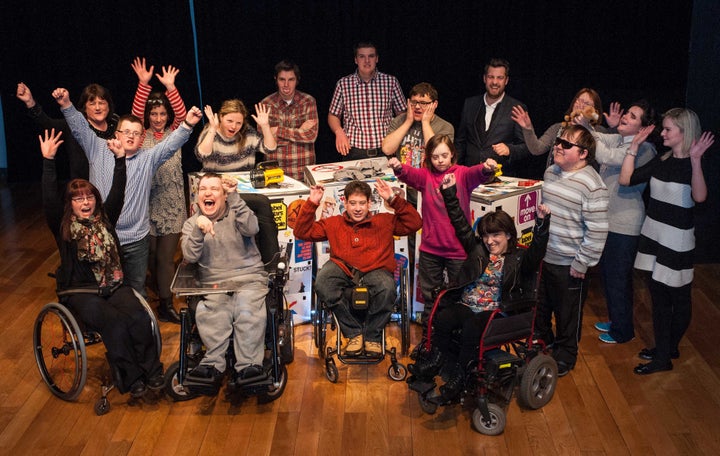 This past Sunday, like many other people, I watched the NBA Finals. I saw a special commercial for Father's Day from Fitbit, featuring a father who was running while pushing his son in a wheelchair. The two athletes featured in the commercial consisted of father and son duo, Dick and Rick Hoyt. Holland based Team Hoyt have been racing across the finish line of the Boston Marathon since 1977, until the father Dick Hoyt retired in 2014. I am surprised how moving I found this commercial. Unlike some other representations of disability in pop culture, which focus on overcoming adversity, this commercial focuses on love, acceptance and support. I don't want to jinx it by talking about it, but it's possible that this advertisement fits a trend that I'm starting to notice of more positive portrayals towards those with disabilities.
There is also a TJ MAXX commercial which features a 6th grade girl with Down syndrome named Lily. The ad maintains a good balance of inspiration and acceptance, which I am completely comfortable with. While conversing with her mother, Lily proclaims that living with Down syndrome makes her "unique, brave and beautiful." The mother then goes on to request, that if the viewer could learn one thing from their story, it would be to not "feel sorry" for them. In the past, the ad might have focused solely on Lily's statement, with no mention of having anything to do with acceptance. I am content with the direction that this ad took, because it covers two important elements of the disability experience. It's completely fine that the audience finds people with disabilities inspiring, as long as they accept us, just the way we accept ourselves.
The trend towards acceptance is not limited to TV commercials. "Dancing with the Stars" most recent Mirror Ball Trophy winner, Nyle DiMarco, was also the winner from the final season of "America's Next Top Model." He also happens to be deaf. When approached by ABC to appear on the show, DiMarco was hesitant because he "didn't want to go out there and screw up the first week and have 18 million people go, 'Deaf people can't dance!" Without being able to hear a beat, he took nonverbal cues from his partner, Peta Murgatroyd, that included "a tap on the back or a change in her facial expression." He was obviously fully embraced by the show after judge Carrie Ann Inaba signed to him "Thank you for showing us your beautiful heart as you danced."
Deaf people are also being welcomed into the world of theatre. Marlee Matlin is a well-known actress on TV, but in 2015, she joined the Deaf West Theatre's Broadway revival of Wedekind's Spring Awakening. This revival's main focus is towards accessibility to those who are disabled. "The main characters played by deaf actors … use ASL but are also doubled by hearing actors who sing and speak their roles." The play mainly caters to the blind-deaf theater goers and also stars Ali Stroker, the first actress to perform in a wheelchair on Broadway. With the success of this revival, it's possible future plays will be given the same treatment of being reexamined through the lens of disability. I'd love to see more collaborations like this occur throughout the country.
Stevie Wonder recently garnered a lot of attention during his speech at the Grammys this year. While he was presenting an award, he jokingly poked fun at the audience for not being able to read braille. He went on to make a serious point about making "every single thing accessible to every single person with a disability." The resounding applause he received was very encouraging and shows openness to his idea.
Disability is sure to be the main focus of a new TV show coming out this fall on ABC called "Speechless." The show stars Minnie Driver as a mother willing to do anything for her son who has special needs. The son, JJ, is played my Micah Fowler, who in real life has cerebral palsy. I will definitely be checking this out, as I'm sure the issues on the show will hit close to home. I'm glad to see disability is getting so much attention all of sudden in so many different areas. The entertainment industry has a large and profound impact on society's attitude, as seen by the reaction of widespread acceptance of the LGBT lifestyle due to shows like "Will and Grace" and "Modern Family." I sincerely hope for a similar shift in the reaction towards people with disabilities, given the newfound encouraging awareness that we've been receiving.
Calling all HuffPost superfans!
Sign up for membership to become a founding member and help shape HuffPost's next chapter