Questions clogged my head in advance of a recent trip to India. There was so much I didn't know about this Asian country and its people. I was determined to satisfy my curiosity.
Three weeks after touching down in New Delhi, I was headed back to the US, having learned much but feeling as if I had twice as many questions about this fascinating place as I did before I visited. It seems that in a land of contradictions, finding answers to all your questions might be a fruitless exercise.
Having said that, here are a few observations from my incredible journey.
Young men are much more physically affectionate with each other than in the US, but it's considered unseemly in some quarters for women riding on the back of scooters or motorcycles to put their arms around the male driver's torso. So, all over this immense country, women perch on the backs of two-wheeled vehicles, sometimes sitting sideways in their saris, with arms at their sides in a precarious kind of balance. I never saw one fall off.
Hotels in India have security checkpoints like those in airports, running luggage through X-ray machines and using mirrored devices to check under car engines. At the same time, many luxury properties also engage in elaborate welcome rituals, placing garlanded flowers around your neck and oils on your forehead.
Camels and elephants can be found amidst the traffic on a toll road. They go through the toll stations, but don't have to pay the fee.
For Americans, language isn't much of a barrier, as one holdover from the British rule was a legacy of the English language, which is one of at least 22 languages spoken across this huge subcontinent that's roughly equivalent in size to one-third of the continental United States. It's huge size leads, naturally, to its wide variety of climates and topography with popular tourist destinations including the Himalayas and its cool mountain air in the north and popular beach resorts in the south like Goa, where western women in tiny bikinis share the sand with Indian women in saris.
If you give a coin at a stoplight to a mother pointing to a hungry (maybe, maybe not) baby, another child will bolt to the window and hang on to the top lip as you try to close it. Our Indian drivers and tour guides told us it was a crime in India to give money to beggars and that the movie "Slumdog Millionaire," depicting Mafia making money off the destitute, was not fictional but a reality in their country.
One of our young, sociable tour guides, a 23-year-old Sikh man who was happy to discuss his religion with us, had lots of questions about the US and would like to visit, if only India didn't have such stiff requirements for travel. Despite his modern interests, he's happy that he will someday have an arranged marriage because, he said, "My parents would make a better choice than I."
Indians will discuss the caste system with visitors, but during our trip the only Indians to tell us of their own class were Brahmins, the highest class.
Drivers are a necessity for almost all visitors to India, in part because of traffic jams that can include camels, cows, bicycle rickshaws, tuk-tuks, scooters, cars, buses and more, and in part because roads can morph from concrete to blacktop to gravel in a matter of miles.
It's not unusual to see large dung piles roadside as poor people burn the patties for fuel.
Varanasi, believed by some to be the oldest city in the world, may also be the most amazing place on earth -- not always in a good way. It is certainly captivating. Images of the crowds, the dirt and the nearly naked ascetics swimming in the filthy waters of the sacred Ganges River will be seared into your brain. Riding in a boat on the Ganges at sunrise is a tourist favorite, an experience that should not be missed.
The sacred cows are, indeed, running loose on the streets of small towns and big cities. Also ubiquitous are sari-clad women balancing milk containers atop their heads. This urbanite learned that the cows with the bumps behind their necks were actually bulls, and more commonly roamed the streets at will as the females were cared for by Indians who would sell their milk.
In a land of nearly 1.2 billion people, poised to overtake China as the most populous country on Earth, the disparity between rich and poor is extreme and you see it everywhere on a trip to India. A 2010 United Nations report found that there were more cellphones in India -- 545 million -- than toilets -- 366 million. Think about that. Those numbers seem to indicate that some people without toilets have cellphones. I wouldn't be surprised.
As we drove through the small rural towns of Rajasthan we often saw men gathered in groups at roadside shops, chairs grouped for conversation and tea. On that same drive we actually saw a sari-clad woman squatting roadside in a field, harvesting a crop with a sickle.
Newspapers are alive and well across the countryside. A BBC report notes that, according to the World Association of Newspapers, "more than 107 million copies of newspapers were circulated daily across India in 2009." Rising literacy rates, papers selling for less than 10 cents and small Internet penetration all help to boost readership in India. And stacks and stacks of newspapers for sale can make a recovering US journalist smile.
India is truly a love-it-or-hate-it destination. For me, its pull is magnetic.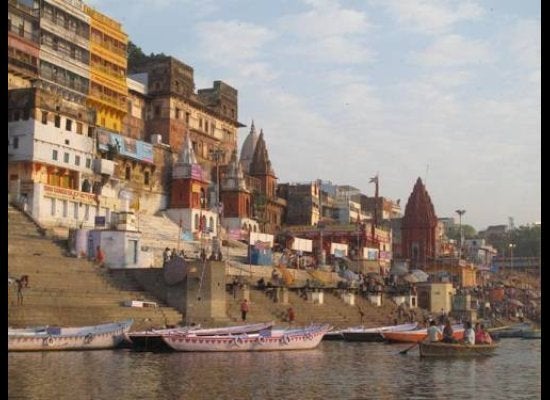 Observations From A First Trip To India