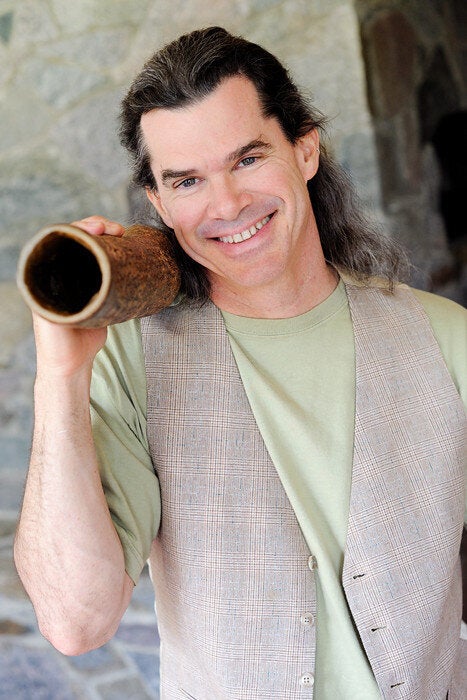 Inspired by one professor's infectious enthusiasm for Emily Dickinson, Obsessed is a new HuffPost Culture series exploring the idiosyncratic, all-consuming passions of public figures and unknowns alike. Through a mix of blogs and interviews, these pieces will highlight the elusiveness of whatever it is you just can't live without -- whether it's blue jays, Renaissance fairs, fan fiction, or in the case of David Lynch, coffee. If you have an obsession to share, drop us a line at culture@huffingtonpost.com.
So why was I, a guy from Vermont, teaching Australian didgeridoo to a bunch of kids in Senegal? My passion for this ancient earthy instrument carried me to West Africa after it saved my life. Twenty years ago, intuition made my wife buy me a didgeridoo from a gift catalog. I immediately tried to play it, but the sound that came out was more like a nasty shrieking noise than music. Gradually I learned to produce a few haunting tones of the primal drone that I craved. The bass growl of the didgeridoo travels right through the bloodstream. Listening to it means feeling it throughout your nervous system, in your bones and on your skin. Playing it feels like sticking your soul into the electrical socket of the planet. I was completely addicted. I taught myself how to make "didges" from bamboo, sunflower stalks and softwood tree branches. I learned to do circular breathing, which means forcing out a mouthful of air with your cheeks while taking in air up your nose to allow for continuous play (go ahead: try that). I loved the physical vibrations and the wild sound pouring out the end of a five-foot-long hollow tree branch. I wanted to share it with everybody so I traveled the New England and Mid-Atlantic music fest/craft show circuits selling my handmade didges and performing with regional musicians. This was a far cry from my life of "borderline lawless activities" growing up in suburban Philadelphia. As a young adult I was headed for life-threatening trouble, but remarkably a wonderful woman agreed to marry me. We had a great kid, but I was still without direction, working meaningless, dead-end jobs and feeling that something important was missing. Then the didge found me. This instrument saved me. Why did I surrender to it, and with such willingness? Are these things ordained? Or am I just lucky? I'll leave the big questions to the philosophers. The didge challenged me to bring it to as many people as possible and to integrate it with as many indigenous and contemporary styles of music as I could. There was no way to resist it even if I wanted to. Folk musicians, blues bands, rock bands and many world music performers now invite me to perform with them. Jam-bands also fit me well. Schools welcome me to give demonstrations. Every time kids hear the didge for the first time they burst out laughing and clapping then immediately want to try one. I bring didges made of long cardboard mailing tubes for them to decorate and learn to play. They have a blast and so do I, every time. Maybe it is the natural materials they are made of, or the cultural traditions they helped shape, but indigenous instruments possess enormous power to arouse spiritual connections to the land and to the ancient past. The didgeridoo dates back 40,000 to 100,000 years; it's the backbone of Australian Aboriginal music. When playing didge, I feel connected with all of that magic despite the fact that I was born into a suburban culture half a world away. Last summer I was invited to travel to Senegal by the Senegal-America Project to collaborate this winter with master musicians such as Massamba Diop and Barou Sall of Baaba Maal's band and to record at Jimi M'Baye's (Youssou N'Dour's guitarists) studio in Dakar. We also went from houses to schools to concert hall, improvising, recording, eating, laughing and telling jokes. My last day in Senegal, Massamba took me to his granddaughters' elementary school. The thunderous laughter of the kids when they first heard my didge matched exactly the reactions of the kids back in Vermont. I felt I was where I should be, doing what I love to do, doing what the didge wants me to do, passing it on. As we left the school, Massamba grabbed me by the shoulder and said, "This is the best day! Thank you for bringing this new sound to Africa, my brother!" Massamba's compliments floored me. This was from a man who is highly respected around the globe in the world music industry. He was praising me, the didge guy from little ole Vermont! I became a very willing messenger bringing an instrument from one ancient culture to another. The thrill will be with me forever. It will carry me and the didgeridoo wherever we go. The next international didgeridoo adventure takes me to Denmark and Greenland in April. I'll be visiting schools and orphanages of native kids in the Arctic Circle and collaborating with musicians at every stop. I can barely wait! I'm a very lucky person to have the didge choose me for a lifetime of allegiance.
Listen to Pitz play on "Sameness With People" by 3 Trees:
Calling all HuffPost superfans!
Sign up for membership to become a founding member and help shape HuffPost's next chapter