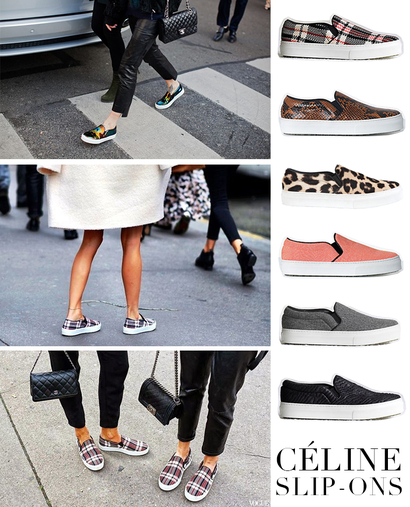 I bought my Céline leopard print Vans a few months ago, completely unaware that they would become a fixture in my wardrobe. Identical to Vans but elevated with luxury finishes, this new incarnation comes in an array of exotic skins and colors, including python and printed pony hair. At this point, it's safe to say that I'm addicted - I wear them nearly every day, and am coveting them in each and every variation, especially next spring's python rouille. I am completely smitten...it's a little pathetic, really.
They are the perfect look for women of every style and age, especially if you are looking for something a bit conservative. I'm actually gifting them to my mom for her upcoming 60th birthday. Selfish? Perhaps. But my rule is to always give what you love, what you own, what you want. And honestly, it works quite well most of the time (more on that subject in my upcoming Holiday Gift Guide).
They are the definition of casual cool. It's possible I have lived in California too long, but I promise that, even if they are not your style, they will deliver the perfect dose of casual cool. Someone was telling me just the other day that even Pharrell Williams was obsessed - he features them in every single colorway in his latest video. I wear them with skinny jeans or boyfriend jeans, leather pants or denim shorts. And I wear them to travel, to the beach, to Disneyland, and did not go a day without them in Paris.
Since you cannot shop Céline online, stop by your nearest Céline store or Barneys to take a peek. Can't get your hands on a pair? Givenchy's lace version is great and Kenzo has its own collaboration with the skate brand as well. And if the price tag is a bit high, a traditional pair of Vans never goes out of style.
Equal parts comfort and cool, they will secure a place in your repertoire and cause a bit of an addiction if you let them. But fear not, this classic look isn't going anywhere anytime soon.