Across much of Africa, there is a high lifestyle disparity between those who live in urban areas and those who live in the rural areas. In Addis Ababa and many secondary cities in Ethiopia, many people have access to WiFi, convene at coffee shops, and dress to impress. Yet, in the rural areas of Ethiopia, there is still no access to electricity or running water, and a birth attendant or a health care facility may be miles away.
Childbirth is a precarious event in a woman's life in rural Africa. For myriad reasons, women do not actively seek support from skilled birth attendants to ensure safety for themselves or their baby. Sometimes there are no skilled birth attendants available. Sometimes they prefer giving birth at home. And sometimes, gender inequality prevents them from being able to make decisions regarding their health.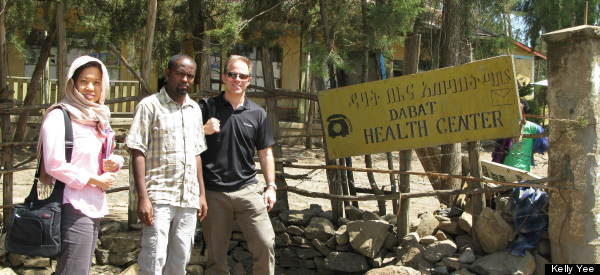 An obstetric fistula occurs during a complication in childbirth. It usually occurs during a painful multi-day labor. The pressure from the baby's head restricts blood flow and tissues die. This causes a hole, or a fistula, between the birth passage and the bladder or rectum, which results in continuous leakage of urine or feces.
In most cases, the baby dies. If the mother survives, it is called "a fate worse than death" because she is abandoned by her family and community. Often, her husband will divorce her because she no longer can bear children, and the community will cast her out because she will likely carry the foul smell of diseased tissue, urine and feces.
There are millions of women in Africa with fistula. And yet, obstetric fistula is easily preventable.
The Fistula Center is one part of a multi-layered approach to helping these women. Their bodies are repaired, which often requires many surgeries to fix the tear. They are also given light work-skills training -- weaving, beading, and other crafts -- to help them provide a livelihood for themselves as they seek to reintegrate with their communities.
I prepared for the visit. I knew the place would smell from their affliction, I knew the women were in painful physical recovery from their surgery, I knew that the women were likely in need.
What I was not prepared for was the emotional pain of these women. The physical pain was nothing compared to the embarrassment these women felt for their undeserved affliction, their longing for their children, their heartbreak of abandonment from loved ones, their loss of status in society. Their self-worth was lost and their identity was gone due to what should have been a happy moment for the family.
I had brought old clothes with me from the U.S. to give to these women. With the permission of the head nurse, I handed them out to the oldest women, as I thought they would have the most trouble finding a livelihood for themselves.
What happened next was unplanned: As I gave the first woman an article of clothing, I bowed to her as a sign of respect. The bowing took her and everyone in the room -- including myself -- by surprise. I suddenly realized that these women received very little respect other than the care they received at the Fistula Center. Although I was a complete stranger, I hoped to show my appreciation for these women through these gestures.
So as we help mothers around the world improve their lives through education, resources, and other aid, we need to first convey the basic underlying tenet to the mother: She is worth it.