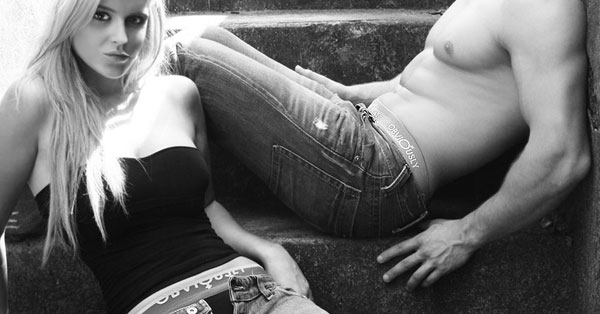 It is a known medical fact that the testicles are located externally to enable them to achieve a temperature somewhat cooler (2-7 degrees Celsius) than the human body. "When the male human body was put together (by God or nature), it was gifted an intricate temperature regulation mechanism which allows the testicles to ascend and descend to regulate the temperature for optimal sperm production," Robert Miljkovic of Obviously Underwear told The Underwear Expert.
Men's contemporary underwear designs, however, rarely accommodate this movement. "What traditional modern underwear focuses on are sleek and body hugging designs which prevent this natural ascension and descension," Miljkovic continued and acccording to a recent report issued by the UK Nation Health Service, it seems there may be proof of this. The study aimed, ultimately, to determine if smoking, drinking, and unhealthy lifestyle choices can cause a lower sperm count. What the study found, however, is that these habitual choices have less bearing on sperm count than tight underwear.
It was this realization five years ago and a commitment to resolve the problem that resulted in Obviously's anatomically correct brief, one of the men's underwear industry's first. Obviously specifically designed the pouch and selected the weight and composition of its fabric for this brief to be as soft and pliable as possible to allow for the natural movement of the testes. The result was a pouch that stretches and retracts to match this movement and when worn, allows the genitals to remain in the same position they find themselves in when standing naked with nothing on.
There has since been a slow progression in men's underwear design from package crushing, to natural fitting, but these briefs are often marketed less for their functional results than aesthetic. California-based brand Andrew Christian has done just this, and has made extremely popular their line of briefs that support the natural movement of the testes. "The [Air Sculpt] pouch allows for your manhood to hang full and not be smashed down flat, which in result makes it look much fuller and longer," Brad Hammer, marketing manager of Andrew Christian told The Underwear Expert, of the brand's signature underwear that features this anatomically correct design.
Regardless of whether function or appearance is driving sales of these anatomically correct pouches, one thing is true: the success has been staggering. Andrew Christian's Air Sculpt Brief was featured in their now infamous and hugely viral "Freshman Carwash" video. It was later pulled from YouTube, but not before providing one of the biggest sales days in recent memory for the brand. It also nearly crashed their website. Obviously's line of anatomically correct underwear has been equally as successful; the response, according to Miljkovic has been "Good. Very good."
The Underwear Expert is the Men's Underwear resource by Michael Kleinmann. Covering all aspects of men's underwear including new releases, underwear product reviews, underwear news, and photos of guys in underwear. The Underwear Expert is your new underwear stylist. Also available on Twitter @underwearexpert and Facebook.com/underwearexpert.
Photo Credit: Obviously Underwear
Popular in the Community