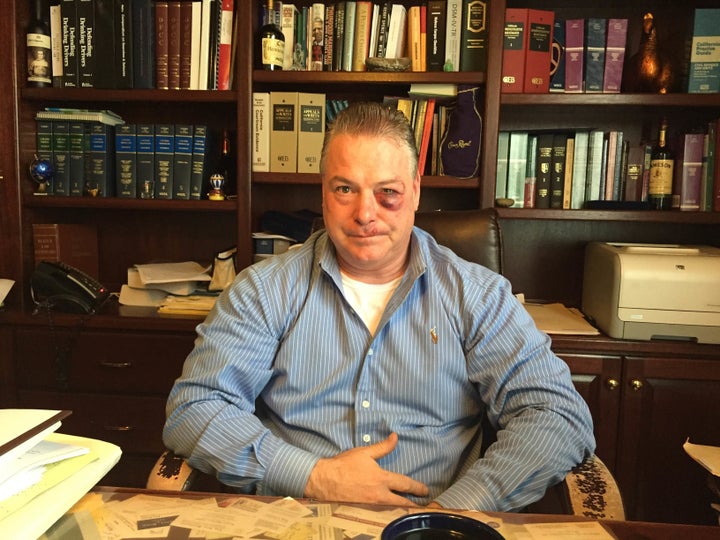 ORANGE, Calif. -- A criminal defense attorney in Orange County, California, claims that an investigator working for Orange County's beleaguered District Attorney's Office attacked him in a courthouse hallway Wednesday morning after he referenced the county's ongoing jailhouse informant scandal.
Defense attorney James Crawford was at a courtroom at the Central Justice Center in Santa Ana this morning. When Crawford approached a witness to advise them on their rights, a verbal altercation began between Crawford and the DA's investigator, Crawford's attorney told The Huffington Post.
Crawford's attorney, Jerry Steering, says the DA's investigator continued to interfere with Crawford's attempts to advise his client. Crawford repeatedly asked the investigator to back down, and the altercation escalated, Steering said, when Crawford mentioned the allegations of misconduct stemming from the county's jailhouse informant program.
Steering said the DA's investigator "lost it," rushed Crawford and began "bashing his brains out" on a bench in the hallway and "punching his lights out."
After he delivered several blows to Crawford's head, Santa Ana Police officers finally pulled the investigator off of Crawford.
Steering says he intends to file a civil lawsuit over the attack. 
On Wednesday, the DA's office would not comment on any specifics about the attack, but said that they are "fully cooperating" with the Orange County Sheriff's Department as it investigates the "incident that took place." 
OCSD confirmed that an altercation took place, but told HuffPost that no one was in custody over it and that an investigation into the incident is ongoing.
Crawford, with blood still dripping from his nose, told HuffPost from his office in Orange that in his 22 years as an attorney, he's never heard of or experienced anything like this before.
Crawford just last month won a new trial for his client Henry Rodriguez when a judge ruled county prosecutors illegally withheld jailhouse informant evidence. Rodriguez has spent the past 15 years in state prison for the double murder of a pregnant Fullerton woman and her unborn daughter in 1998.
"Two weeks ago, I get Henry a new trial and this week the DA office's investigators are assaulting me," Crawford said. 
Tom Dominguez, president of the Association of Orange County Deputy Sheriffs, said in a statement that Crawford's "one-sided version" of events was false.
"A careful investigation will reveal the true facts," Dominguez said. "We are cooperating fully in that investigation and we look forward to the actual facts being released publicly."
Multiple murder cases have already been derailed by revelations out of Orange County's formerly secret jailhouse informant network, some accused murderers have even walked free, and Rodriguez's case is just the latest to be caught in the fallout. 
But Rodriguez likely won't be the last. While it remains unclear how many cases may be affected by tainted informant evidence, Deputy Public Defender Scott Sanders has argued that any murder case in the county from the last 30 years in which an informant was used deserves to be re-examined. Sanders first unearthed the alleged violations within the county's secret jailhouse informant program, as well as internal records from the program that may have been improperly concealed for decades.
With regard to informant evidence, District Attorney Tony Rackauckas has maintained that no one in his office intentionally behaved inappropriately.
This story has been updated to include comment from the Association of Orange County Deputy Sheriffs.
REAL LIFE. REAL NEWS. REAL VOICES.
Help us tell more of the stories that matter from voices that too often remain unheard.