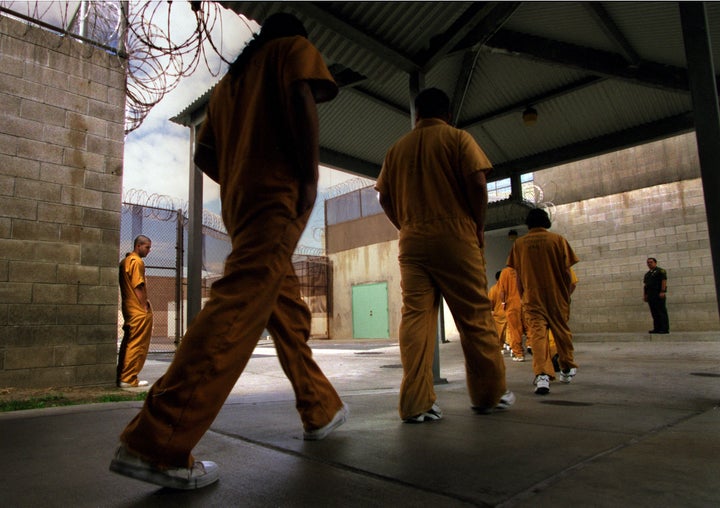 LOS ANGELES ― A notorious jailhouse informant program in Orange County has been maintained and promoted for decades by the OC Sheriff's Department, whose leadership and staff were committed to illegally concealing it ― those are the explosive allegations from Assistant Public Defender Scott Sanders stemming from his review of more than 5,600 internal sheriff's department documents.
The trove of documents still remains under seal from the public, but Sanders outlined his extensive findings in a blistering motion filed Thursday in the ongoing case against Scott Dekraai, Sanders' client. Dekraai pleaded guilty to killing his ex-wife and seven other people /us.preview.huffpost.net/entry/5834debbe4b000af95ed34be?preview=5834debbe4b000af95ed34bf&edition=us#desktop"}}" data-beacon-parsed="true">at a Seal Beach hair salon in 2011, in what remains the deadliest mass shooting in county history.
Dekraai still awaits the penalty phase of his case, which has stalled because of egregious misconduct from prosecutors and sheriff's deputies in their use of jail informants. 
According to Sanders' latest brief, it appears the government deception was far worse than previously understood.
OCSD stopped calling informants "informants" and started calling them "sources of information" in order to mislead, according to Sanders.
The new document trove, along with OCSD policy manuals Sanders had previously obtained, reveal that the sheriff's department changed official vernacular inside the agency in an attempt to "create cover for false testimony [by their deputies] about the use of informants." 
Sanders says deputies were ordered to stop calling informants "informants" and instead call them "sources of information." Sanders argues the agency later changed its policy manuals to suggest that "informants" and "sources of information" were two different categories of inmates.
Sanders calls the switch ― which allowed deputies to deny a jailhouse informant program existed during the Dekraai hearings ― a "shameful 'inside joke'" played on Dekraai, his defense team and the court.  
The sheriff's department currently denies that an informant program exists ― but it admitted to cultivating "hundreds" of informants a decade ago, Sanders says. 
While the pile of evidence that a jail informant program exists in the county has only grown in the years since Dekraai's case began, the sheriff's department has continued to deny it.
"The deputies in the jail are not conducting investigations ... we don't have our folks working informants," Sheriff Sandra Hutchens has said.
But the cache of documents Sanders reviewed contains numerous internal memos circulated widely among command staff within the OCSD describing the "need to develop and cultivate informants, the importance of utilizing informants and the details of what informants were sharing," Sanders notes.
The documents Sanders has examined suggest that the sheriff's department has "likely managed well over a thousand informants over the past several decades."
Sanders cites an email from the document trove that reveals the Special Handling unit, which formerly oversaw inmates and informants inside county jails, claimed that nearly a decade ago it had already "cultivated hundreds of jailhouse informants."
Sanders says that according to the contents of the document trove, numerous high-ranking staff members reporting to Sheriff Hutchens are "fully knowledgeable" about the jailhouse informant program. Those include newly named OCSD public information officer Lt. Lane Lagaret, who previously served as a special handling unit supervisor during the controversial period that produced the once-secret deputy log.
Sanders specifically cites an email that was allegedly once posted on the wall of the special handling unit's office, sent to Lagaret by deputies under his command, which Sanders says "emphasized" the role of deputies in their "cultivating and managing" informants in the jail. The contents of that email is redacted from Sanders' brief as it remains under seal.
The Huffington Post contacted Lagaret about Sanders' allegations against OCSD. Lagaret said he'd heard about the brief, but had not read it. 
"I am not going to make a statement in reference to the brief or any of its contents," Lagaret said. "In reference to the email Sanders is referencing, I haven't read the brief and do not know of any email he references." 
HuffPost asked for a copy of the email and forwarded the section of the brief describing the email to Lagaret so he could review the allegations, but Lagaret declined to comment further.
"I don't intend to comment on what he wrote until called upon to do so in court," Lagaret said.
There are likely still countless key documents missing.
Sanders says the recent trove of documents, along with other internal records he's obtained, reveals the "true scope of the jailhouse informant effort" and indicates the presence of far more internal OCSD documentation surrounding their informant effort than has been turned over or even known to exist.
These new documents reference other kinds of logs beyond the special handling log ― module deputy logs, sergeant activity logs, daily briefing logs, administrative segregation logs, none of which have been turned over to the court.
In the Dekraai case, the more than 1,000 pages in the special handling log that OCSD turned over represents just seven of the 65 months Dekraai has spent jailed in the county.
Deputies who have testified in the Dekraai case committed "flagrant perjury," the public defender says.
Three OCSD special handling deputies ― Seth Tunstall, William Grover and Ben Garcia ― have all testified about their understanding of an informant program during special evidentiary hearings in the Dekraai case. And the testimony of all three has continued to be undermined by new documents and prior testimony Sanders found from other cases. 
In a 2015 ruling, Superior Court Judge Thomas Goethals called out Tunstall and Garcia for having "either intentionally lied or willfully withheld information" during their testimony in the Dekraai case. But Sanders says the newly discovered testimony, as well as previously hidden documents, shows that all three deputies committed "flagrant perjury" in their testimony.
But Sanders cites testimony given by Tunstall in two prior cases elicited by Assistant District Attorney Ebrahim Baytieh, in which Tunstall freely admitted his duties included developing informants. Sanders also cites a letter Tunstall wrote in support of the outstanding work of one his best jailhouse informants. 
In Garcia's original testimony in 2014, he never mentioned an entire jail records system that special handling deputies use to track inmates and informants. In 2015, when questioned about why he didn't bring up the system, he claimed he couldn't talk about it in court because that's how the deputies were trained. 
But Sanders located testimony from Garcia in a separate 2009 homicide case in which he appeared to speak openly about the tracking system, how it was used to document the movements of inmates, and how that information was compiled within a computer database.
During Grover's 2014 testimony in the Dekraai case, he downplayed his work with informants, saying he spent "less than zero" time working with informants. "That's not my focus," he said. "That's not my scope. I generally am consumed with administrative duties."
But the once-hidden special handling log contains daily entries by Grover depicting his interaction with informants over nearly five years. Sanders also obtained an internal performance evaluation of Grover in which Grover "proudly wrote of his efforts with informants." In that record, Sanders says, his first major accomplishment he wanted to discuss with his supervisor involved a jailhouse informant. Further, a newly discovered slideshow presentation regarding informant use appears to have been created by Grover and directs those who view it to contact him. 
Sanders also cites a key email written by Grover before his testimony in the Dekraai case, stating that OCSD was no longer calling informants "informants."
OCDA delayed the release of additional deputy logs in order to ensure a death sentence in a separate murder case, Sander says.
In June, after years of denials, the OCDA's office finally acknowledged that an informant program does indeed exist and that sheriff's deputies actively "recruited and utilized" informants and rewarded them for information. The admission followed the discovery of the 1,000-page special handling log that shed new light on the scope of the informant program inside county jails. 
But Sanders says a series of emails discovered in the new document cache indicate that the OCDA took possession of still more deputies' logs in June 2016 and decided to delay their release to the court until December 2016.
Sanders argues that a deeply troubling but "likely" explanation for the delay was related to the timing of the sentencing in a separate murder case ― that of Daniel Wozniak, whom Sanders also represents. According to Sanders, the mere existence of these logs would have impeached testimony in hearings held earlier in the Wozniak case. 
By withholding the log until after Wozniak's case was completed in September 2016, it helped to "ensure that a death sentence ... would be imposed" on Wozniak without the issue emerging or the case being delayed, Sanders says.
When asked about the allegations, OCDA directed The Huffington Post to a December 2016 OCDA press release about the special handling log. The release does not address the allegations of intentional delay.
OC District Attorney Tony Rackauckas has maintained that no one in his office intentionally behaved inappropriately in relation to the jailhouse informant program. OCSD argues similarly and that it has taken steps to create more robust ways of documenting and managing inmates.
The Justice Department announced in December that it was investigating allegations that the informant program used by the sheriff's and district attorney's offices had violated defendants' rights. 
California Attorney General Xavier Becerra announced this week that he will continue to seek the death penalty against Dekraai, despite his case being tainted by government misconduct. 
REAL LIFE. REAL NEWS. REAL VOICES.
Help us tell more of the stories that matter from voices that too often remain unheard.