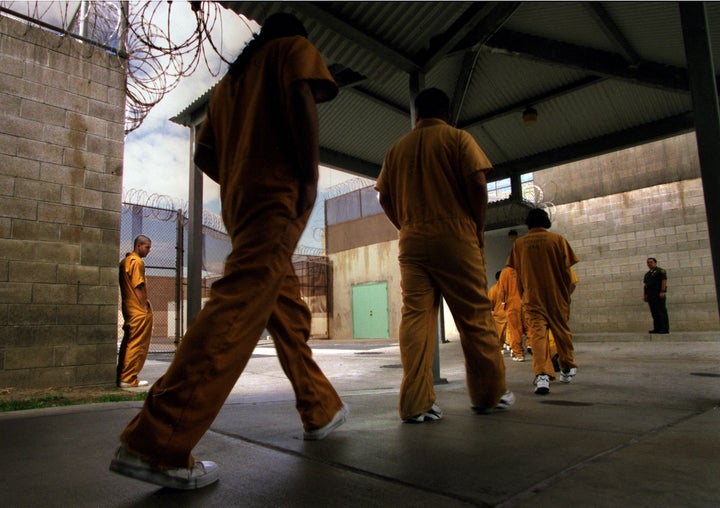 LOS ANGELES ― A month after the U.S. Department of Justice announced an investigation of the Orange County District Attorney and Sheriff's Department over a tainted jailhouse informant program that has allegedly violated the right of numerous defendants, more allegations of rampant cheating have surfaced in court documents filed this week. The allegations raise significant questions about the effort being made by prosecutors and law enforcement to rectify a scandal that has been rocking the county for more than three years.
In a blistering 56-page brief dated Jan. 18, Assistant Public Defender Scott Sanders produces alarming evidence that the Orange County Sheriff's Department has not acted in good faith to investigate its own role in running a jail informant program; deceived the court about whether top department officials knew of a once-secret database its deputies maintained tracking informants in the jail; failed to produce all records in compliance with lawful court orders; and when it has turned over some records, manipulated and deleted damaging information. The brief was filed in the case of Sanders' client Scott Dekraai, who has pleaded guilty to killing his ex-wife and seven other people at a Seal Beach hair salon in 2011 and is awaiting a penalty phase of his case.
Further, Sanders argues that the OCSD has also secretly obtained authorization to destroy informant evidence and other relevant records surrounding the jail informant program ― authorization that the sheriff's department hid from the court for years, instead providing the court with record retention policies that were outdated and did not address destruction of informant-related evidence.
Secret Deputy Logs Handed Over To The Court Are Incomplete
Last year, 242 pages of notes were made public for the first time by Superior Court Judge Thomas Goethals, revealing the inner workings of the county's infamous informant program and appearing to contradict testimony given by some deputies who had previously denied knowledge of working with informants. The notes also describe deputies' recruitment and utilization of informants; destruction and falsifying of documents; collaboration with prosecutors and other local law enforcement agencies while operating "capers" to glean further evidence from inmates; and other unconstitutional scams they used to trick inmates into confessing to crimes.
The pages represent just a fraction of the total 1,157-page database, still largely under seal, which was in use between 2008 and 2013 and maintained by sheriff's deputies who work in a branch of the department called "special handling," which specifically deals with inmates and jail informants.
The log contains multiple entries from two deputies, William Grover and Ben Garcia, who testified during special evidentiary hearings on jailhouse informants heard in the case of Dekraai. Another deputy who also testified during Dekraai proceedings, Seth Tunstall, is not the author of any entries but is referenced in several. In a previous ruling, Goethals called out Tunstall and Garcia for having "either intentionally lied or willfully withheld information" during their testimony in the Dekraai case. Their log entries profoundly contradict their testimony on jail informants.
But worse still, there appears to be intentional manipulation and/or destruction of many entries in the special handling log. The document is missing all entries made between April 12 and Oct. 2, 2011 ― nearly six months of log entries ― a fact the OCSD revealed in court nine months after it first handed over the special handling log. Sanders views this as significant particularly because it was in October that contact happened between Dekraai and Fernando Perez, an informant at the center of the county's snitch scandal. During the missing months, deputies claimed Perez had retired from informant work.
The sheriff's department has long maintained that the secret log was unknown to command staff ― that it essentially was the product of rogue deputies making an unauthorized database. But Sanders cites a 2009 letter he obtained sent to three members of the OCSD command staff which he says clearly shows upper management understood Special Handling deputies were using jailhouse informants.
In the letter, an OCSD investigator requests authorization from command staff to allow Special Handling deputies to record the conversation between informant Oscar Moriel and Leonel Vega, an inmate convicted of murder who in 2015 saw that conviction vacated after evidence emerged that the prosecutor in his case failed to disclose key records.
The letter is addressed to Asst. Sheriff Mike James, who is in charge of jail operations, copied to OCSD Capt. Tim Board, the jail commander, and Asst. Sheriff J.B. Davis, who was head of investigations.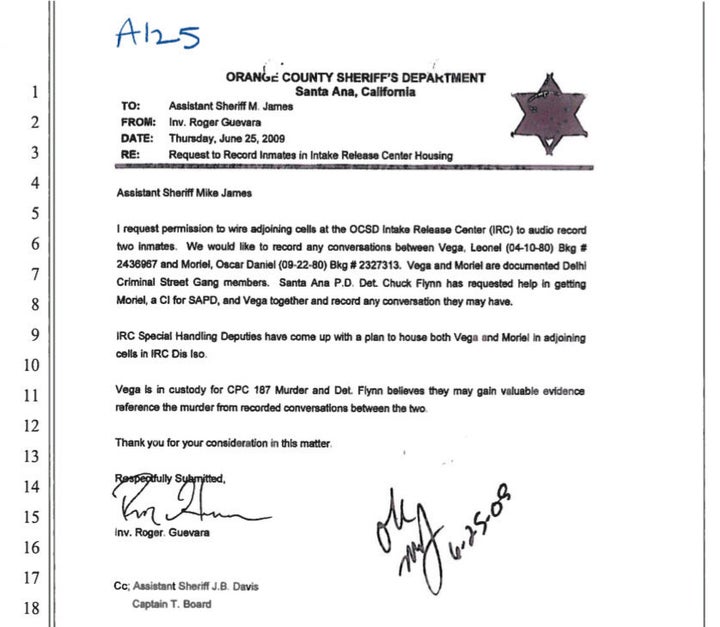 Are There Still More Secret Informant Logs? Sanders Says Yes
Sanders argues it's likely there are at least two additional logs that have yet to be turned over.
One additional database was likely produced within the Theo Lacy jail facility, where the OCSD's Special Handling unit actively developed and used informants. Sanders thinks a daily log likely exists because not only has his client, Dekraai, been housed in the facility for nearly five years ― where it's been established that two acknowledged informants were used by county prosecutors and law enforcement ― but also because an OCSD commander has suggested that a daily log exists.
Commander William Baker described in a recent declaration to the court what "appear to have been misguided attempts to document Special Handling and Classification deputies' work" at both Theo Lacy and the Intake Release Center that were "sporadically maintained," and implied that a document similar to that of the special handling log was used and similarly terminated in 2013.
Sanders says another informant database was likely started afterward. After months of denials that a successor log was created to replace the original one, Baker said in his declaration that in August 2014, deputies in special handling and classification units were "instructed by their sergeant at the time to keep daily activity logs."
It's no accident that it was in August 2014 that OCSD would resume their log, Sanders argues, because that was when the court issued an initial ruling that appeared to end informant-related litigation in the Dekraai case. Later that year, the court would reopen the case when evidence of prosecutor and law enforcement malfeasance became impossible to ignore.
The special handling log itself also appears to indicate that a replacement log was created. One log entry describes a meeting between various sheriff's deputies who discuss that they will stop using the special handling log and indicating the existence of a newer log that the deputies describe is for "important information sharing." That meeting took place eight days before the last entry was made in the special handling log, on Jan. 31, 2013.

With all of this in mind, Sanders is requesting that the court order the OCSD to immediately cease destroying all informant-related records. He's also asking that the court hand over the full cache of records the OCSD already gave it, consisting of thousands of pages of materials.
Informant Records Are At Risk Of Being Destroyed
In later 2016, after log entries indicated that records were being shredded, Sanders requested "any and all lists of retention policies ... time frames for the destruction of documents, logs and or other materials" created by the OCSD between Jan. 1, 2006, and the present. In response to that request, the OCSD did turn over retention policies ― but he would later learn they were not the most recent version, Sanders says.
Moreover, Sanders says he received a previously undisclosed document from an unnamed source that appears to be the current retention policies for the OCSD that were authorized in 2014. Called "Orange County Sheriff's Department Retention and Disposition Schedules," and obtained by The Huffington Post, the document indicates that the OCSD policy allows for the destruction of informant and Special Handling-related records after just three years.
"The OCSD agendized the records retention and disposition schedule and it was approved by the Board of Supervisors," said Lt. Mark Stichter to HuffPost in response to questions about the allegations. "The records retention and disposition schedule is a public record. We have no information that informant records were destroyed. We clearly are not destroying records."
Despite Stichter's denial, in the more than 200 pages of notes released last year, there were multiple entries made by sheriff's deputies that appear to describe the destruction of documents.
Two separate entries describe the "shredding" of "old" documents related to the special handling unit. In another entry, an entry describes a "purge" that deputies did of old files in a desk drawer.
The Orange County Board of Supervisors did not immediately respond to a request for comment.
The sheriff's department continues to deny that a formal jail informant program even exists ― despite evidence such as the 1,157-page log. In June 2016, after years of its own denials, the D.A.'s office unequivocally acknowledged that a jail informant program does exist and that sheriff's deputies actively "recruited and utilized" informants and rewarded them for information.
In December, the Justice Department announced that it has opened an investigation into the allegations that the sheriff's and D.A.'s offices violated defendants' rights through the use of the jail informant program. Earlier this month, the California attorney general's office announced that it will not appeal a decision that tossed Orange County's entire district attorney's office off the Dekraai case over its involvement in the jailhouse informant scandal.
Popular in the Community