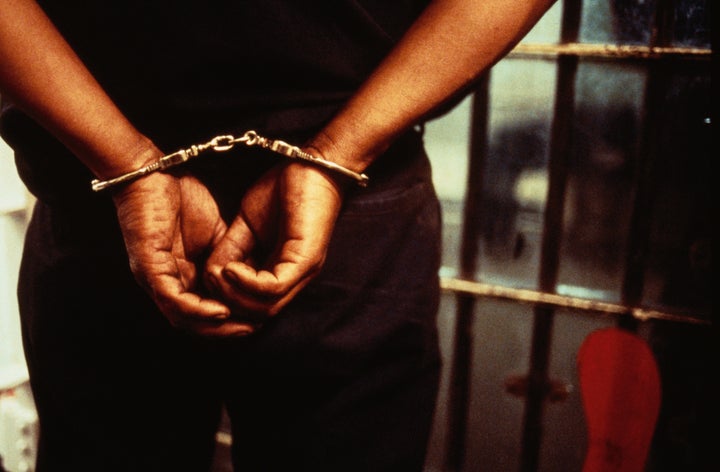 LOS ANGELES ― An Orange County prosecutor who has been at the forefront of his office's response to the county's ongoing jail informant scandal is now being accused of concealing jailhouse informant evidence in a murder case he prosecuted eight years ago.
It's the latest in a series of allegations of misconduct against the embattled Orange County district attorney's office, which along with the Orange County sheriff's department has been embroiled in a sprawling jailhouse informant scandal for the past three years. At the center of the scandal is the misuse of a sophisticated informant program ― operated by sheriff's deputies and utilized by prosecutors to secure convictions ― that has allegedly violated the civil rights of numerous defendants and led to the unraveling of more than a dozen murder cases in the county. It also threatens to upend countless more already settled cases.
In a motion filed Friday, Assistant Public Defender Scott Sanders argued an inmate, identified in court documents simply as "Inmate X" to protect his safety, was part of a team of informants that sheriff's deputies deployed against Paul Smith to obtain damning evidence while Smith was awaiting trial for murder. But Sanders says that during the Smith proceedings, this informant was illegally concealed from the defense by the lead prosecutor on the case, Assistant District Attorney Ebrahim Baytieh.
Further, Sanders argues that Baytieh, speaking regularly at public forums to defend his agency over allegations of misconduct, has for eight years misled in his public statements regarding his understanding of the jail informant program in the county.
Sanders also alleges that Orange County Sheriff's Department Sgt. Raymond Wert engaged in covering up a formerly secret log maintained by sheriff's deputies in the jail by trying to have the log terminated before it was made public. Sanders argues Wert wanted the log to be kept hidden, fearing that if information deputies had written about Inmate X and other informants in the jail were to be made public, it could jeopardize the Smith conviction and others.
Inside an 'informant tank' with 'Inmate X' 
In 1988, Robert Haugen was found dead in his apartment ― stabbed 18 times and his body set on fire in what was apparently an attempt to destroy crime scene evidence. His murder would go unsolved for 20 years. But in 2009, Paul Smith was arrested for the slaying when his DNA was matched to blood found inside Haugen's apartment. 
While Smith awaited his trial inside Orange County jail, he was assigned to a section of the jail called "L-20." Unbeknownst to him, the unit was stocked with informants, and doubled as an "informant tank" ― a housing area managed by sheriff's deputies where some inmates work secretly for the government as informants and are given access to multiple government targets in order to glean information that can be used against them in court. 
It was there in dayroom, Sanders details, that Smith would encounter Arthur Palacios, a longtime jail informant, as well as other inmates whose identity is still unknown publicly, including "Inmate X," "Inmate Y" and "Inmate Z." According to Palacios, Smith began to to chat with him about details of the Haugen murder ― and did so without any questioning or direction from OCSD deputies. Palacios also says Smith began to speak to Inmate X, whom he hoped to enlist in a plot to harm Wert ― an OCSD investigator who interviewed Smith about the killing ― as well as harm a witness to the Haugen murder.
In a strange twist, as Smith allegedly tried to involve Inmate X in the plan to attack Wert, Inmate X was released from jail. But Smith continued to communicate with Inmate X, Palacio says, and said that Inmate X was still working on the plot and had conversations with Smith's wife about carrying out the proposed attack. Ultimately though, Smith's wife decided she didn't want to carry out the "hit" with Inmate X. 
Despite Palacios' career as an informant, during the Smith trial Baytieh identified him as a former informant who had essentially gone into retirement but just coincidentally found himself talking to Smith about his case in ways that would prove helpful to the prosecution. Further, Baytieh never revealed that Inmate X was an informant who was allegedly involved in a plot to attack a law enforcement officer and a witness, but was never investigated or charged with a crime for doing so ― a detail that Sanders says clearly indicates Inmate X was working as an informant during the alleged plot. 
Baytieh also never told Smith that Smith was literally surrounded by informants in dayroom, Sanders writes; this robbed Smith of the ability to at least challenge Palacios' claims that he didn't know who Smith was and that the two had a chance encounter in which Smith told him details of the murder without any leading questions.
The allegations that Baytieh actively concealed both an informant operation and a specific informant during the Smith case run contrary to his own public remarks on the jail informant scandal. 
Baytieh has called it "baloney" to accuse prosecutors in his office of illegally using jail informants and intentionally hiding evidence. He also made a similar claim at a community forum hosted by the Orange County Register last year, saying "there isn't a shred of evidence that a prosecutor conspired to intentionally hide evidence from a defendant."
Susan Kang Schroeder, chief of staff for OC district attorney Tony Rackauckas, maintains that OCDA and Baytieh did nothing illegal in their handling of the case.
"We took care to not only send the information to his attorney but also his appellate attorney and we look forward to litigating this in court," Schroeder told HuffPost. OCDA also sent HuffPost the letter from Baytieh to Smith's attorney and appellate attorney dated June 24, 2016. In it, Baytieh describes the contents of the Special Handling log and reiterates that the prosecutor admitted Palacios was an informant, but does not acknowledge that Baytieh knew the other members of the dayroom group were informants or when he first learned this.
The OCDA would not provide HuffPost with the log entries described in the letter. When asked if Smith's defense counsel received copies of the log entries, Michelle Van Der Linden, OCDA spokesperson said, "I just spoke with Mr. Baytieh and he stated that, at the time, the letter you reviewed was drafted the 'Special Handling Log' was under protective order by the court however, Mr. Baytieh provided all of the relevant excerpts to Mr. Smith's attorney."
When HuffPost asked when Baytieh first became aware that other inmates mentioned in the letter were informants, Van Der Linden said Baytieh told her he "became aware of it when our office received/reviewed the log, which was May 10, 2016."
Van Der Linden added that the letter "clearly shows what the OCDA knew, when we knew it, and what we did with that information, which was share it with the defense attorneys in a timely manner."
If Inmate X is one of the informants described in the letter and Baytieh didn't know that he was an informant until May 2016, the question that remains is why he didn't prosecute him for his efforts to injure a police officer.
Sgt. Wert and the termination of the Special Handling log
Sanders says he has only recently discovered Inmate X's role as an informant and the full scope of the informant program inside county jails. The defense attorney has access to a 1,157-page formerly secret database, known as the "Special Handling Log" ― a cache of records, still largely under seal, that were maintained by sheriff's deputies who worked in a branch of the department called Special Handling that dealt with inmates and jail informants.
The database describes years of interactions with inmates and informants ― including information on Inmate X, who apparently created a "cause for concern" among the Smith prosecution team, Sanders writes in his motion, citing an entry in the log about the informant.
More than a year after the log first came to light, OCSD has still not offered its explanation as to why the database was abruptly halted in January 2013, just days after Superior Court Judge Thomas Goethals issued a broad order to turn over such information in the murder case of a defendant named Scott Dekraai.
One person who may know why the log was terminated is Wert.  According to one of the final entries in the log, Wert was one of two officers who communicated the decision to end, and replace, the log during a special handling unit meeting. That entry became public when about 240 pages of the log were unsealed and released last year:

Sanders argues Wert ordered the termination of the log in 2013 because he already understood that the information it contained both about informants used in Smith's case and the larger jail informant program being operated by his deputies "could ultimately undo Smith, expose misconduct by the entire prosecution team, and have other professional ramifications." By "quickly" killing the log, Sanders writes, Wert was attempting to "lessen the chances" that he and his colleagues' secret work would thwart disaster ― the upending of the very convictions that their informant network was used by prosecutors to help secure. 
OCSD declined to comment on the allegations made against Wert.
Sanders plans to call dozens from OCSD to testify
Despite the misconduct that has already tainted the Dekraai case, California Attorney General Xavier Becerra announced last month that his office would continue to pursue the death penalty against Dekraai. The state attorney general's office inherited the prosecution when the entire Orange County district attorney's office was ejected from the case in 2015 over misconduct stemming from its failure to turn over evidence from the jail informant program.
Last month, Goethals called for new evidentiary hearings in the case over what appear to be "ongoing significant failures of compliance" with "legitimate orders made by this court over the last four years."
Goethals has also said he is considering employing what he called the "nuclear option": the removal of the death penalty from Dekraai's sentencing hearings, something he once believed was "completely unthinkable" but is now a possibility because of the "extensive" allegations of misconduct.
If Goethals were to dismiss the death penalty, he would instead sentence Dekraai to life in prison without the possibility of parole, he said last month in court. 
In his motion Friday, Sanders said he wants more than 30 staffers from OCSD, including top brass and OC Sheriff Sandra Hutchens, to testify about the allegations of misconduct from her agency. Also on his list is Baytieh and Assistant District Attorney Dan Wagner, a former prosecutor on the Dekraai case.
The hearings are set to begin next week.
While law enforcement authorities use informants to help bolster a case — a tactic that's perfectly legal, even when the snitch receives a reduced sentence or something else of value in exchange ― Sanders alleges that in some Orange County cases, informants recorded conversations with inmates who were already represented by lawyers, violating an inmate's right to counsel. Prosecutors then presented damning evidence gathered by the informants in court, withholding other evidence that could have been beneficial to the defense. That tactic violates a defendant's right to due process. 
It's unclear how many cases may be affected by tainted informant evidence. Sanders argued that every case involving a jailhouse informant in Orange County over the last three decades deserves to be re-examined.
Rackauckas has maintained that no one in his office intentionally misused the jailhouse informant program. The sheriff's department adds that it has taken steps to create more robust ways of documenting and managing inmates.
The malfeasance already found in the county, and allegations of even more, prompted the Justice Department to launch an investigation into the matter last December.
This story has been updated to include further comment from Van Der Linden.
REAL LIFE. REAL NEWS. REAL VOICES.
Help us tell more of the stories that matter from voices that too often remain unheard.