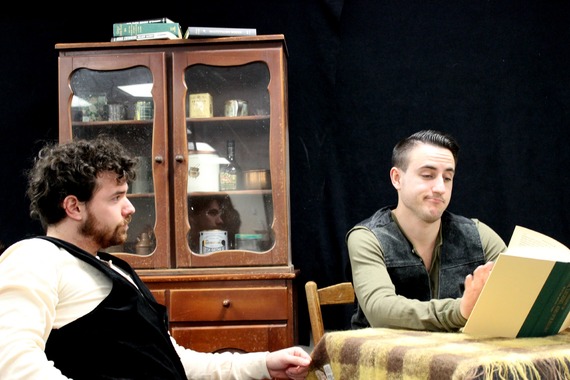 From Left to Right: Kevin Rodden as Seumas Shields and Dexter Anderson as Donal Davoren. Photo taken by Keith Miller
After the highly successful productions of Brian Friel's Philadelphia, Here I Come and A Night with Lady G, The Irish Heritage Theater, Philadelphia's only professional company dedicated to preserving and acquainting new audiences with poetry and power of classic Irish theater, are turning their attention to playwright Sean O'Casey.
O'Casey, one of Ireland's greatest 20th century playwrights, appeared as a natural choice for the theater to produce three of his greatest works starting thisspring with The Shadow of a Gunman.
"In many ways this play is for our time, even though its circumstances are so specific," Kevin Rodden, one of the starring actors in the two-act play, said. "Like any great work, the universal themes persist, and in this case the most poignant moments reflect the ways in which institutions whether the IRA or the British Empire manipulate their members. These characters are all trapped by their society, one that demands you choose a side, as if the argument were black and white, then condemns you no matter what you choose."
First premiering at Dublin's famed Abbey Theater, The Shadow of a Gunman is set during the War of Independence in 1920 Dublin. It begins with one of the main characters, Donal Davoren, a self-styled poet, encourages his neighbors' mistaken belief that he is an important IRA "volunteer", an assassin on the run.
This ruse, which humorously enflames his neighbors' patriotism and admiration, and wins him the affection of the beautiful and feisty Minnie Powell, eventually leads to catastrophe and untimely death.
Rodden, a graduate of the University of Pennsylvania, stars as Seumas a man of "contradiction" that offers an appealing psychology to the actor.
"Seumas' intelligence about everything outside of him keeps him from knowing himself. He's a Nationalist who can't bring himself to fight if it means endangering civilians," Rodden said. "He's a devout Catholic with pagan superstitions. I'm not interested in answers for a character, but rather in questions. What does this person want and how does he go about getting it? Is that productive? What are my points of intersection with Seumas?"
Not only does Gunman tell a story that was important to its era; it is also a really interesting exploration of human fatality, added Peggy Mecham co-director of the play.
"The first act is very funny and comedic, while the second act darkens considerably," Mecham said. "I think this is an opportunity to see a play that's near its 100th anniversary that not only reflects its time but also explores human nature with wonderfully diverse characters."
The Irish Heritage Theater will afford local audiences the rare opportunity to experience O'Casey's complete "Dublin Trilogy", considered the most impressive and accessible work of the dramatist's career. IHT's production of The Shadow of a Gunman will be followed by Juno and the Paycock, his drama of comic affectations, fleeting hopes and resigned despair in the Dublin tenements (Fall 2015), and finally, celebrating the 100th anniversary of the Easter Uprising, the infamous and highly controversial The Plough and the Stars (Spring 2016).
"Philadelphia has such an embarrassment of riches when it comes to theater. What makes Shadow of a Gunman a unique experience is its rare combination of comedy, drama, tragedy, philosophy, politics, and romance," Rodden said. "In 90 minutes, few plays can pack such a punch, and I'm really proud of our production's ability to balance all these moving parts without holding the audiences hand."
The show will run from April 9-25 at The Skybox at The Adrienne, 20th & Sansom Streets in Philadelphia. Performances are Wednesdays through Saturdays at 7pm and Sundays at 2 p.m.. Tickets are $25, general admission; $20 for seniors; and $15 for students.
REAL LIFE. REAL NEWS. REAL VOICES.
Help us tell more of the stories that matter from voices that too often remain unheard.