Ocasio-Cortez's allegations came after Republican Rep. Byron Donalds of Florida showed a message that Jim Biden, the president's brother, sent to Hunter Biden, the president's son, in 2018. Donalds claimed it indicated that the president benefited from fraud and money laundering committed by Hunter Biden.
The message Donalds showed, pulled from an affidavit regarding Hunter Biden, was presented to look like a screenshot from a phone, and it left out much of Hunter Biden's original message, fundamentally changing the context of the conversation, Ocasio-Cortez said at the hearing.
"That screenshot of what appeared to be a text message was a fabricated image," she said. "I don't know where it came from, I don't know if it was the staff of the committee, but it was not the actual, direct screenshot from that phone."
The text Donalds presented showed Jim Biden telling Hunter Biden: "I can work with your father alone !! We as usual just need several months of his help for this to work."
Donalds used that portion of the text, which was highlighted in the image he showed, to suggest that Jim Biden was saying the president would help with their business dealings.
But in reality, Jim Biden was responding to Hunter Biden saying he needed his father's help to pay alimony, the document from the affidavit shows. At the time, the president's son was in the depths of his drug addiction and going through a divorce.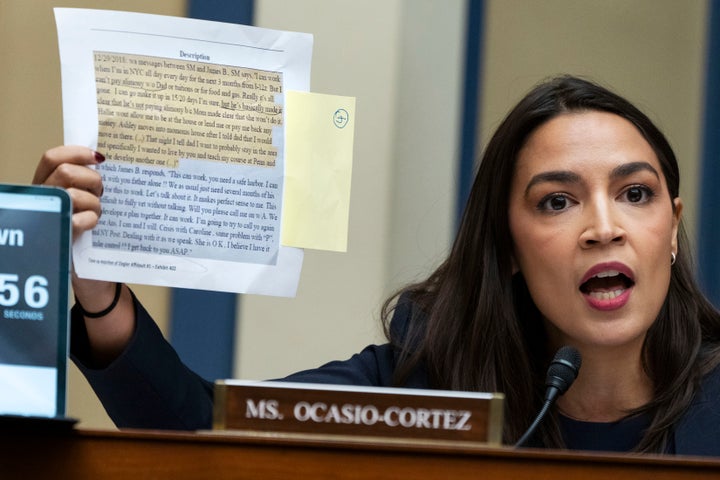 "What was brought out from from that fabricated image excluded critical context that changed the underlying meaning and allegation that was presented up on that screen," Ocasio-Cortez said.
She added that doing so is technically allowed under the speech and debate clause, as Donalds and other members of Congress involved in the hearing were not speaking as witnesses under oath.
A representative for Donalds did not immediately return HuffPost's request for comment.
Support HuffPost
The Stakes Have Never Been Higher
Popular in the Community