Progressive Democrat Alexandria Ocasio-Cortez won her race for a U.S. House seat in New York's 14th District on Tuesday, becoming the youngest woman ever elected to Congress.
The 29-year-old political newcomer made headlines nationwide in June when she unexpectedly defeated 10-term Rep. Joe Crowley in the Democratic primary.
On Tuesday, Ocasio-Cortez easily prevailed in the heavily Democratic district against Republican opponent Anthony Pappas, a St. John's University professor.
"This is what is possible when everyday people come together in the collective realization that all our actions … are powerful, worthwhile and capable of lasting change," Ocasio-Cortez said in her victory speech Tuesday night.
"Words cannot express my gratitude to every organizer, every small-dollar donor, every working parent and Dreamer who helped make this movement happen," she added. "And that's exactly what this is, not a campaign or an Election Day but a movement … for social, economic and racial justice."
"Our district is overwhelmingly people of color, it's working class, it's very immigrant ― and it hasn't had the representation we've needed," Ocasio-Cortez told HuffPost in June. Her district, which includes parts of the Bronx and Queens, is one of the most diverse in the country.
A member of the Democratic Socialists of America, Ocasio-Cortez is part of a wave of progressive Democrats promising to push the party establishment further left. She refused any corporate PAC money in her campaign and ran on a boldly progressive platform that included Medicare for all, a federal jobs guarantee and the abolition of Immigration and Customs Enforcement.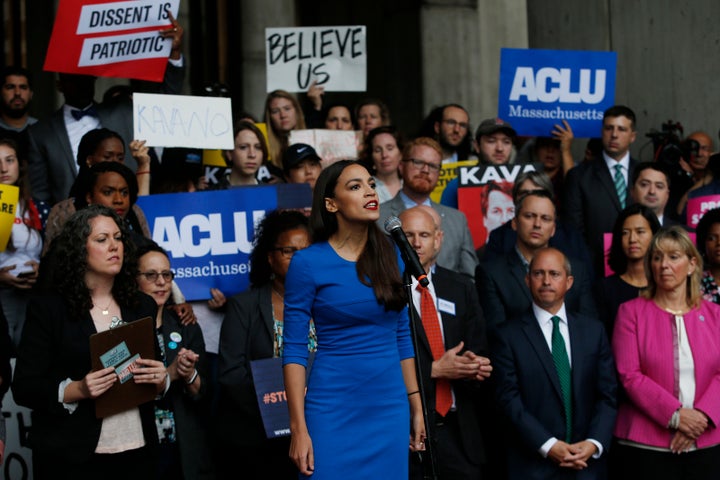 Ocasio-Cortez is one of several women who made history Tuesday night, including Rashida Tlaib in Michigan and Ilhan Omar in Minnesota, now the first Muslim women elected to Congress, and Ayanna Pressley in Massachusetts, now the first black woman elected to Congress in her state.
This story has been updated with quotes from Ocasio-Cortez's victory speech.
Popular in the Community