 Professors at Occidental College in Los Angeles say they are confused after administrators confiscated computers and cell phones belonging to dozens of staff members, including at least eight faculty members.
An OCR official told The Huffington Post that the department cannot comment on the specifics of the case, but said, "OCR did not require Occidental to confiscate faculty members' laptops and cells."
But Occidental spokesman Jim Tranquada said the school believes it needs information stored on those devices. School staff and faculty whose materials were seized were involved in handling sexual misconduct cases, he said in an email.
"The college -- consistent with its legal obligations -- undertook an effort to preserve all information relevant to the investigation," Tranquada said. "These efforts included informing eight faculty and 42 administrators and staff involved in the Title IX process of their obligation to maintain and not delete relevant work-related information."
The Occidental administration has been criticized for not alerting the school community when sexual assaults took place on campus, and for distributing lackluster punishments -- like book reports -- to offenders.
Faculty critical of the administration's approach to handling sexual misconduct were allegedly disparaged by college officials, leading to votes of no confidence earlier this year against Dean of Students Barbara Avery and College Counsel Carl Botterud, who was later removed from his position.
Professors and students said they don't understand the move to confiscate faculty laptops as part of the OCR investigation, and some raised concerns about privacy and retaliation.
Audrey Logan, a sexual assault survivor and one of the student complainants against Occidental, said the confiscations signaled "a level of distrust" from the college.
"As someone who went through the process itself, it sends kind of a scary message," she said.
Caroline Heldman, chair of Occidental's politics department, claimed each faculty member whose computer was taken had acted as a representative for a student who wanted to report and prosecute a case of sexual violence on campus. Heldman is one of two faculty members to have publicly joined the original federal complaint against the college.
Faculty first got word of administrators confiscating computers and gaining access to email accounts in June, according to a series of emails on the matter obtained by HuffPost.
James Uhrich, the school's associate vice president for information technology services, wrote in an email in July that "some form of data collection" was being performed on multiple staff and faculty, and more were added to the list through the summer and fall.
Uhrich wrote that the college had a legal obligation to preserve all documents in its "possession, custody or control" relevant to the investigation, and failure to comply "could result not only in penalties against the college, but also accusations that certain individuals at the college destroyed evidence."
He also claimed that it would be "impracticable" for the college or lawyers to disclose to faculty and staff which information needed to remain intact.
Administrators did assure faculty that their privacy would be maintained and that the search was only for information relevant to the case. Tranquada confirmed to HuffPost that confiscated laptops and devices would be turned over to a third-party e-discovery company, and that the school's outside counsel, O'Melveny & Myers, would use a computer program to scan for keywords and to find the needed files.
In a separate email, Nalsey Tinberg, a math professor and the president of the faculty senate, asked if there had ever been monitoring of faculty and staff emails. Occidental President Jonathan Veitch replied, "Never. Ever."
Tinberg said that without an official policy on the process, "it will appear, rightly or wrongly, that individuals are somehow being targeted."

"This will create a chilling atmosphere at the College which includes fear of retaliation," she wrote in an email to Uhrich.
Professors said they tried to get answers from the administration in a faculty meeting last week -- where they were expecting a promised question-and-answer session. Instead, they received a speech from Veitch about the investigation and changes the college was implementing.
In the speech, Veitch addressed the emotional toll the situation had taken on him and his family, and asked for greater civility among staff.
According to two people who were at the meeting, Veitch said that certain faculty members were becoming "unruly and ungovernable." He left without taking questions.
Tranquada, the Occidental spokesman, said Veitch asked faculty to join him in developing "a culture where we treat each other humanely and with respect even when we have profound disagreements."
Logan, the student survivor, was not impressed. "It's all about him and his pain," she said of Veitch. She expressed disappointment that the college president hasn't issued a statement of sympathy for sexual assault victims.
"As a survivor on campus, I can't say I have a lot of compassion for his situation," she said.
Related
Before You Go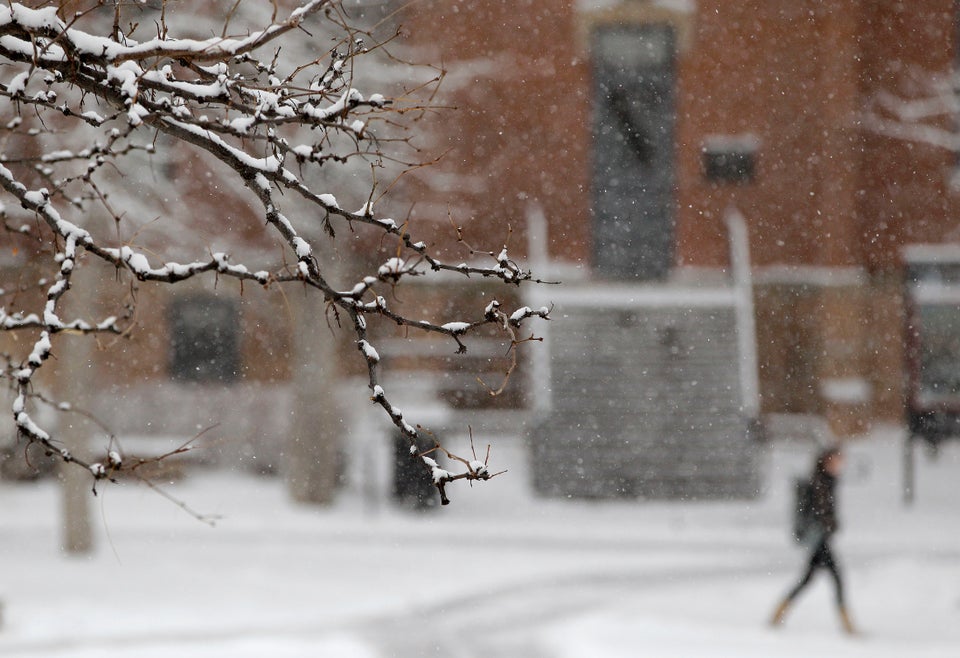 Schools Investigating Or Reviewing Policies On Sexual Assault
Popular in the Community