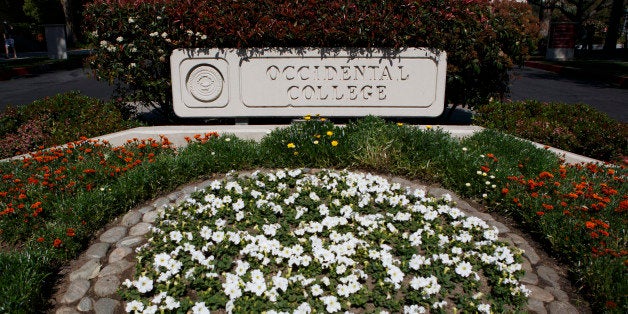 In a report issued Tuesday, two consultants hired to conduct a review of sexual misconduct at Occidental College contend that a rape survivor activist group at the Los Angeles school is creating a polarized environment that's preventing administrators from improving how sexual assault is handled.
Skeptics, however, say the consultants may be offering a dishonest version of events, since they were hired and paid to conduct their review by Occidental College itself.
Occidental President Jonathan Veitch commissioned Gina Smith and Leslie Gomez, two Philadelphia-based attorneys with the firm Pepper Hamilton LLP, in March 2013 to evaluate the college's methods for handling sexual misconduct and offer insight on how it could improve. The attorneys, who have been hired by a number of other colleges for similar purposes, began their evaluation just prior to the filing of two federal complaints alleging that Occidental had mishandled a number of cases of sexual assault. Those complaints resulted in separate concurrent investigations by the U.S. Department of Education.
The Education Department's Office for Civil Rights finished its on-campus work this summer, and both the complainants and the college are awaiting the final results of that investigation. The Clery investigation is still underway.
The Pepper-Hamilton report, meanwhile, alleges that the Oxy Sexual Assault Coalition (OSAC), a campus activist group, impeded Smith and Gomez' work, used unspecified tactics to gain attention while alienating the rest of the college and failed to engage in good faith with school leaders. The consultants also criticize reporters, arguing that media coverage of college sexual assault -- not only at Occidental but in general -- fails to capture the complexities of dealing with the issue.
Smith and Gomez accuse the activists of taking an uncooperative approach to their dealings with the administration, and write that "the very tactics used to gain attention to the issues will stand in the way of candid and collaborative communication between activists and administrators." The pair claims there were students, staff and faculty who declined "to engage in conversation or campus efforts because of fear of OSAC's response," although they do not elaborate on what OSAC was allegedly doing to intimidate these parties.
The members of OSAC, for their part, were skeptical of Smith and Gomez because they were being paid directly by the college. The attorneys concede in their report that some on campus felt the "very fact that the College engaged us meant that we could not be viewed as objective."
OSAC is not alone in feeling this way. Among many sexual assault survivors and advocates, Smith and Gomez have developed a reputation for glossing over the shortcomings of the schools that hire them.
Smith and Gomez claim repeatedly that OSAC blocked them from speaking with sexual assault survivors involved in the complaint -- an assertion that Caroline Heldman, a professor who has helped to spearhead sexual assault activism at Occidental, calls a flat-out lie. According to Heldman, she and other faculty members offered to arrange meetings between survivors and the consultants on three occasions in April 2013, early on in Smith and Gomez's review of Occidental. Heldman says the consultants did not follow up on the invitation until July 30, when an assistant to Veitch emailed OSAC. At that point, Heldman told the assistant that OSAC would decline meetings.
In their report, Smith and Gomez contend that it was clear from the beginning that OSAC faculty aimed to prevent them from speaking with survivors in the complaint.
Contrary to the report's claim that Smith and Gomez were never able to interview OSAC members, faculty at Occidental say the consultants did end up speaking with some students involved with the activist group in 2014.
Heldman considered the report a "character assassination" of OSAC and the complainants, which she said was unfair since "the only reason [Smith and Gomez are] taking a look at this is because of the activists."
Smith and Gomez told HuffPost Wednesday that for more than a year, they submitted written requests to meet with members of OSAC and sexual assault survivors involved in the complaint.
"We could not have been more explicit and clear that we wanted this involvement and input," said Gomez.
The Pepper-Hamilton report does list a number of positive steps Occidental has taken, including hiring several new staff members to handle sexual violence, reworking the school's sexual misconduct policy, expanding the website that assault survivors use to report incidents and offering training sessions for faculty and staff. The school has also received a $300,000 three-year grant from the U.S. Department of Justice to address rape on campus, and has reviewed its own crime figures and concluded that it initially under-reported the number of on-campus sexual assaults to the government.
The 130-page report does not detail what, if anything, administrators did wrong.
"At Occidental, we have observed a strong commitment by the College, President Veitch, the Board of Trustees, senior leadership, the Title IX and Clery response teams, the Sexual Misconduct Advisory Board and the many dedicated students, staff and faculty who have taken earnest and significant steps to implement meaningful changes," the report says.
Smith and Gomez note in the report that their last visit to the Occidental campus was in October 2013.
In settling a lawsuit in September 2013, Occidental also placed a gag order on the sexual assault victims who were the plaintiffs in the suit, thereby preventing them from discussing anything that happened with their cases at the college.
Smith and Gomez looked at 17 sexual misconduct cases in their review and found that two-thirds of the investigations were concluded within or close to the 60-day time frame recommended by the Education Department -- a finding that contradicts the federal complaint's claim that "most" of the school's investigations stretched beyond the two-month mark.
The consultants' report does not comment on the validity of sanctions handed out by the university to students found responsible for sexual assault, although this is another area where Occidental has received pointed criticism. Complainants have noted that one student found responsible for sexual assault was punished with a five-page book report.
The Pepper-Hamilton report does describe a student found guilty of "non-consensual sexual intercourse" who was given a one-semester suspension. The accused student appealed this decision and obtained a reduced sanction of 50 hours of community service and "an educational project." The suspension was rescinded. The report suggests "consideration of new evidence" as an explanation for why Occidental gave the student a more lenient punishment.
Smith and Gomez hoped anyone who took the time to fully understand the context would note the attorneys gave credit to the activists for speaking out and for making recommendations about what should change at Occidental.
Related
Popular in the Community