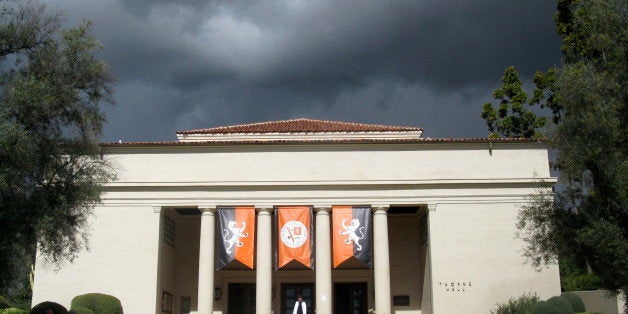 A trustee at Occidental College in Los Angeles reportedly shoved a young alum of the school and berated students concerned with how the institution handles sexual assault cases, according to witnesses and audio provided to The Huffington Post.
The incident is the latest in a series of confrontations, both public and private, between concerned faculty and students on one side and the administration and trustees on the other. Critics of the school contend that a wide range of incidents, from arguments with trustees to break-ins at their offices, can be linked to retaliation for a federal investigation that began one year ago.
On April 28, student activists gathered outside of a trustees' dinner holding signs reading "In Solidarity With Survivors" and passing out fliers stating their concerns. Occidental is currently under federal investigation in connection with allegations that it allowed serial rapists to remain on campus, retaliated against critics and failed to appropriately handle sexual assault cases.
According to audio captured in the video given to HuffPost, as dinner attendees exited the building, trustees Stephen Hinchliffe Jr., vice chair of the board, and Cathy Selleck confronted the students and young alumni. Selleck allegedly shoved a camera into a woman's face and Hinchliffe "bullied" a student as he demanded the names of rapists, according to audio captured in the video.
When Occidental Politics Department Chair Caroline Heldman intervened in the discussion, Hinchliffe repeatedly referred to her as "young lady," and said, "I think you have a serious problem, you need to consult some help."
Excerpt of audio of an argument between Stephen Hinchliffe, Jr. and Occidental Politics Department Chair Caroline Heldman. Audio has not been altered.
Hinchliffe pressed the activists gathered there, saying it was outrageous they wouldn't provide him with names of alleged rapists. Activists told Hinchliffe that the school's administration had all the names and that it wasn't their place to report to him. Hinchliffe replied that he asked Occidental President Jonathan Veitch, "Has anybody raped someone that you haven't told me about?" and "[Veitch] told me no one did," according to the video. The activists later said they appreciate Henchliffe trying to be helpful, to which he responded, "I'm not trying to be helpful, I'm trying to get an answer."
"This is not the sign of someone who wants to learn more about what's going on on campus," said Rachel Buckner, the Occidental junior whom Hinchliffe confronted.
Chris Calkins, chair of the board of trustees, said that he's still reviewing the incident and speaking to those involved.
Audio of Stephen Hinchliffe, Jr., arguing with students and Occidental Politics Department Chair Caroline Heldman. Audio has not been altered.
The incident adds to growing tensions on campus following discussions about break-ins and a high-profile firing of a Los Angeles Times reporter who had covered Occidental's investigation.
In a March 18 meeting with faculty, Veitch said the administration had "chosen to fight this battle publicly, rather than internally," according to audio of his remarks provided to HuffPost.
"This is a reputational concern for all of us," Veitch said during that meeting. "If the institution can't be trusted to tell the truth about something as important as this, it can't be trusted to tell the truth about a variety of things."
Signs of a public battle came even before federal involvement, and were often in evidence behind the scenes as well.
Last March, after a sexual assault survivor and a professor in the Oxy Sexual Assault Coalition criticized the college in the local media for failing to notify the community about assaults reported on campus, Veitch publicly accused them of seeking to "embarrass" the college. About a month later, federal complaints were filed against the school claiming that Occidental punished assailants with book reports.
"Once the story broke, the college really focused more on the marketing aspect than addressing the problem," said a former administrator, who worked in an alumni office and requested anonymity for fear of retribution. "Initially, over 100 alumni responded, saying that they weren't going to donate to the college or were going to donate to OSAC."
Students gathered for a candlelight vigil last April in support of sexual assault survivors, and passed out fliers similar to those they later gave to trustees during their 2014 demonstration.
In a meeting between Veitch and a high-level donor, according to the former employee, the president attempted to reassure the donor that "all of this is being blown out of proportion" and "it isn't as serious as the way the media or the faculty members are making it seem."
Another alumni office staff member, who also requested anonymity, said there was confusion among higher-ups in the office about why alumni were reacting so strongly to the controversy. The former staffer said the administrators still attempted to downplay the issue, recalling an instance where she was told to go through and change all the advertisements for a town hall on the subject to read "sexual misconduct" rather than "sexual assault."
James Tranquada, a spokesman for Occidental, said that such a change would have been requested because the term "sexual misconduct" is consistent with the college's policy that "intends to address the full spectrum of conduct, including harassment, retaliation, domestic violence and, of course, sexual assault."
"It was very personal to me and a lot of my friends," the ex-staffer said. "I just felt unsafe and felt like I couldn't talk about this, even though it was such a major part of what was going on at Oxy."
Tranquada noted that Occidental is doing a number of things to improve campus safety, like hiring a full-time survivor advocate, launching a national search for a full-time Title IX coordinator, starting a 24/7 hotline and substantially increasing the amount of mandatory preventive education required for all students.
"These actions taken and the resources made available under President Veitch's leadership speak for themselves. He will continue to spend more time, resources and energy to fight sexual misconduct and encourage survivors to come forward and receive the care and support they need," said Tranquada, who also noted the school's efforts to bring in outside consultants for advice.
Indeed, in January the college hired crisis management public relations firm G.F. Bunting, which helped it get the Los Angeles Times to retract a story accusing the school of underreporting sexual assault cases. The author of the story, Jason Felch, was fired from the newspaper.
Outside counsel O'Melveny & Myers advised Occidental on the ongoing federal investigation and prompted the school to confiscate faculty laptops and cell phones, spooking some professors and students concerned about retaliation. And yet another set of lawyers, Gina Smith and Leslie Gomez, were commissioned to review the college's Title IX policies. Their report was due by May 1, but faculty were recently told it will be delayed six to eight weeks.
Veitch has denied requests from faculty to disclose exactly how much the college is spending on these firms.
But with tensions high, critics keep seeing the worst in strange occurrences on campus.
Critical faculty members told BuzzFeed and reiterated to HuffPost that their offices have been broken into on campus. One faculty member, who had acted as a source for earlier articles by Felch and later began a relationship with him, said that her library carrel was broken into on March 1 and pages of her journal mentioning her and Felch's relationship were torn out and displayed on her desk. She attempted to report the incident to the Los Angeles Police Department, according to audio of the phone call shared with HuffPost, but the case was referred back to Occidental security.
The LAPD has declined to investigate the incident, and the department did not respond to multiple requests by HuffPost over several weeks for information on the case.
Tranquada told HuffPost that the faculty member declined to cooperate with the Occidental investigation.

Related
Popular in the Community